Finding the best tire for your vehicle might be harder than your expectations. Thus, we want to show you an objective review to see whether you should try this tire brand or not. 
The article walks you through the brief history, the top models of Dextero, some frequently asked questions, etc. Please keep reading for multifaceted analysis and information that ease shopping decisions.
Dextero Tires Overview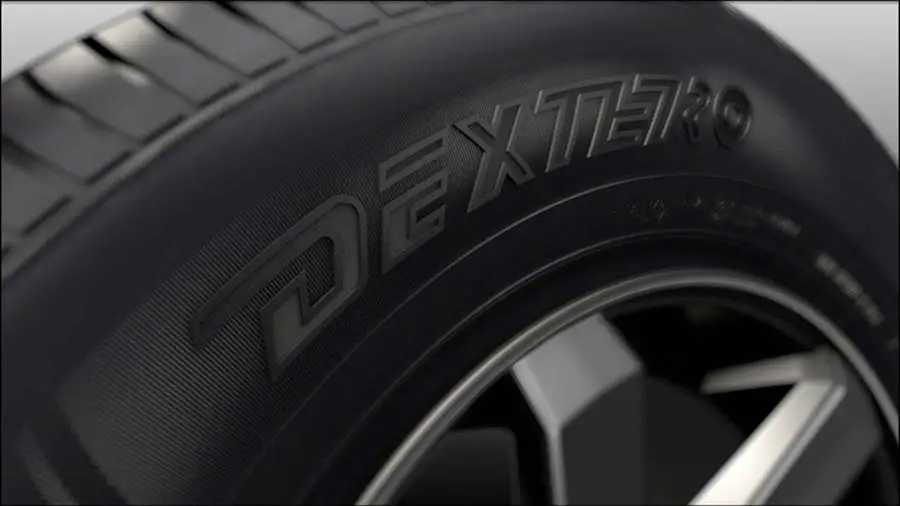 Dextero tires come from the professional and long-standing specialized tire company – GITI Tire. It has a long history of more than 70 years in which there are ups and downs in the market. 
For nearly a century of establishment, it has continuously enhanced the quality of tires. GITI Tire has eight plants serving the best for customers in more than 130 countries!
Many models are receiving positive feedback about impressive road grips. The noticeable point is that Dextero tires can provide such quality at surprising prices. 
On the other hand, Dextero still needs to refine tread patterns to generate smooth and safe rides on snowy or icy terrains. Also, the short lifespan does not satisfy customers who want durable tires!
Dextero's Most Popular Tire Models 
Dextero All Terrain DAT1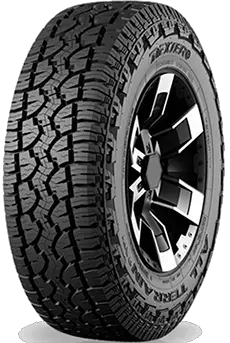 Specifications

Brand: Dextero
Model: DAT1
Weight: 13.7 – 18.2 kg
Available Sizes: 15 – 18, 20 inch

Ratings

No rating yet
DAT1 has an aggressive look with strong shapes and large blocks of tread patterns. It serves the optimal performance on many surfaces, living up to the look.
Specifically, DAT1 outperforms on both wet and dry roads thanks to excellent tractions and superior grip. You can also enjoy the exciting ride off the road with the aid of a self-cleaning mechanism. 
Moreover, the rugged compound materials enable the tire to improve its cut resistance. Due to that reason, you do not have to worry about changing the tires frequently. 
It must be unpleasant to drive with a big noise. DAT1 combines the favorable features of materials and tread designs for quiet rides.
As a result, it is a popular choice for many vehicle types, such as SUVs, pickup trucks, etc.
Yet, DAT1 shows less impressive performances on the snowy terrains due to the ineffective snow evacuation. The crackability of lower side walls is another factor that you should consider.
Dextero DHT2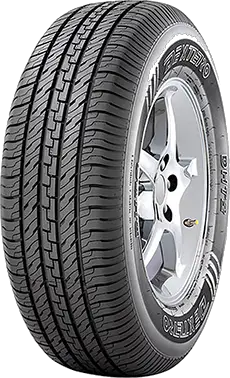 Specifications

Brand: Dextero
Model: DHT2
Weight: 10.9 – 17.8 kg
Available Sizes: 15 – 18, 20 inch

Ratings

No rating yet
DHT2 is a model that Dextero designs for light trucks, SUVs, and CUVs. The arrangement of tread patterns enables it to provide fine performances on wet and dry terrains. 
The handling and control of tire balance are acceptable even when driving at high speed. Besides, you can enjoy pleasant rides due to optimal noise reduction. 
For all the superior performances above, DHT2 does not cost you much. So, it is among the affordable alternatives that we would like to share. 
We consider that it is not an ideal tire for exciting off-road tours. The incline of heat dissipation is also a danger that you should consider. You do not have many choices in terms of performances per size as well. So, it might make you compromise on your expectations!
Dextero DTR1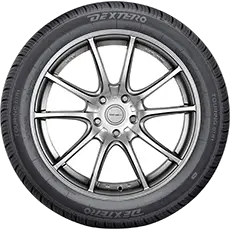 Specifications

Brand: Dextero
Model: DTR1
Weight: 6.7 – 13.5 kg
Available Sizes: 13 – 18 inch

Ratings

No rating yet
DTR1 is another all-season tire that Dextero shares in the low-budget segment. Many people consider it an affordable alternative for their passenger cars and crossover vehicles. 
It serves you the standard quality for daily driving on common terrains. The grip and traction of DTR1 reach acceptable levels to keep you in a nice ride.  
It would help if you took notes of noise when driving on DTR1 because it might not be as quiet as its advertising. Besides, if you are into long-term use of tires, the short lifespan of this tire type might be an issue.
Cost of Dextero Tires 
Dextero is a brand people choose as an alternative to luxury tires with cutting-throat prices.  
Specifically, you need to pay around $80 for a DAT1 P235/75R15. Meanwhile, the prices of a DHT2 Tire P265/70R16 and DTR1 195/65R15 are $127 and $76, respectively. 
Dextero tires do not cost you as much as many luxury brands while serving competent performances. 
Why Choose Dextero Tires? 
Dextero tires position themselves in the low-price markets while maintaining high-quality performances. It might sound unrealistic, and yet Dextero lives up to its promises. The products prove the fact!
As the tires can grip multiple road statuses, whether wet or dry, you can use them in almost all seasons. Also, some models are ideal for off-road experiences. 
You can expect pleasant rides with minimal noise, thanks to tread designs and compound materials. Despite all these superior features, you only need to pay a small price for a Dextero tire!
Yet, an objective review includes both benefits and drawbacks. Detexro still has much room for improvement of tire quality, such as tread lifespan, variety of models, performance on snowy roads, etc.
Dextero Tires Reviews by consumer
Positive Experiences with Dextero Tires
"These Tires are High Pressure Light Truck Tires, rated @ 10ply load range E. Perfect for Service Trucks, that are constantly carrying a lot of weight (I keep tires inflated @ Front: 65psi. Rear: 75psi). I love the tread design, and I cannot rate wet, or winter driving, as I live in the Desert, in Southern California! These Tires are Not recommended for 1/2 ton trucks, that do not carry a constant heavy load." – Dextero DHT2

Sheldon via Simple Tire
"2001 Cadillac Deville. First time I ever used Walmart Auto services. Quiet, smooth good looking tire. Reasonably price with free shipping to the store since it was a size not kept in stock. Installation was good and again low cost. It all worked out good for me."

Stund33 Via Walmart Tire – Dextero DTR1 Touring 195/65R15 91H
Negative Experiences with Dextero Tires
"I've had these tires on my car sense april 2019, when I first got them on they rode smooth not loud but after about 5 months they got really loud started turning a brown color even though I wash my car regularly, my rear tires are a different band and I've had them for 2 1/2 years and still are black with tread on them, the dextro tread does not last long at all, it starts getting bald in under a year of having them, I would not buy again or recomend unless they need a spare tire but definitely not a long term tire to have"

Mad via Walmart – Dextero DTR1
"Not impressed in winter weather.. Thread wears off for the price you pay. Now that I'm seeing they're about $5 more than what I paid 2 years ago"

J5 via Walmart – Dextero DHT2
Frequently Asked Questions 
Are Dextero Tires Good?
One of the highlights is the affordability of Dextero tires. However, is it enough to consider pricing only to choose a tire brand? We are afraid that it is not. 
So, the answer to the question above depends on identifying what you need. 
If you want a tire that can last long and resist challenging terrains, Dextero tires might disappoint you. For a comfortable drive on most normal roads, Dextero tires can do a good job.
In general, Dextero tires meet customers' expectations in the segment of such prices. 
Who Is Dextero Tires Made By?
Dextero tires are the proud products of GITI Tire, the top international firm that specializes in tires. There are now eight manufacturing plants around the world.
Additionally, you can find GITI tires in more than 130 nations. It implies customers' trust in the brand's improving quality and performance. 
Conclusion
Choosing a suitable tire type and reliable brand is not easy as it takes you time and effort to research and read others' comments. We hope this Dextero tire review could expand the frame of your references. 
We share with you the objective reviews of the popular Dextero tires and the information about this brand. It all comes back to identifying your needs to ease the selection process.