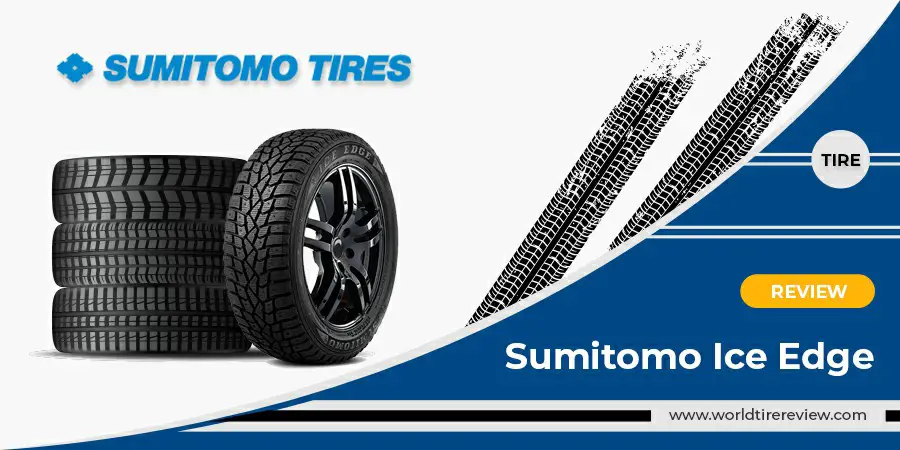 Sumitomo & Sumitomo Ice Edge Introduction 
Let's learn about Sumitomo, a worthwhile Japanese tire brand, before digging into the latest Sumitomo Ice Edge review.
Sumitomo Rubber Industries, Ltd.
Sumitomo Rubber Industry was founded in 1919 in Osaka, Japan and they stand as the fifth-biggest tire company in the world. The company manufactures and supplies other brands like Ohtsu, Dunlop, and Falken in some countries aside from specializing in their merchandise. 
Their models are incredibly affordable with high quality for a well-known tire manufacturer. That's why many drivers invested their money into this brand. 
It likewise comes with a wide range of tire categories and sub-brands to offer various options for consumers. Even though they don't produce winter or all-terrain tires, Sumimoto is still one of our top picks for performance tire varieties.
Sumitomo Ice Edge Features
With the latest and advanced technologies, Sumitomo Ice Edge can meet all your essential demands for winter tires. Sumitomo proclaims Ice Edge's tread possesses 3D sipe technology, which provides the necessary gripping edges for running on slush, ice, and snow.
It also offers an exceptional experience in cold-weather traction, predominant stability, and a quiet driving atmosphere. These features will enhance confidence during the journey since the tread grips accurately and reliably in severe weather conditions.
Sumitomo Ice Edge Review: Pros And Cons
If you are busy looking over the analysis related to Sumitomo Ice Edge reviews, here are some quick benefits and downsides of this Japanese tire.
Sumitomo Ice Edge Tire Drive Test 
If you are a picky person, then the following breakdown will certainly be helpful. Below are objective and trustworthy evaluations based on our realistic driving assessment. 
Driving Experience
Ice Edge is outstanding with smooth silica and solid base triangular tread compound with superior 3D sipe technology. This feature maintains a firm grip in winter and slush roads.
The tire offers safe and solid ability when it comes to traction, particularly when you compare it to other all-season products.
It seems to have no problem entering wet surfaces, even at high speeds. That's because it's smooth when channeling out water owing to several deep grooves across its tread base. 
As a tire for winter, Ice Edge won't certainly impress with performance on the dry roads. This is a common characteristic of the same tire variety, not only found in Sumitomo.
It boasts one of the most exceptional tires in winter lineups, thanks to optimal 3D Sipe technology on snow roads. However, it may encounter trouble if the snow is extremely thick. 
Most winter tires may cause noise because of the reinforcement, and Ice Edge is not an exception. It gets even noisier when you're driving on highways.
The Ice Edge tire emphasizes treadwear pointers, which support drivers in observing the tread depth. It includes small rubber bars assembling into the channels, sticking out 5/32 inches from its bottom. 
Though it can't overwhelm the best winter tires, Sumitomo guarantees its treadlife approximately 20,000 miles, commensurate with its price.
This Sumitomo tire series is extraordinary for riding on snowy roads in winter. Therefore, its temperature resistance during long distances at high speed is remarkable.
The Ice Edge winter tire owns tiny studs protrusions attached to its base, which aids in plowing in the ice surfaces. Hence, its speed rating is quite smooth, even in snowy weather.
The brake function is sufficiently strong to grip in corners with considerably great longitudinal traction. Nonetheless, the braking distance on dry tarmacs is fairly longer than you assumed. 
Ice Edge's fuel efficiency is much improved because Sumitomo equips it with asymmetric tread design and carbon black composites for flat wear.
When it comes to handling, the tire works properly and safely. It provides firm and sharp handling, which is active in dry and wet weather conditions.
Having four of them under our vehicle creates a sense of great comfort even on cobblestone surfaces during your journey, thanks to its soft rubber tread compound. 
Should You Purchase Sumitomo Ice Edge?
We sincerely hope that our Sumitomo Ice Edge review will be of benefit to your wonders. A customer's decision is up to their needs, depending on road conditions they drive on daily and their price expectations.
Frankly, Ice Edge may not be the best in its class, but it comes with prominent innovations, which is worth what you pay for it.
Sumitomo Ice Edge – Compare Prices
We found 3 online tire retailers selling Sumitomo Ice Edge. Refer to the details below to get the best price:
Sumitomo Ice Edge
PRICE
SOLD BY
 

Offers

Offers

Offers
Competitors & Alternatives
| | |
| --- | --- |
| Uniformity Warranty: | Free replacement-1st 2/32 |
| 14 | | 15 | |
| --- | --- | --- | --- |
| 175/70R14 | 185/65R14 | 215/70R15 | 185/65R15 |
| | | 205/65R15 | 185/60R15 |
| | | 195/60R15 | 175/65R15 |
| | | 185/55R15 | 195/65R15 |
| 16 | | 17 | |
| --- | --- | --- | --- |
| 225/65R16 | 205/65R16 | 235/55R17 | 215/55R17 |
| 225/70R16 | 215/55R16 | 225/50R17 | 225/65R17 |
| 205/55R16 | 235/65R16 | 215/50R17 | 245/65R17 |
| 215/60R16 | 245/70R16 | 215/65R17 | 215/60R17 |
| 215/65R16 | 215/70R16 | 225/60R17 | 215/45R17 |
| 235/70R16 | 235/60R16 | 205/50R17 | 225/55R17 |
| 265/70R16 | 225/60R16 | 235/60R17 | 225/45R17 |
| 205/60R16 | 195/55R16 | 235/65R17 | |
| 18 | | 19 | |
| --- | --- | --- | --- |
| 235/65R18 | 225/45R18 | 235/55R19 | 245/55R19 |
| 265/60R18 | 245/60R18 | 245/45R19 | |
| 225/60R18 | 225/55R18 | | |
| 235/50R18 | 235/55R18 | | |
| 255/55R18 | 235/60R18 | | |
| 245/45R18 | | | |
| 20 | | | |
| --- | --- | --- | --- |
| 265/50R20 | 245/50R20 | | |
| 245/50R20 | | | |
Sumitomo ice edge prices range approximately from $74.97 to $209.96 (Simple Tire)
Ice Edge Ratings By Consumer