This would be a prime question of most drivers when seeing their unattractive faded tires. After driving on different types of roads for a good while, tires will wear out, crack, become pale and no longer look as shiny as on their first day of purchase.
If you wish to return the aesthetic look to your favorite car without spending much money on getting new tires, this article is for you. We will show you how to make tires look new with just a few simple techniques.
Why Should You Turn Your Car Tires Black Again?
It is the tires that contact directly with the road. Daily driving over time could easily lead to cracking and discoloration in tires, losing their grip. 
Even the good elasticity of rubber materials in tires cannot endure the abrasion and gradually lose their friction, which causes danger for the drivers.
But why is black instead of other colors?
In modern vehicles, the black color of tires is made due to the compound called "carbon black." It is a combination of stabilizing chemicals and other polymers.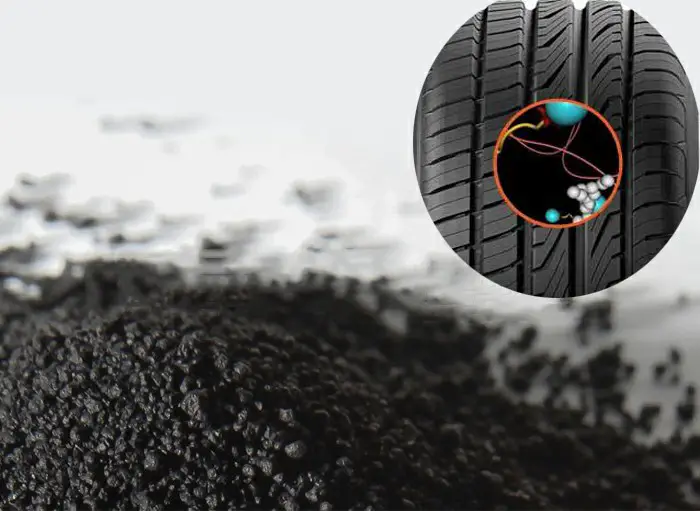 Once added to the rubber, the compound improves the durability and strength of the car tires. It also extends their lifespan by protecting some parts of tires like belt areas from heat. That is because the ozone and UV light can adversely damage the tires' quality and deteriorate them.
From a technical perspective, black tires can easily show any problem, meaning you can notice early rubber crackings.  The more care and timely repair tires receive, the more durability and toughness they possess. 
Blackening your tires also helps prevent undesired situations of tire deflation or explosion when you are behind the wheel. In terms of look, black car tires tend to be more aesthetic and attractive, while faded ones are less shiny and luxurious. 
What Chemicals Do You Need To Make Your Tires Black Again?
Vegetable oil and silicons are the two common chemicals the mechanic oftens uses for blackened tires. Let's take a closer look at these special chemicals.
Vegetable Oil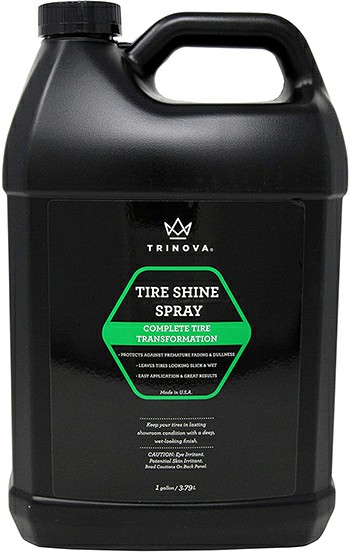 How to keep tires black? The most familiar and simplest way is nothing but using oil. It is a cost-effective and easy-to-use substance. More importantly, the way to blacken a tire by using oil is very simple, just by following some basic steps.
Unfortunately, applying oil to your tires does have some drawbacks. For instance, oil grips are not so durable, especially when they contact water, the oil layer will be washed off easily. Besides, if you have never done it before, you will risk making the tires more slippery when moving. 
There is a world of tire polishing solutions at different prices on the market, so you can completely choose the suitable one depending on your economic condition.
Higher-price substances can do your vehicles better. Some will protect your tires from UV rays, while others can prevent cracking and make your car look shinier.
Silicone
Another common way to make tires black again is silicone, also known as young rubber. It is widely used in auto repair shops to patch punctured tires.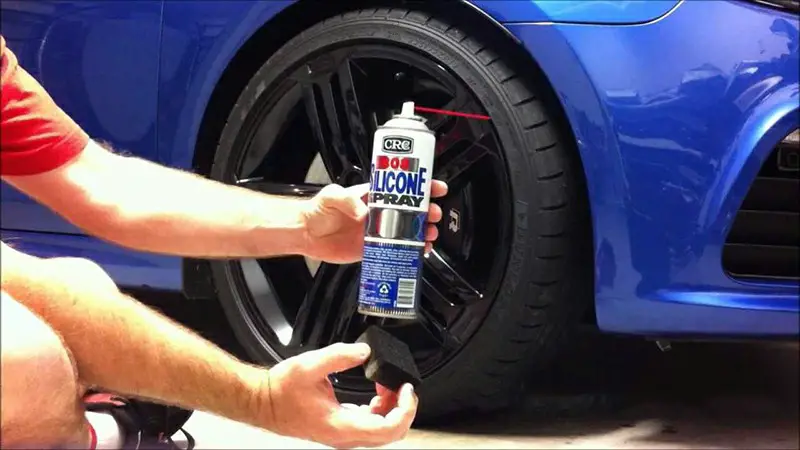 See more: What Does The TPMS Light Mean?
Silicon also works well in blackening the tire when being put in the solution. But you are not advised to do this method, unless you are familiar with vehicles.
Why? Because just the tiny wrong dosage of it can make your tires harder and damaged. We think that no one wants terrible things to happen to their lovely vehicles.
How To Make Tires Black?
You can do it easily by following these steps below:
Clean The Dirt Of The Tires
First, you can use a hose, spray it all over the tires to wash off all the grime, dirt, and road salt. We have a small tip for you: Move the hose closer to rinse off any tough dirt because the stream of water will become even more powerful.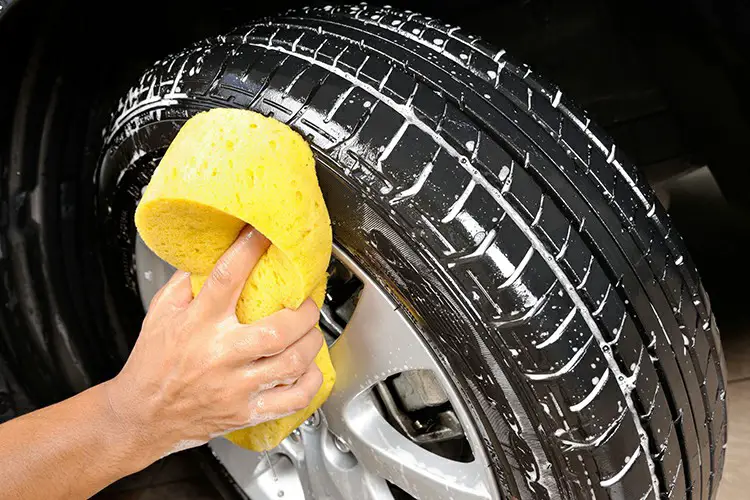 For more: How To Remove Tire Studs
We do not recommend using a scrub brush as it may abrade and scratch the tires; therefore, your tires tend to be damaged more easily.
After making sure the tires are washed carefully, you can use towels to wipe their surfaces or let them dry naturally. Then use tire balm or gel to comprehensively protect the tires before moving to the next step. 
Use Tire Blackening Solutions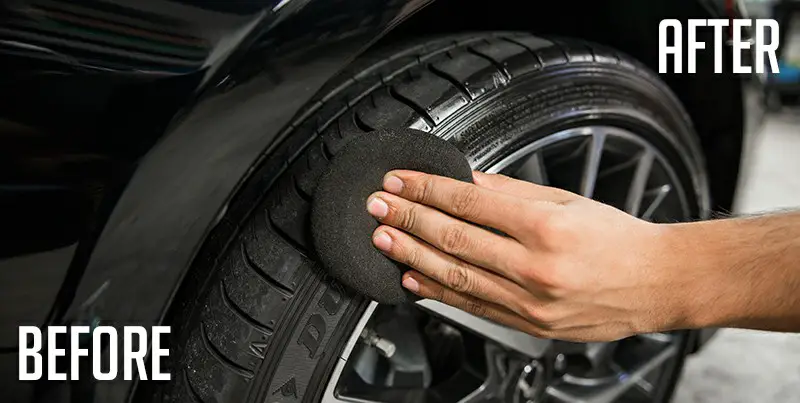 Our advice is to strictly follow the manufacturers' instructions since each type on the market has different uses. If you end up using the wrong dosage for any reason, the results may be counter-productive.
After getting everything done, wait for the solution to dry and adhere firmly to the tires. Avoid using the car right away! You had better let it rest for at least a day and wait for the solution to develop a certain amount of grip on your tires.
Video tutorial to make tires black again
The Bottom Line
Despite looking quite dull, the black color of car tires plays an essential role in your safety than you might expect. To make use of them, you should have tires blackened periodically.
Hopefully, the article has provided you with useful information on why and how to make tires black again. No complicated methods are required. Just homemade products such as sugar water and vegetable oil can be a perfect answer to how to keep tires black and shiny.