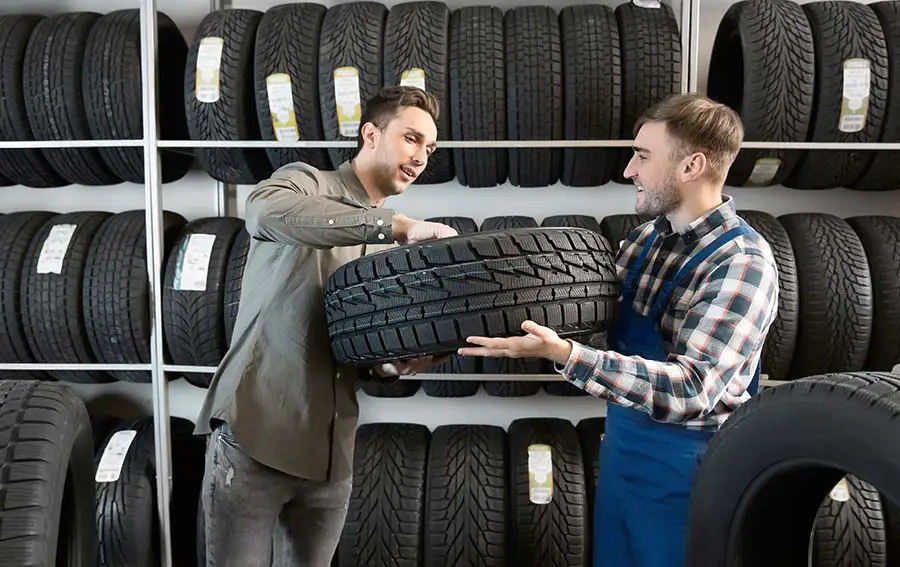 It is obvious that tires have a significant impact on how well your car operates. Whether you drive a compact car or a large SUV, the tires on your vehicle may affect its handling, grip, and even fuel economy. 
There are several factors to consider when purchasing the tires, and it is easy to believe that being cheap equals poor quality. That said, our article will clarify that this is not the truth.
This post will extensively research the tire market, compile a list of the best budget tires in 2022, and discuss the distinguishing traits of each product. Furthermore, we will show their advantages and disadvantages when driving, and other necessary details! Now is the moment to gather information and make a wise decision!
Best Budget Tire Brands
Cooper Tires
Cooper is a well-known brand that has developed to become a global tire company with almost 10,000 people. 
The brand is now the world's 13th largest tire producer and the fifth largest in North America, recognized for producing high-quality tires at a reasonable price. 
Additionally, Cooper tires cost between $70 and $530. The significant price discrepancy is mostly due to the different sizes and kinds of tires.
Hankook Tires
Hankook Tire is famous as a global leader in the production of radial tires, founded in 1941 in Seoul, Korea.
Their products are consistently ranked among the top budget tires due to their long-term warranty and high quality to serve as a suitable alternative for more expensive tire types. And this brand is suitable for passenger cars, commercial vehicles, and motorsports.
Toyo Tires
Toyo is a Japanese tire company headquartered in Cypress, California. The manufacturer has continually produced elevated tires that look attractive and function admirably. Plus, they employ various technologies and techniques, including Nano Balance Technology and 3D Observational Technology.
Toyo invests huge amounts of money in developing tire compositions and materials. The tire has a tread-life guarantee of 65,000 miles and sells from $119 to $551.
General Tires
Continental launched this brand in 1995. General is a German tire manufacturer that offers a variety of low-cost tires, making it a mediocre tire company. 
The tires of this brand aren't cheap, but they're also not the most costly. The tread-life warranties demonstrate that these models are intended to last, but they aren't impressive. Their price ranges from $68 to $181 per tire.
Kumho Tires
Kumho Tire has developed to become Korea's seventh-largest firm, ideal for all-season and elevated cars. 
The tires of the brand provide fuel-efficient, technologically innovative designs that are affordable. It may not be the optimal option for consumers of winter or all-terrain tires, but Kumho is a respectable tire maker in general. The model ranges in price from $74 to $150 per tire.
The 10 Best Budget Tires in 2022
This part will pick the top ten best cheap tires based on excellent quality,  reasonable price, outstanding specs, and positive feedback from other auto enthusiasts.
Best Budget Tires For All-Season
1. BFGoodrich g-Force COMP-2 A/S – Editor's Choice
The BFGoodrich g-Force COMP-2 A/S is one of the highway's best budget all season tires. The constitutive compounds of this kind differ significantly. 
A highlight feature is a mix of an aggressive V-shaped pattern, longitudinal grooves, wrap-around tread blocks, and angled laterals to improve the vehicle's balance and responsiveness. 
Moreover, these best economical all season tires have two polyester casing plies and two steel belts. That reduces the screaming and shaking that occurs when speeding up. Therefore, we will not be disturbed by loud noises during our voyage.
Its traction scored an A, which is an excellent rating. If you're driving your car in severe rain, snowy weather, or simply on terrain where the ground seems loose, having grade A traction will help you stay safe. When driving around curves in adverse weather, traction control might be advantageous.
One setback of this model is that its performance in ice and heavy snow situations is quite poor. Despite being a four-season tire, this product functioned terribly on 6 inches of snow more.
2. General AltiMAX RT All-Season Tire – Best Function On Dry Roads
This product is best recognized for producing long-lasting, high-quality tires for various cars, trucks, and other vehicles and for remarkable dry pavement performance.
The tread pattern is also symmetric, with wrap-around shoulder blocks and an unbroken center rib for better handling and stability on dry roads. With this feature, you don't have to worry about the steering wheel becoming unstable and causing tire wear over time.
And the product has a flat and broad shape that helps it maintain its grip on the road and gives you superior steering wheel control. Matter of fact, if you're searching for a tire to use in the mountains or rocky terrain, this might not be the greatest option.
Even though the General brand claims that the General AltiMAX RT43 has sound-wave-canceling technology to reduce noise when rolling, the enhanced traction will make it noisy at maximum speed.
3. Michelin Defender LTX M/S – Best Performance
The Michelin Defender LTX M/S is an extraordinary performance tire for dry and wet terrain handling and stability.
This A-temperature tire is designed to handle rough surfaces and harsh conditions, such as driving on the hard-packed ground in dry, snow, or wet surfaces. And the tire's Evertread compound provides excellent dry handling, wet grip, and short braking distance.
Your truck's fuel efficiency will increase as well. The tires may save up to 65 gallons of fuel throughout the tire life.
The pricing is greater than comparable models in the same class, which is understandable given the tire's exceptional performance, comprehensive warranty provisions, and satisfaction assurances.
Because of its lack of grip, the Michelin LTX MS tire is not recommended for snow-covered roads. Thus, we recommend investing in specialist winter tires rather than using this LTX MS tire on icy roads.
In all weather situations, these best budget performance tires function admirably. Still, spinouts are sometimes unavoidable because the rear wheels create so much force, especially on wet or hilly ground. Thus, these tires are a suitable choice for you if you rarely go off-road.
Best Budget Tires for All-Terrain
4. Kumho Road Venture A/T 51 – Editor's Choice
The Kumho Road Venture A/T 51 features a traditional five-row tread pattern with a relatively deep middle portion of tire lugs that provide excellent highway stability while displaying remarkable off-road traction.
The variable-pitch tread blocks of the best budget off road tires provide traction in all directions, while the alternating length shoulder tread blocks provide added traction on wet terrain. 
A dual silicone compound was used to manufacture the Kumho Road Venture AT51. This composition allows the tire to wear evenly across the tread while swiftly cooling the carcass, resulting in balanced performance on pavement and loose gravel.
If you have a look closer, this tire has an angled chamfer with hundreds of gripping edges to provide optimum traction and grip on the mud or snow terrain. The deep and tapering block enhances the tire's rough look while also support its self-cleaning capabilities.
5. Falken Wildpeak A/T3W – Best For Fuel Efficiency
The Falken Wildpeak A/T3W tires' major benefit is that their design aids in fuel economy. Because of their low rolling resistance, the tires will not produce undue friction.
Therefore, the tires will support the car operating more innovatively and properly while consuming less petrol. Fueling your car will not be a big concern.
But that is not all. Falken Tires also utilize Advanced 4D Nano technology to lower heat absorption, improve grip, and boost fuel efficiency. This technique, as they said, could reduce your car's fuel use by roughly 5%.
In addition, the tires include deep sipes and large circumferential grooves that are designed to improve grip in wet or snowy conditions, and many individuals were astonished by how durable they are.
The product's downside is that its riding comfort is not user-friendly. This is because the loudness and weight of the vehicle may make the drivers unpleasant.
6. Yokohama Geolandar A/T GO15 – Best Traction Tires
This tire also has triple 3D sipes. These sipes, common in quality all-season and all-terrain tires, change form as the tread wears, allowing the tire to keep its biting edges. As a result, the tire retains its traction and grip even as the tread wears down.
Interestingly, Enduro is a Yokohama's unique tire technology that combines special high-tech polymers with orange oil, helping to provide improved traction on the highway or off-road with your truck or SUV.
The Enduro tread composition also improves tire robustness and durability, resulting in extended tread life.The Yokohama Geolandar A/T G015 tires include tooth-like shoulder-edge tread blocks that give them a chance to compete in the dirt. These shoulder lugs can catch hold of the ground and assist in propelling your car ahead.
Best Budget Tire For Summer
7. Falken Azenis FK510 – Editor's Choice
The Falken Azenis FK510 has an asymmetric tread pattern with a 4D nano-designed tread compound. As the tire contacts the road, the greater pressure distribution is ensured. This technology also provides a balanced, stable, and comfortable driving experience.
The best budget tires summer employ a specific tread composition to guarantee a tight hold on the road in both dry and rainy situations in the summertime. Indeed, the four circumferential grooves that drain water as soon as they contact the tire provide exceptional wet road grip.
Because the tire is designed for summer riding, it will only be useful in this climate. Cold temperatures harm the tire, and they perform poorly. If exposed to freezing conditions, the tire's compound might easily crack.
8. Ohtsu FP7000 – Best Comfort In Summer
The Ohtsu FP7000 is a high-performance touring tire that fits compact cars, midsize sports cars, sporty vehicles, and minivans. The tire has a non-directional tread pattern that provides a smoother ride and longer life. 
The treadwear comparison goes to non-directional tires. Tires that aren't directional may be rotated or changed to opposite sides of the car, increasing their life and making unbalanced tread wear easier to rectify. On the other hand, you may only rotate directional tires front to rear on the same side of the vehicle.
The tires get louder when driving over uneven asphalt spots, although the noise levels aren't high enough to be deemed bothersome or annoying.
Best Budget Tires For Touring
9. Cooper CS5 Ultra Touring – Editor's Choice
The model is a good response tire, particularly in bigger sizes with thinner sidewalls. High-performance tires can improve responsiveness, but this is the best you can get in a grand-tour vehicle.
While the CS5 Ultra Touring isn't the quietest or most pleasant grand-tour tire, it's still terrific value for money. Over rough grounds, the ride quality is good, and there is little noise on the highway. That is appropriate for a lengthy journey.
These tires also have excellent traction on the road. Even when driven at maximum speed, high-speed cornering seems natural to the tire. Traction remains superb even on automobiles with more powerful V6 or turbo engines.
10. Yokohama AVID Touring-S – Best For Smooth Driving Experiences
The Yokohama Avid Touring-S is an excellent touring tire with all of your expected features. The twin-rail stabilization rib improves straight-line stability while also reducing tire noise patterns. The quiet shoulder design uses variable tread blocks and additional sipes to reduce tire roar, resulting in a smooth and pleasant ride.
The AVID Touring-S also has a tread with tapered rubber infill. This rubber component absorbs vibrations and road noise. Thus, the model will provide a pleasant and smooth ride whether you're driving on flat surfaces or rocky roads.
And the tire is made with the Triplex Compound, which is designed to increase all-season grip and improve tread life at once.
Body roll is noticeable when driving too forcefully, regardless of the angle or depth of the turn, but the tires will remain controlled as long as the throttle and steering are used carefully.
How Much Should You Spend On Tires?
In terms of purchasing new tires, there are a lot of alternatives to choose from. And the pricing might range from shockingly low to outrageously high. And, having the best budget tires is not a daunting task because there are many good cheap tires available.
We'll provide some market-average pricing for several tire varieties in this section. To be specific, standard all-season tires cost between $50 and $200 per one, with winter tires costing an average of $108 to $117. 
Pickup truck and SUV drivers pay an average of $100 to $250, with costs ranging from $50 to $350. Furthermore, the average price of all-terrain truck tires is $170. If you wish to get ultra-high-performance all-season tires, the typical charge per tire is $59-$229.
These prices encompass a wide variety of highly-rated products. These averages are an excellent starting point if you're finding the best value tires.
Where To Buy Cheap Tires?
Walmart and Discount Tire Direct provide some of the best deals, while Tire Rack has the most options. Costco, Sam's Club, and BJ's Tire Center provide some of the greatest overall tire-buying experiences, with low average pricing, complimentary services, and convenience. 
If you purchase good cheap tires from Walmart, you will benefit from a wide range of brands (Firestone, Michelin, Cooper Tires, and more) and a $10 per tire road hazard warranty. Costco offers free lifetime maintenance and installation. 
You also are given certain advantages when you purchase from Discount Tire. In detail, you may purchase the best budget SUV all season tires from an online-only tire store, choose from a large range of brands (Bridgestone, Continental, Michelin, and more), and get a fast and free shipment to you. 
FAQs
Are Cheap Tires The Best Tires For You?
Aside from safety problems, the cheapest tires have a short lifespan. If you buy cheap tires from untrustworthy companies, you will wind up changing them so frequently that your financial budget will decrease. 
In addition, cheap tires can make more noise and reduce your gas mileage than mid-range and higher-end tires. Hence, it's hard to tell whether a cheap tire is good because they depend on many other measures such as brand reliability, whether the tire material constructions are high quality or not, etc.
How Do I Improve The Lifespan Of My Cheap Tires?
Here are some suggestions to help your automobile tires last longer and perform better:
1. Check tire pressure frequently: 
Tires need to be updated more frequently due to tread wear. When you have your tires checked regularly, you can detect wear signs before they become damaged. 
Nonetheless, keep your tire pressure at the manufacturer's suggested level to avoid uneven wear patterns, blowouts, frequent tire replacement, or dangerous flats when driving at higher speeds.
2. Maintain a clean tire:
It's also crucial to keep the tires clean and free of dirt and UV radiation. To avoid corrosive soil collection, you must wash the wheels and tires. Similarly, you may use a quality protective product to shield the tires from direct sunlight or park them in covered places.
3. Examine the alignment of the tires:
Tires that are not correctly aligned can wear out faster. It's recommended to get your tires aligned at a car service center on a regular basis. That will lengthen the cheap tire's life and avoid premature component tread degradation.
Final Verdict
We have listed the best budget tire brands and some typical economical candidates for all seasons, all terrains, summer, and touring performance.
If you want the best tire for price, go to an online tire supplier and enter your vehicle's information. You can compare the prices of certain brands and models that match your car. You'll also be able to check any online promos, deals, or rebates, which is a terrific method to save money on tires. We truly hope that our article will assist you in finding the best tires for the money and the ideal tires for your vehicle! Have fun shopping!