prices range approximately from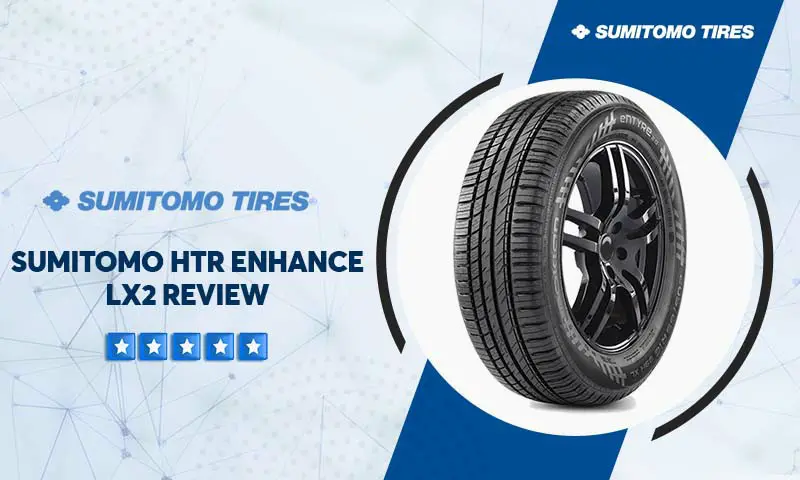 Intro
About Sumitomo
The Sumitomo tire brand brings customers a unique combination of value and quality.
Sumitomo is an export brand of Sumitomo Rubber Industries, Ltd., one of the world's largest tire manufacturers. Sumitomo has a reputation for precision engineering, innovative design, and quality artistry in the tire industry.
Let's dive into Sumitomo HTR enhance LX2 to see what makes this model the must-buy tire!
Feature Review
Design
The product is constructed from the durable all-season rubber compound and features a unique 5-rib asymmetric tread pattern. Moreover, sipes around the tread block further reduce uneven tread wear and significantly improve wet snow and snow traction. 
As a result, these Sumitomo tires have a longer tread life, making them suitable for all-season use and a wide range of sedan and coupe drivers. 
This model works well on wet or snowy roads, thanks to straight circumferential and wide side grooves. The tires feature multiple 3D zigzags sipes with cross bevels for effective grip on the slippery or wettest surfaces.
Traction
Sumitomo HTR Enhance LX2 tires may work well in some areas and not well in others. On the positive side, this model offers very responsive steering and feel-good cornering and good traction in dry and wet road conditions. 
Despite all-season tire standards, traction on ice and slippery condition is not as good as expected.
Noise
Sumitomo tires have a few advanced features with side grooves designed to reduce noise levels. Yet, when you drive at high speeds, it still creates loud noise during the ride. 
Size, Speed Rating & Warranty Miles
This model comes in a wide range of 15-19 inch tire sizes in H, T, V, and W speed classes. 
H and V speed classes: a 70,000-km limited treadwear warranty.
T size: 90,000-km limited treadwear warranty. 
W-Class size: 50,000 km limited treadwear warranty.
Handling
The tire features an affordable, stylish performance all-season touring tire that increases the grip and handling you need all year round. 
The extra width of this tire's external shoulder block, one-piece nylon top seat, and reinforced bead provide a smoother ride and more stable cornering.
Besides, the internal structure consists of a seamless nylon upper layer for stable performance at high speeds, and a high-strength steel belt ensures vehicle durability and stability at high speeds.
Pros & Cons
Overall Thoughts
Sumitomo HTR Enhance LX2 is a premium all-season touring tire designed for coupes, sedans, and SUVs. It can bring high-comfort rides in a variety of conditions.
Thanks to its unique design with 3D sipes, this tire can reduce uneven wear, create sharper corners and improve performance. At the same time, the optimized contact patch evenly distributes the pressure applied to the road surface, extending tire life.
Moreover, it offers us a comfortable ride with high stability. We can see that this tire provide a clear road response and an excellent grip in dry road condition.
Yet, how about wet traction? 
Another downside of this product line is its wet and snow grip. We've experienced these tires on wet roads and had a U-turn after stopping and hydroplaning. So, it will also not work well on more slippery surfaces like ice roads.
As mentioned before, the outer shoulder blocks of Sumitomo tires feature integrated side grooves to improve wet handling and reduce road noise. Yet, many people have shown that most Sumitomo tires make a lot of noise. 
For that reason, before we sum up this review, we had a test on it.
Unlike some research indicating the tires are noisy, we noticed that the tire isn't that noisy in a recent experiment. If you drive at low speed, these tires offer a smooth ride, and quiet too. 
Yet, it will create louder noise during high-speed driving. We can ignore this problem with a little music and a high concentration on driving.
In short, if you live in an area where there is usually little snow and ice or are not driving in more demanding weather conditions, these tires can be an option worth your consideration.
Competitors & Alternatives
HTR enhance LX2 prices range approximately from $91.99 to $176.99 (Tire Rack)
| 15 | | 16 | |
| --- | --- | --- | --- |
| 175/65R15 | 195/60R15 | 185/55R16 | 215/60R16 |
| 185/55R15 | 195/65R15 | 195/50R16 | 215/65R16 |
| 185/60R15 | 205/65R15 | 195/55R16 | 215/70R16 |
| 185/65R15 | 215/70R15 | 205/55R16 | 225/60R16 |
| | | 205/60R16 | 225/65R16 |
| | | 205/65R16 | 225/70R16 |
| | | 215/55R16 | 235/65R16 |
| 17 | | 18 | |
| --- | --- | --- | --- |
| 205/50R17 | 225/55R17 | 225/50R18 | 235/45R18 |
| 215/50R17 | 225/60R17 | 225/55R18 | 235/50R18 |
| 215/55R17 | 225/65R17 | 225/60R18 | 235/55R18 |
| 215/60R17 | 235/55R17 | | |
| 215/65R17 | 235/60R17 | | |
| 225/50R17 | 235/65R17 | | |
Sumitomo HTR enhance LX2 – Compare Prices
We found 3 online tire retailers selling Sumitomo HTR Enhance LX2. Refer to the details below to get the best price
Sumitomo HTR Enhance LX2
PRICE
SOLD BY
 

Offers

Offers




Offers



HTR enhance LX2 Ratings By Consumer