Is it necessary to change your tires seasonally? Can it increase your safety and ride quality on the road? 
When the season changes from summer to winter, it's time for us to think about swapping out summer tires for winter tires. However, we need to consider the timing to make a winter tire change.
Manufacturers design winter tires (also known as snow tires) for use on snow and ice. They have several special features that differentiate them from summer tires. 
So, when to change to winter tires? The best time is definitely not the first snowstorm of the season. Let's scroll down for the answer!
What Makes Winter Tires Different? 
Winter tires are perfect for temperatures below 44०F. Their designs are geared towards those who live in extremely cold areas and heavy snowfalls. They have special features to sustain harsh wintry conditions.
Tread Patterns
Winter tires have deeper and larger tread depth and unique tread patterns. Their extra deep treads can disperse water, helping reduce snow buildup, and aquaplaning.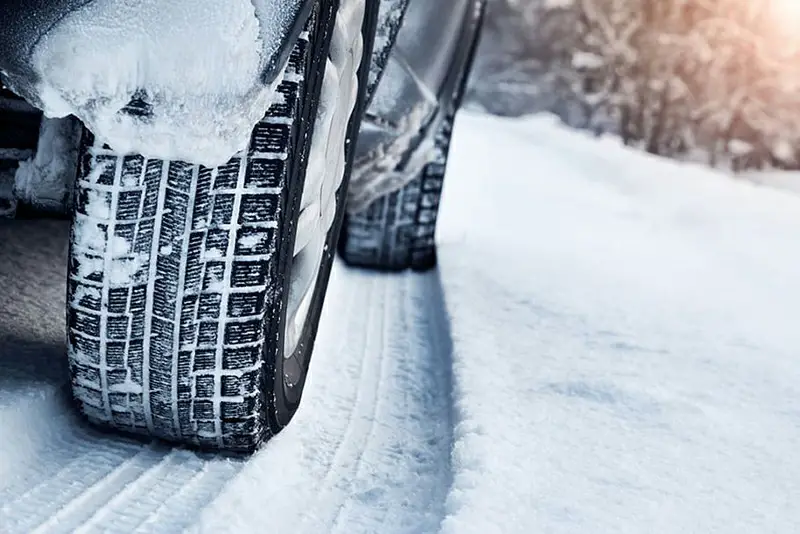 Tread Rubber
In extremely cold weather, manufacturers provide their snow tires with additional tread rubber. These tread rubber compounds remain soft and pliable at freezing temperatures, ensuring that the tire still firmly grips onto the road.
Traction
Thanks to the unique tread patterns and extra tread rubber, winter tires provide better traction and handling for the vehicle on snowy, wet, and slippery surfaces. 
Three-Peak Mountain Snowflake Symbol
The snowflake symbol on winter tires demonstrates their capability of winter traction performance. It provides safety and control in snowy and icy conditions. While a few normal tires meet these performance requirements, most true snow tires carry this symbol, indicating that they are specially developed for winter driving.

When To Switch To Winter Tires? 
The timing is essential to your safety in cold weather. Many people often change their tires when they spot the first snowflakes fall to the ground. However, this is not the ideal time to make a switch.
Temperature Drops Below 44०F
Don't wait until the temperature drops too much. When you feel it's cold enough to wear a coat, it's when to put winter tires on. This preparation is very helpful in case of a sudden drop in temperature. 
A Thumping Sensation
When you start to feel a thumping in your car and know that the tires are not flat, it's time to change to winter tires. This sensation is a warning sign that your all-season tires cannot perform at their best and start to lose their elasticity in cold weather.
Tread Depth Is Lacking
Tire tread depth plays a key role in providing efficient handling, braking, and friction on roads. By checking whether the tread depth is sufficient or not.
Do not skip this step, or your tires will lack the tread they need to grip the road safely.
How Can Winter Tire Protect Us?
Winter tires avoid slipperiness when the roads are wet or snowy at low temperatures. They provide superior traction, braking, and resistance against extreme conditions. 
Thanks to their characteristics, snow tires can combat inclement weather conditions for the sake of our safety. Furthermore, these specialty tires make us feel comfortable and secure.
Conclusion
The best practice is to check the temperature. Don't wait until the temperature drops dramatically or the first snowstorm happens. Besides, it is advisable to pay attention to small details on our tires to know whether changing to winter tires are necessary.