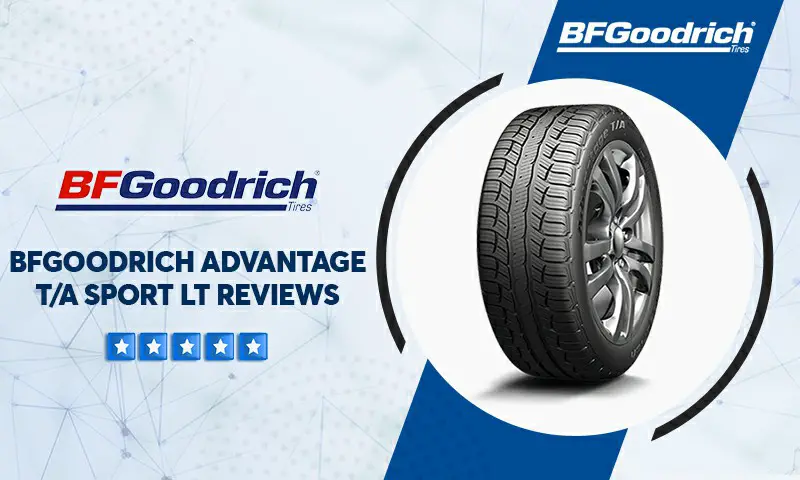 Founded by Benjamin Franklin Goodrich in 1870, BFGoodrich is a high-speed car tire manufacturer in the US. Although making rubberized hoses and belts during their first days, the brand has made a name for itself as an excellent care tire maker. The business became a part of the French empire Michelin in 1988. 
Offering different care tire types at a reasonable price, BFGoodrich is worth considering in its price range. Are you looking for an all-season tire to accompany you on adventurous journeys? Then read all to see if BFGoodrich Advantage T/A Sport LT is your best fit!
What makes BFGoodrich Advantage T/A Sport LT different?

BFGoodrich Advantage T/A Sport lT reviews reveal the secret that makes the name of the product. As the pioneer in the field with impressive run-flat car tire design and later radial tech car tires, many reviews have proved that the company's products are among the most excellent touring truck tires.
It is the brand's latest touring light truck tire release for all-season use. Performing at a high-level speed in year-round conditions, BFGoodrich Advantage T/A Sport LT is suitable for light trucks, cross-overs, and SUV automobiles.
Tread and traction
The unique thing lies in the special silica compound and symmetric tread pattern. Its emblem of 3-peak mountain/snowflake also exceeds the industries' requirement of severe snow services. 
These features, combined with the brand's 3D sipping technology, enhance grip and deliver more traction for the tire on the road, especially in wet and light snow weather.
Wet and dry handling
Enhanced corner stability and great wet and dry handling are what you find in BFGoodrich Advantage T/A Sport LT, all thanks to the symmetric patterns and ETEC technology. Its center ribs also give the tire a great road feel with smooth and responsive ride quality. 
The brand's all-season tire product is such a steal deal in the price range!
View more: BFGoodrich Advantage T/A Sport tire Reviews
BFGoodrich Advantage T/A Sport LT test drive
I will break these elements down into detailed parts to give you an insight into BFGoodrich Advantage T/A Sport LT reviews. 
Released to the market at a relatively competitive but affordable price, the BFGoodrich Advantage T/A Sport LT comes with a unique corner and advanced tread design that enhances its performance in wet and dry road conditions. 
Its stable traction offers drivers a better grip on slippery or parched earth due to increased full-depth pattern and biting edges. While tread features help improve traction, its contact patch effectively channels water for an excellent hydroplaning resistance.
The tire owns top-quality handling in high-speed performance with improved handling compared to other all-season tires in the same price range.
Using innovative technologies such as Next Generation ETEC, 3D Active Sipe Technology, and Next Generation g-Wedge Sidewall Stabilizer, the tire reinforces a better road feel with more stability when cornering and less distortion when doing wheel spin. 
However, you may encounter the problems of sound and vibration as time goes by. Despite having excellent hydroplaning resistance, the tire still wears out gradually, creating an annoying amount of noise and vibration when driving.
This issue will be bearable if the tire doesn't come on rough road surfaces requiring too much smooth handling.
Who would be the best fit for BfGoodrich advantage t/a sport lt?
All in all, with the BFGoodrich Advantage T/A Sport LT reviews, the tire is a reliable choice for people with a limited budget looking for a deal of an all-season touring tire of trucks. With superior tread design and innovative technology, it's worth the money you spend on a ride of comfort in any weather!
Competitors & Alternatives
| | |
| --- | --- |
| Treadlife Warranty: | 6 Years / 65,000 Miles (T- or H-Speed Rated)  6 Years / 60,000 Miles (V-Speed Rated)  Half mileage for rear if different size than front |
| Uniformity Warranty: | 1 Year / first 2/32″ of wear |
| Workmanship & Materials Warranty: | 6 Years / Free replacement first year, 2/32″ or 25% of wear, then prorated until 2/32″ remaining depth |
| Manufacturer's Road Hazard Warranty: | None |
| Manufacturer Special Warranty: | None |
Warranty summary for replacement tires purchased on or after 11/01/17 – Tire Rack
| 15″ | | 16″ | |
| --- | --- | --- | --- |
| 235/75R15 | | 215/70R16 | 235/70R16 |
| | | 215/70R16 | 245/70R16 |
| | | 225/70R16 | 245/75R16 |
| | | 225/75R16 | 255/70R16 |
| | | | 265/75R16 |
| 17″ | | 18″ | |
| --- | --- | --- | --- |
| 235/65R17 | 265/70R17 | 235/55R18 | 255/55R18 |
| 245/65R17 | | 235/60R18 | 255/65R18 |
| 245/70R17 | | 235/65R18 | 265/65R18 |
| 255/65R17 | | 235/65R18 | 265/60R18 |
| 265/65R17 | | 245/60R18 | 265/70R18 |
| | | | 275/65R18 |
| 19″ | | | |
| --- | --- | --- | --- |
| 225/55R19 | | 235/55R20 | 265/50R20 |
| 235/55R19 | | 245/50R20 | 275/55R20 |
| 245/55R19 | | 255/50R20 | 275/60R20 |
| 255/60R19 | | 255/55R20 | |
BFGoodrich advantage t/a sport lt price ranges from around $129.00 to $242.00
Continental ExtremeContact DWS
Vredestein Ultrac Satin
Kleber Dynaxer HP4
Michelin Primacy HP Zero Pressure
Nokian iLine
Nokian Line
Last words,
Although picking the perfect tire for your car is never that easy, we are here to give you some of the most useful information for your tire choice.
With high quality, reasonable price, and trusted reviews from users, BFGoodrich Advantage TA Sport LT is of top choices for an all-season car tire.
Advantage T/A Sport LT review by consumer