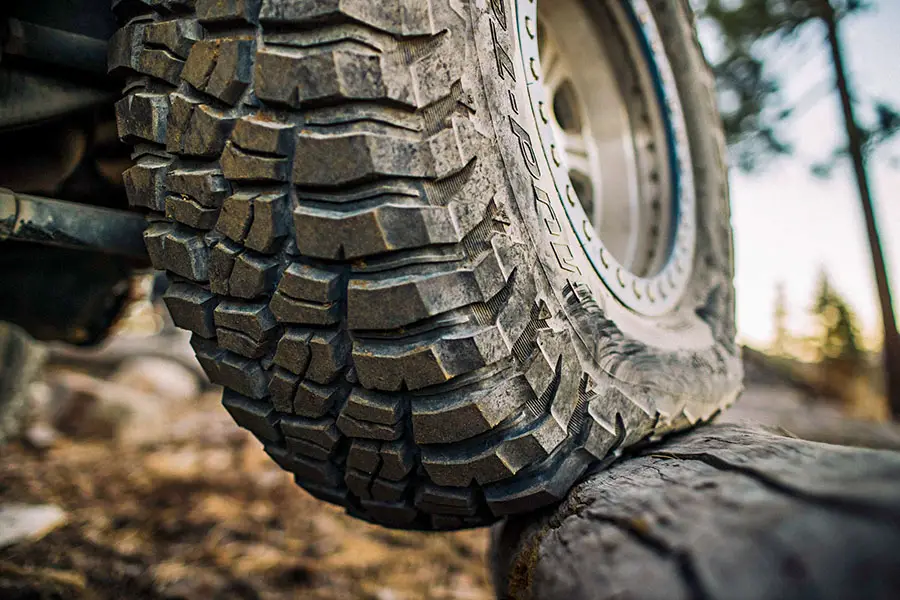 To meet the diverse needs of users, manufacturers have released many different types of tires. Among them, the KM3 is a durable product because of its amazing mud-fighting ability. 
If you are also interested in this product, do not ignore the BFGoodrich Mud Terrain T/A KM3 review below.
They are outstanding products and receive many positive reviews from consumers. So let's find out if they are as good as what people said.
BFGoodrich Mud Terrain TA KM3 Reviews
Mud Terrain KM3 is the latest line of BFGoodrich – a leading American off-road tire brand. This product was launched in 2019. Since then, it has made a strong impression on many users around the world.
Design
The design focuses on durability and mud-climbing ability. Corgard Max technology increases sidewall thickness to protect the tire and avoids the risk of damage.
Tires are made from high-quality rubber. The inside is a three-layer structure of study polyester. So, your car will not be punctured easily when encountering obstacles or sharp rocks.
KM3 has large spike blocks and suitable treads. It creates excellent traction for this product line. In addition, the mud-phonic bars help it to remove mud from the surface and ensure great traction.
Tire Sizes
This off-road tire line has various available sizes. Depending on your needs and the type of vehicle you are running, you can choose the product that best suits your needs. Currently, this product has up to 55 sizes available for rim sizes 15, 16, 17, 18, 20, 22 inches.
Weather Performance
Many of the tests of this tire were carried out in arid areas such as Mount Kosciuszko, the Davies Plain trail in the Victorian Highlands, or the Blue Mountains. It shows that the KM3 can withstand temperatures and perform well on dry roads.
Mud Terrain TA KM3 is annotated as M + S. Thus, it is qualified to go on the road even if it is muddy or covered with snow.
Traction
Krawl-Tek compound is the factor that creates excellent traction for KM3. It promotes its advantages especially on both mud and rocky terrain.
This product has 5% better traction on muddy terrain and 8% better on undulating rocky terrain. Apart from that, the design of symmetrical grooves on the tire wall can increase traction and release mud when overloaded.
Off-road & On-road Performance
The BFGoodrich Mud-Terrain TA KM3 was made to conquer the tough. It can accompany you on long trips through sloping or muddy roads.
Terrain-Attack tread provides outstanding grip. In addition, the Linear Flex Zone allows it to flex and cover objects in aerial downhill situations.
It is 27% more stiffness along with a deep groove design. This tire is a well-suited consideration for conquering enthusiasts.
The on-road performance of the KM3 is also great. Despite carrying the features of an off-road tire, it still goes quite smoothly on the highway, quieter than its KM2 sibling.
KM3 has a new improvement in the tread pattern. The spacing of the tread blocks has been extended. It is the point that helps limit its vibration and noise on the asphalt.
Personal Opinion 
Features
The excellent traction on the muddy terrain of the KM3 is something that users cannot deny. In addition, the deep groove design on the tire wall along with mud-phonic bars will help you not to stick and get out of the mud quickly.
However, you will find that an off-road tire with sturdy rubber construction will be heavy. Your engine will have to work at a high capacity to pull these tires through rocks or mud. So it may not be an economical tire and saves you fuel.
Another point that makes it highly appreciated is its good on-road ability. Although your trips will include asphalt or highway sections, this tire will ensure the comfort of the driving experience.
Occasionally, it will make some noise when running on the road. But if you ignore it with your favorite songs, it won't matter.
Also, there is one thing to note about the weather performance of the BFGoodrich Mud Terrain TA KM3. Many users agree that it may be fine for 12-inch-thick snow
Aimed Users
This tire is an ideal design for drivers of jeeps, pickup trucks, large SUVs and off-road vehicles. It does not mean you can not use it for highways or city roads.
However, the manufacturer announced that this product is 80% for off-road and 20% for the road. And you certainly wouldn't invest in an off-road tire to drive around in the city, would you?
Is It Worthy To Choose?
To determine that it is worthy of your choice, see whether it can meet your needs. For off-roaders like us, there's nothing to complain about a tire that is durable, grips well and crosses muddy roads easily.
Not only that, it is sturdy, durable and punctured. It helps us minimize unexpected breakdowns on the road.
Objectively, the quality of KM3 and the reputation of the big company BFGoodrich make us believe in this product. It will be worth our investment.
Competitors & Alternatives
| | |
| --- | --- |
| Treadlife Warranty: | None |
| Uniformity Warranty: | 1 Year / first 2/32″ of wear |
| Workmanship & Materials Warranty: | 6 Years / Free replacement first year, 2/32″ or 25% of wear, then prorated until 2/32″ remaining depth |
| Manufacturer's Road Hazard Warranty: | None |
| Manufacturer Special Warranty: | None |
Warranty summary for replacement tires purchased on or after 11/01/17
at Tire Rack
| 14 | | 15 | |
| --- | --- | --- | --- |
| LT 28X10.00R14 | LT 32X10.00R14 | LT 215/75R15 | 32X10.00R15UTV |
| 30X10.00R14UTV | | LT 235/75R15 | LT 32X11.50R15 |
| | | 30X10.00R15UTV | LT 33X10.50R15 |
| | | LT 30X9.50R15 | LT 33X12.50R15 |
| | | LT 31X10.50R15 | LT 35X12.50R15 |
| | | | |
| 16 | | 17 | |
| --- | --- | --- | --- |
| LT 225/75R16 | LT 265/70R16 | LT 245/70R17 | LT 295/70R17 |
| LT 235/70R16 | LT 265/75R16 | LT 255/65R17 | LT 315/70R17 |
| LT 235/85R16 | LT 285/75R16 | LT 255/75R17 | LT 33X12.50R17 |
| LT 245/75R16 | LT 305/70R16 | LT 265/65R17 | LT 35X12.50R17 |
| LT 255/70R16 | LT 315/75R16 | LT 265/70R17 | LT 37X12.50R17 |
| LT 255/85R16 | | LT 285/70R17 | LT 37X13.50R17 |
| | | LT 285/75R17 | LT 39X13.50R17 |
| 18 | | 20 | |
| --- | --- | --- | --- |
| LT 265/60R18 | LT 305/60R18 | LT 275/65R20 | LT 305/55R20 |
| LT 275/65R18 | LT 325/65R18 | LT 285/55R20 | LT 325/60R20 |
| LT 275/70R18 | LT 33X12.50R18 | LT 295/55R20 | LT 33X12.50R20 |
| LT 285/65R18 | LT 35X12.50R18 | LT 295/60R20 | LT 35X12.50R20 |
| LT 285/70R18 | LT 37X12.50R18 | LT 295/65R20 | LT 37X12.50R20 |
| LT 295/70R18 | LT 37X13.50R18 | | LT 37X13.50R20 |
| | | 22 | |
| | | LT 37X13.50R22 | |
Crossclimate Plus prices range approximately from $193.00 to $562.00 (Discount Tire)
Firestone Destination M/T2
Bfgoodrich Mud Terrain T/A KM3 – Compare Prices
We found 6 online tire retailers selling Bfgoodrich Mud Terrain T/A KM3 . Refer to the details below to get the best price
Bfgoodrich Mud Terrain T/A KM3
PRICE
SOLD BY

Offers

Offers

Offers

Offers

Offers

Offers
Conclusion
Through the BFG KM3 tire review, you have learned much useful information about it. This product is popular in the market because of its superior features.
If you need a tire to accompany you through thorny roads full of mud or undulating stones, it can be the right choice. In addition, combining the purpose of use with flat terrain is also a wise idea because its on-road ability is also great.