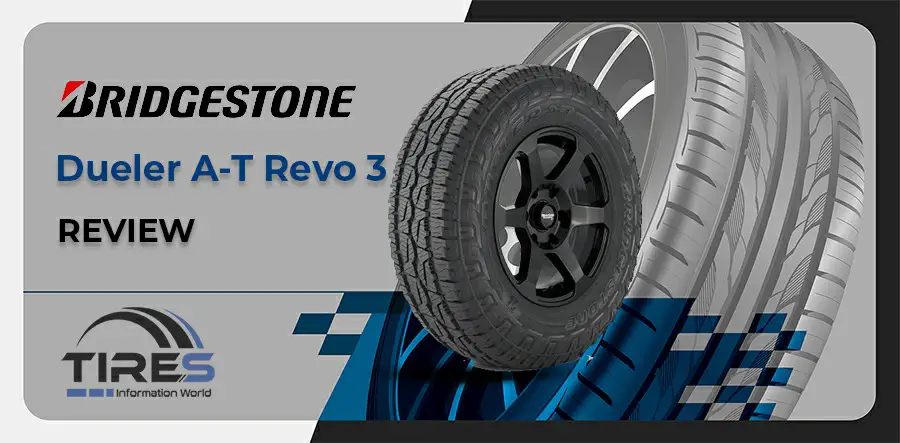 Does this famous Bridgestone Dueler A/T Revo 3 perform as excellent as how the brand advertises it? What are the special features of this tire? What pros and cons does the product have?  Scroll down for a detailed Bridgestone Dueler A/T Revo 3.
Bridgestone Dueler A/T Revo 3 Overview
Bridgestone Corporation is the most renowned Japanese company that specializes in manufacturing components for trucks and cars. For 90 years since 1931, Bridgestone has evolved into a huge group with 181 production facilities worldwide.
Each product of Bridgestone is proof of the brand's quality and reputation; the Dueler A/T Revo 3 is no exception. Read on to see the most precise analysis amongst Bridgestone Dueler.
Features Of Bridgestone Dueler A/T Revo 3
In the tire manufacturing field nowadays, On-road and Off-road tires remain a key trend that decides the triumph of the tire brands. Bridgestone has completed this task excellently with the Dueler A/T Revo 3. 
Specifically, this all-terrain tire can satisfy adventurous drivers who want to conquer Off-road routes or even drivers who prefer tires for casual On-road use. Car types that will get on well with Bridgestone Dueler A/T Revo 3 tires are CUV, SUV, light pickup trucks, medium pickup trucks, or crossover. 
The Dueler A/T Revo 3 will guarantee prominent traction and grip for Off-road use along with the remarkable comfort for On-road cars. On the highway, this Bridgestone product will also provide drivers with a smooth and quiet driving experience. 
Not only adaptable to different terrains, but the Dueler A/T Revo 3 can also function decently in various weather conditions like icy roads, wet roads, or dry roads.
What's more, Bridgestone designs this product with a balanced tread pattern to result in similar wear patterns. Along with the high-quality material, the Dueler A/T Revo 3 can easily handle tears and chips.
The groove stepping on the tread blocks is one of the most noteworthy features of this Revo 3. This creative design will allow drivers to control the vehicle better and be more secure at turns or hard braking. Therefore, the groove stepping will boost the traction when your vehicles run on loose surfaces.
Quick Rundown Of Dueler A/T Revo 3
Dueler A/T Revo 3 Tire Drive Test
From our own experience, after using the Bridgestone Dueler A/T Revo 3, we would like to share with you some personal points of view on this tire when driving on non-ideal surfaces. This may be more suitable for you than other Bridgestone Dueler A/T Revo 3 tires on the Internet.
On Soft Surface
The staggered shoulder legs of the Revo 3 will increase the grip of your cars on the soft roads. For this reason, irregular terrains like loose mud, gravel, or sand are no longer a tough challenge to this tire.
On Wet Or Snowy Surface
A wet surface is dangerous for any driver to drive on. Apart from the driving skill, drivers should equip their vehicles with optimal tires to deal with wet surfaces. The Dueler A/T Revo 3 overpowers other same-range tires at this point!
Thanks to the traction claws, this Bridgestone product will keep your cars stable and safe on both wet and snowy roads. Yet, that's not all the Revo 3 has. Along with the traction claws, the 3D steps and the open shoulder slots are other great features that contribute to the optimal functionality of this all-terrain tire under wet or snowy conditions. 
In specific, the amazing cuts will speed up the water-evacuation process and allow the shoulder to get more traction at the same time. You can completely rely on the Dueler A/T Revo 3 when carrying out a turn on a rainy day.
The capacity of the Revo 3 to avoid slip on a fully snow-covered or wet road is increased with the in-block sites. These in-block sites will combine with the traction claws to form the biting edges that support the gripping of the tire.
To conclude, driving will require much of your skill and experience. However, with outstanding tires like the Bridgestone Dueler A/T Revo 3, your drives will be a lot easier and safer!
Competitors & Alternatives
| | |
| --- | --- |
| Treadlife Warranty: | 5 Years / 60,000 Miles (P-metric & euro metric)  5 Years / 50,000 Miles (LT sizes)  Half mileage for rear if different size than front |
| Uniformity Warranty: | First 2/32″ of wear |
| Workmanship & Materials Warranty: | 5 Years / Free replacement first 3 years, then prorated until 2/32″ remaining depth. |
| Manufacturer's Road Hazard Warranty: | None |
| Manufacturer Special Warranty: | 90 Day Buy & Try Guarantee (1) |
| Additional Information: | (1) Purchase four or more, full refund or exchange |
Dueler A/T Revo 3
warranty summary for replacement tires purchased on or after 06/01/19 at
| 16 | | 17 | |
| --- | --- | --- | --- |
| P 225/75R16 | LT 265/75R16 | P 245/65R17 | LT 265/70R17 |
| LT 245/75R16 | P 265/75R16 | P 245/70R17 | P 265/70R17 |
| P 245/75R16 | LT 285/75R16 | LT 245/75R17 | LT 285/70R17 |
| P 265/70R16 | | LT 255/75R17 | P 285/70R17 |
| | | P 265/65R17 | LT 315/70R17 |
| 18 | | 20 | |
| --- | --- | --- | --- |
| P 255/70R18 | LT 275/65R18 | 265/50R20 | LT 275/65R20 |
| 265/60R18 | P 275/65R18 | LT 265/60R20 | LT 285/55R20 |
| P 265/65R18 | LT 275/70R18 | LT 275/55R20 | LT 285/60R20 |
| LT 265/70R18 | LT 285/65R18 | P 275/55R20 | LT 305/55R20 |
| P 265/70R18 | LT 295/70R18 | P 275/60R20 | |
Dueler A/T Revo 3 prices range approximately from ‎$186.99 to $387.99 (Simple Tire)
Cooper Discoverer AT3 4S
General Grabber A/TX
Firestone Destination A/T2
Pirelli Scorpion All Terrain Plus
BFGoodrich All-Terrain T/A KO2
Continental TerrainContact A/T
Bridgestone Dueler A/T Revo 3 – Compare Prices
We found 5 online tire retailers selling Bridgestone Dueler A/T Revo 3. Refer to the details below to get the best price
Bridgestone Dueler A/T Revo 3
PRICE
SOLD BY

Offers

$186.99

Offers

$188

Offers
Dueler A/T Revo 3 Ratings By Consumer