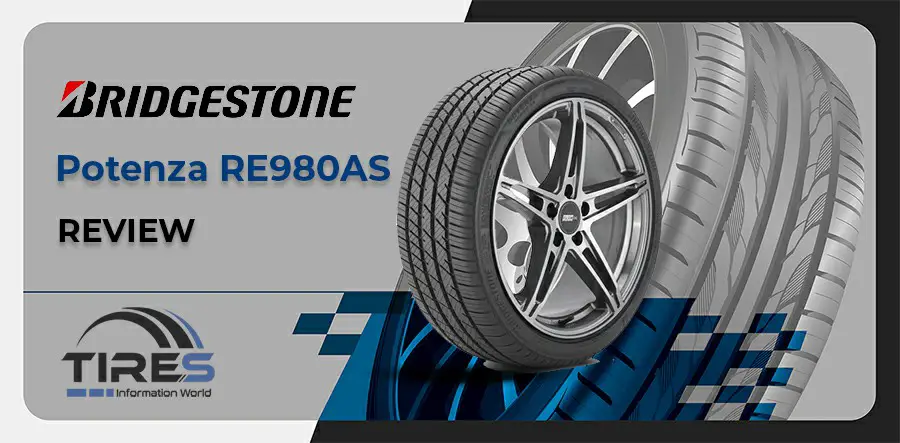 Bridgestone & Bridgestone Potenza Introduction
Before enrolling in the most detailed one amongst Bridgestone Potenza RE980AS tires it's better to understand the Bridgestone brand first!
Bridgestone Overview
Bridgestone was established in 1931 by the Japanese founder Shojiro Ishibashi. He translated his name into English and used it to name his company. 
The company is well-known for making car tires and has become the largest tire company globally, with several branches in the United States. Bridgestone tires are various in sizes and shapes to make sure you find what you want. 
Some popular tires products from this brand are Potenza, Driveguard, Turanza, Ecopia, Dueler, and Blizzak. Each model has certain superiority and makes you fall in love from the first drive. 
Bridgestone Potenza RE980AS Overall Features 
Potenza RE980AS boasts outstanding traction in corners and braking, even on wet roads. This is a first-class tire model from the Bridgestone brand, which includes variations on performance-focused specifications. Hence, it is suitable for famous models like Ferrari or Lexus. 
Although the Potenza RE980AS is an all-season tire, it's much better for dry road driving. In the winter period, you should keep it in the garage instead of running in the snow. 
Even though noise and average speed when stopping in wet conditions are minus points about this product, we can not deny its quick move-in corners with responsive handling and operate at restricted speeds after a puncture.
Pros And Cons 
Below are all-inclusive insights of this product regarding advantages and disadvantages that other Bridgestone Potenza RE980AS possibly lack:
Bridgestone Potenza RE980AS: Tire Drive Test 
This section would be my sharing of my real experience using this tire. Let's see what I have to say about it.
Tread
Bridgestone equips and upgrades Potenza RE980AS with unique key technologies. In particular, it possesses a modern all-season compound with a dissymmetrical tread pattern, which is perfect for both wet and dry performance. Apart from the asymmetric design, it also comes with the noise-optimized feature for greater refinement while moving.
Traction 
Traction and dry grip achieve the highest rank of AA with chamfered side slits to improve road contact and interlocking 3D deep suction slots. This hallmark makes the tires more durable and effective responsiveness when cornering. With the grooves and sipes' deepness, Potenza RE980AS's wet traction is excellent.
Wet
Its grip and water-resistance are extraordinary on damp roadways. 
Dry
Potenza RE980AS also performs very well on dry roads. In other words, it won't lose traction when you accelerate suddenly like some other economical tires.
Snow
Bridgestone company promises to upgrade Potenza RE980AS with 50 percent more reliable performance in cold weather than its brothers. It's outstanding with stable traction in freezing conditions, while it also brings good traction in thin snow.
Noise
Potenza RE980AS owns noise-optimized tread, which brings you a sense of quiet driving experience, even at incredibly high speeds. Still, it can cause a bit of noise in tough forces.
Treadwear
Bridgestone brand warrants a 50,000-mile per 5 years treadwear for  Potenza RE980AS. Compared to other rivals, this is an exceptionally outstanding all-season tire guarantee in the treadwear aspect. 
Temperature
Luckily, the Potenza RE980AS tire is durable and convenient enough for you to experience different seasons. This feature allows it to operate in a wide range of temperatures, either hot or cold. 
Speed
Potenza RE980AS, with high performance, is resistant to heat and pressure when you are driving at high speed. Its tread compound, pattern, and internal structure combine to assure more secured high-speed traveling.
Braking
As many car lovers expect, the Braking of Potenza RE980AS is also commendable and top-notch in power. Suppose you accelerate or brake suddenly; its grip is still admirable.
Competitors & Alternatives
| | |
| --- | --- |
| Treadlife Warranty: | 5 Years / 50,000 Miles  Half mileage for rear if different size than front  |
| Uniformity Warranty: | First 2/32″ of wear |
| Workmanship & Materials Warranty: | 5 Years / Free replacement first 3 years, then prorated until 2/32″ remaining depth. |
| Manufacturer's Road Hazard Warranty: | None |
| Manufacturer Special Warranty: | 90 Day Buy & Try Guarantee (1) |
| Additional Information: | (1) Purchase four or more, full refund or exchange |
Potenza RE980AS
warranty summary for replacement tires purchased on or after 01/01/19 at
Tire Rack
| 16 | | 17 | |
| --- | --- | --- | --- |
| 205/55R16 | | 205/45R17 | 225/50R17 |
| | | 205/50R17 | 225/55R17 |
| | | 215/45R17 | 235/45R17 |
| | | 215/50R17 | 235/55R17 |
| | | 215/55R17 | 245/40R17 |
| | | 225/45R17 | 245/45R17 |
| 18 | | 19 | |
| --- | --- | --- | --- |
| 215/40R18 | 245/35R18 | 225/40R19 | 255/35R19 |
| 215/45R18 | 245/40R18 | 225/45R19 | 255/40R19 |
| 225/40R18 | 245/45R18 | 235/35R19 | 265/40R19 |
| 225/45R18 | 255/35R18 | 245/35R19 | 275/35R19 |
| 225/50R18 | 255/40R18 | 245/40R19 | 275/40R19 |
| 235/40R18 | 265/35R18 | 245/45R19 | 285/30R19 |
| 235/45R18 | 265/40R18 | 245/50R19 | |
| 235/50R18 | 275/35R18 | | |
| 20 | | | |
| --- | --- | --- | --- |
| 245/35R20 | 275/35R20 | | |
| 245/40R20 | 275/40R20 | | |
| 245/45R20 | 285/35R20 | | |
| 255/35R20 | 295/30R20 | | |
| 255/45R20 | 305/30R20 | | |
| 265/35R20 | | | |
Potenza RE980AS prices range approximately from $124.87 to $296.29 (Tire Rack)
Continental ExtremeContact DWS 06 Plus
Michelin Pilot Sport All Season 4
Sumitomo HTR A/S P03
BFGoodrich g-Force COMP-2 A/S PLUS
General G-MAX AS-05
Bridgestone Potenza RE980AS – Compare Prices
We found 5 online tire retailers selling Bridgestone Potenza RE980AS. Refer to the details below to get the best price
Bridgestone Potenza RE980AS
PRICE
SOLD BY
 

Offers

$108.96

Offers

Offers

Offers
Potenza RE980AS Ratings By Consumer