Bridgestone is a prestigious brand in tire manufacture. There are different opinions on their Turanza Quiettrack product line. In today's post, we will share our Bridgestone Turanza Quiettrack reviews after one week of driving tests. Let's check it out!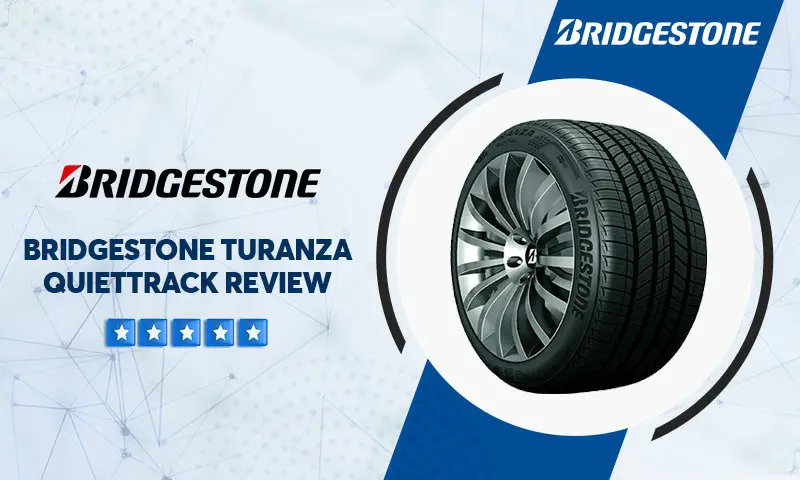 What makes Bridgestone Turanza Quiettrack different?
Turanza Quiettrack is a product that Bridgestone launched in 2013. The available sizes come in abundance, ranging from 15-inch wheel diameter to 20-inch wheel diameter, enough to cover all types of cars such as coupes, minivans, sedans, sports cars, hatchbacks, etc.
Design
Bridgestone Turanza Quiettrack has its tread made from over 30 compounds with asymmetric patterns. The product has a wide circumferential groove, open shoulder slots, and round footprints. Consequently, the tread wears out slower than most wheels of the same price range.
Meanwhile, the TIRE'S internal materials consist of a single polyester casing and a single nylon cap ply. They reinforce the steel belts and the tire's structure, reducing the possibility of wearing out even when the car is running at high speed.
As usual, we made a week-long trip in my car to experience the product. We drove about 60 miles per day and extra on the weekend in different weather conditions.
The manufacturer has given it an outer case thick and hard enough to deal with long journeys. Any car running on a set of this wheel can make it through as far as 80000 miles without breaking down halfway. After a whole week, the tire looked like new even though we made sharp corners or instant stops.
In turn, it was not smooth and soft at first. The car got bumps and we could feel the gentle shakes in the cabin when driving on dirt roads. It runs perfectly on the highway, though.
Although the Bridgestone Turanza Quiettrack review of others gives a 9.6 score for the ride quality, we'd only prefer a 9.0 score.
Features
The product is designed for all seasons with different weather thanks to the tread patterns.
Besides, the biting edges can handle sharp cornerings perfectly with stable speed. HydroTrack Technology is waterproof and enhances the tire's grip so that slipping issues are not likely to occur, even on rainy days.
We highly appreciate the dry and wet traction of this design. It works excellent on cornering and braking at reasonable speeds even when the car is traveling on slippery routes. In the light snow, it performs at the acceptance level and slicks the road well.
In comparison with another wheel line from the same manufacturer – Turanza Serenity Plus tire, the product performs 20% better on wet roads and 44% better in light snow.
In addition, the cars run stably without road noise even when they reach a maximum speed of 149 mph. This is the most outstanding feature of this product. It is absolutely the quietest tire we've ever tested. We will give it a 9.5 point for noise performance.
Pros & Cons
In conclusion
You cannot require this product to perform as other racing tires in speed and traction because it was not born for this purpose. The Bridgestone product is perfect for a long highway commute with incredible durability. We do believe it can go 80,000 – 100,000 miles.
That's all for our Bridgestone Turanza Quiettrack reviews. If you have any other questions concerning this product, please let us know. In case you want to try the Turanza Quiettrack tire already, go ahead!
Competitors & Alternatives
| | |
| --- | --- |
| Treadlife Warranty: | 5 Years / 80,000 Miles Half mileage for rear if different size |
| Uniformity Warranty: | First 2/32″ of wear |
| Workmanship & Materials Warranty: | 5 Years / Free replacement first 3 years, then prorated until 2/32″ remaining depth. |
| Manufacturer's Road Hazard Warranty: | None |
| Manufacturer Special Warranty: | 90 Day Buy & Try Guarantee (1) |
| Additional Information: | (1) Purchase four or more, full refund or exchange |
Warranty summary for replacement tires purchased based on Tire Rack
| 15″ | | 16″ | |
| --- | --- | --- | --- |
| 195/50R15 82V | | 205/45ZR16 83W | 225/55ZR16 95W |
| 195/50R15 85V | | 205/50ZR16 87W | 245/50ZR16 97W |
| | | 205/55ZR16 91W | 255/50ZR16 99W |
| | | 225/50ZR16 92W | |
| 17″ | | | |
| --- | --- | --- | --- |
| 205/45ZR17 88W | 225/45ZR17 91W | 245/40ZR17 91W | 275/40ZR17 98W |
| 205/50ZR17 89W | 225/50ZR17 94W | 245/45ZR17 95W | |
| 215/45ZR17 87W | 225/55ZR17 97W | 255/40ZR17 94W | |
| 215/450R17 95W | 235/45ZR17 94W | 255/45ZR17 98W | |
| 18″ | | | |
| --- | --- | --- | --- |
| 215/40ZR18 89W | 235/45ZR18 98W | 255/35ZR18 90W | 275/35ZR18 95W |
| 225/40ZR18 88W | 235/50ZR18 97W | 255/35ZR18 95W | 275/35ZR18 99W |
| 225/45ZR18 95W | 245/45ZR18 93W | 255/35ZR18 99W | |
| 235/40ZR18 91W | 245/45ZR18 96W | 265/35ZR18 93W | |
| 19″ | | 20″ |
| --- | --- | --- |
| 255/35ZR19 96W | | 245/45ZR20 103W |
| 275/40ZR19 101W | | 255/45ZR20 101W |
| 285/35ZR19 103W | | 275/40ZR20 96W |
Bridgestone Turanza Quiettrack price ranges from around $131.00 to $256.00
Falken EUROALL SEASON AS210
Goodyear Vector 4Seasons Gen 3
BFGoodrich g Grip All Season 2
Bridgestone Weather Control A005 EVO
Continental AllSeasonContact
Nokian WeatherProof
Bridgestone Turanza Quiettrack – Compare Prices
We found 5 online tire retailers selling Bridgestone Turanza Quiettrack. Refer to the details below to get the best price
Bridgestone Turanza Quiettrack
PRICE
SOLD BY
 

Offers

Offers

Offers

$133.99

Offers
Bridgestone Turanza Quiettrack Ratings By Consumer