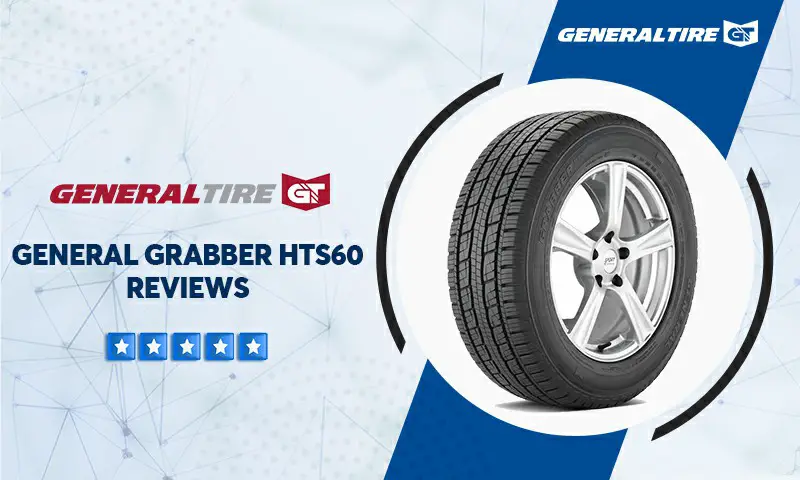 In 1915, William F. O'Neil, a native of the city, and Winfred E. Fouse founded General Tire Company in the US state of Ohio. They first sold tires together in Kansas City – Missouri and then decided to gather all their capital and assets with O'Neil's father's support to open a tire factory in Akron. In 1915, General Tire Company was officially established.
General Tire Company offers a wide range of tires suitable for many different customers. In all General Grabber HTS60 features, it is clear that the company produced this kind of tire for SUVs or compact trucks. These multi-purpose sports cars with high undercarriage can be equipped with a 4-wheel drive system full time or part-time to suit different terrains and off-road.
According to the manufacturer, the General Grabber HTS60 model has a diameter of about 28.4 inches and 28.7 lbs weight. It is tough, durable, and suitable for many different weather conditions all year thanks to the DuraGen Technology. This advanced innovation will provide a good grip when going off-road. 
Besides, this General Tire product has other technologies such as Comfort Balance Technology to help ensure the vehicle's balance and Sound Barrier Ribs, making your journey smoother and quieter.
View more: Quick General Grabber ATX Reviews
General Grabber HTS60 Reviews: Pros and Cons
Personal Opinion on The General Grabber HTS60
The manufacturers often design tires to optimize certain performance levels, and General Grabber HTS60 is no exception.
For vehicles mainly operating in the city, the General Grabber HTS60 can meet the need to use regular brakes thanks to its ability to balance and stabilize the wheels on both dry and wet roads. 
There is only one problem. The tire load is quite high, so it will be a little difficult for you to drive at high speed. However, you don't need to worry too much because this tire line is still usable, just not entirely perfect.
If you want to go for a road trip or off-road, then confidently choose the General Grabber HTS60 because it has a large tire surface and a good grip. The ability to control balance thanks to Comfort Balance Technology is also useful in uneven terrain.
However, customers should also note that the General Grabber HTS60 is a tire with high hardness. This can cause problems on difficult roads because the tire will be prone to punctures if there is a sharp obstacle.
In conclusion, General Grabber HTS60 is a perfect choice for those who expect an excellent driving experience.Thank you for reading this review, and don't forget to share this with your friends and family.
| | |
| --- | --- |
| Treadlife Warranty: | 6 Years / 65K mi (S- & T-Speed Rated) (1)  6 Years / 50K mi (LT Sizes & H-Speed Rated) (1)  Half mileage for rear if different size than front |
| Uniformity Warranty: | First 1/32″ of wear |
| Workmanship & Materials Warranty: | 6 Years / Free replacement first year or 2/32″ of wear, then prorated until 2/32″ remaining depth (1) |
| Manufacturer's Road Hazard Warranty: | None |
| Manufacturer Special Warranty: | 45-Day or 1st 2/32″ Customer Satisfaction Trial(2) |
| Additional Information: | (1) Repair voids warranty (2) Whichever comes 1st,purchase 4 exchange for another set of General. |
Grabber HTS60
Warranty summary for replacement tires purchased on or after 01/01/18 at Tire Rack
| 16″ | | 16″ | |
| --- | --- | --- | --- |
| 255/70R15 | LT 31X10.50R15 | 215/70R16 | 245/75R16 |
| 265/75R15 | | 225/70R16 | LT 245/75R16 |
| | | 225/75R16 | 255/65R16 |
| | | 235/70R16 | 255/70R16 |
| | | 235/75R16 | 265/70R16 |
| | | LT 235/85R16 | 265/75R16 |
| | | 245/70R16 | LT 265/75R16 |
| 17″ | | 18″ | |
| --- | --- | --- | --- |
| 235/65R17 | LT 245/70R17 | 235/60R18 | 265/60R18 |
| 235/70R17 | LT 245/75R17 | 235/65R18 | 265/65R18 |
| LT 235/80R17 | 255/65R17 | 245/60R18 | 265/70R18 |
| 245/65R17 | 265/65R17 | 255/55R18 | 275/65R18 |
| 245/70R17 | 265/70R17 | 255/65R18 | LT 275/65R18 |
| | LT 265/70R17 | 255/70R18 | LT 275/70R18 |
| | 275/60R17 | | |
| | | | |
| 19″ | | 20″ | |
| --- | --- | --- | --- |
| 235/55R19 | 255/50R19 | 235/55R20 | 255/55R20 |
| 245/55R19 | 255/60R19 | 245/50R20 | 265/50R20 |
| | | 245/60R20 | 275/55R20 |
| | | 255/50R20 | 275/60R20 |
| | | | LT 275/65R20 |
Grabber HTS60 prices range from approximately around $122.99 – $236.99 – Tirebuyer
General Grabber HTS60 – Compare Prices
We found 7 online tire retailers selling General Grabber HTS60. Refer to the details below to get the best price:
General Grabber HTS60
PRICE
SOLD BY
 

$129.99

Offers

Offers

Offers

Offers

Offers
Grabber HTS60 Ratings By Consumer