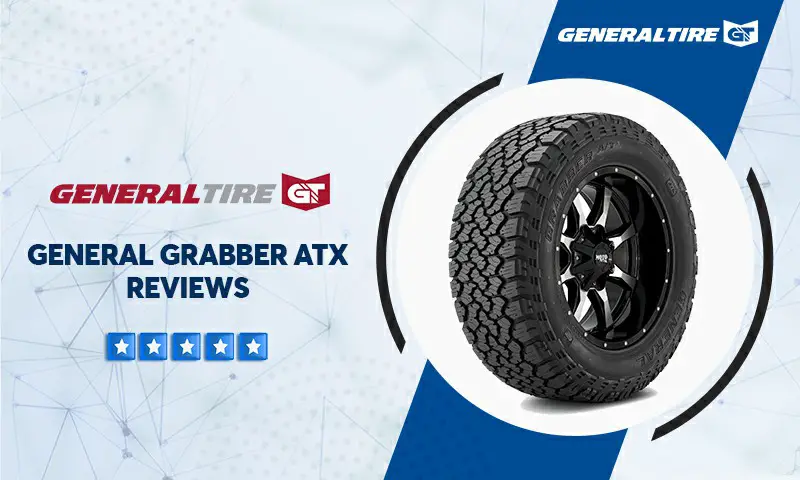 If you are a car lover, you might have heard of General Tire as the top tire producer. Established in 1915 and managed by Continental in America, General Tire has Grabber being its most popular off-road tire. In this review, we will find some unique features to explain why this tire can do that incredible job.
Traction
First of all, Grabber A/TX is at the top when talking about the traction feature. The notches design is an incredible help to sand, dirt, or mud traction. More specially, you can easily find Grabber A/TX has the emblem of Three-Peak Mountain Snowflake, which proves this tire also works for snow traction.
Versatility
The versatility of Grabber A/TX must be its many size options of 22 ranging from 16 up to 20 inches. 
However, that feature is not all about the versatility of Grabber A/TX. You can have studs for this tire to deal with heavy snowfalls. Driving in snowy weather must be a challenging task for any driver. With this tire, you will have additional help for extra traction and grip. 
Great Grip Design For Running On Many Surface
Next on this General Grabber A/TX tire, we will discover the grip feature of this item. The A/TX version is a great combination of AT2 – the leader of the all-terrain tire segment and X3 – the robust and stylish model. 
That is why the A/TX model is one of the most popular and impressive tires from general tires.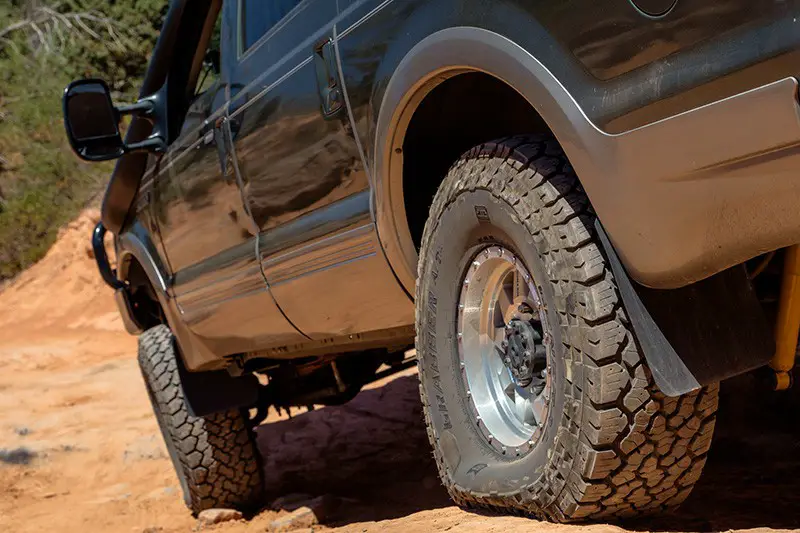 Longevity
Within a century of making durability, General tire always offers long-lasting materials for its product. And you can assure that your tire will not break at any time soon. 
Especially, the manufacturer applies the technology of DuraGen that uses a resistant cut and compound chips. It is a great help to keep the tire from any damages caused by obstacles or the weather.
As a warrant for the tire longevity, General offers you a treadwear warranty of 60,000 miles with 45 days for trial.
Quick General Grabber A/TX Reviews: Pros & Cons
General Grabber A/TX Test Drive
As a tire lover, besides reading reviews, we have experience driving with A/TX tires on different road types. For wet, dry, sand, and even the heavy snow surface, this tire shows great traction. More impressively, with such traction, it causes not much noise for all-season tires, which is a big plus for your comfortable driving.
With many options for the size, it fits almost all car types, including Jeep, SUV, or even truck. 
This version combines its previous model AT2 with center tread patterns, but the difference is the blocky shoulder lugs and side biters. And this grip design might play a crucial role in making A/TX fit with muddy, sandy, and snowy roads.
If you are adventurous and usually run on various surfaces, this tire is for you. Or you want a maintenance tire that is usable all year round with whatever season, then A/TX must be a perfect choice. The only minus point of this tire is the absence of maintenance indicators, which might cause you to feel annoyed sometimes. Hence, you should consider this before buying A/TX.
That is all about General Grabber A/TX. It must be a great option for your car to run on various surfaces. More than that, it also saves you a lot of money when you do not need to transfer to another tire in the winter. We hope you have a great driving experience with A/TX tires. Cheer!
Competitors & Alternatives
| | |
| --- | --- |
| Treadlife Warranty: | 6 Years / 60,000 Miles Metric Sizes (1) 6 Years / 50,000 Miles LT & Flotation Sizes (1) Half mileage for rear if different size than front |
| Uniformity Warranty: | 1 Year / first 2/32″ of wear (1) |
| Workmanship & Materials Warranty: | 6 Years / Free replacement first year or 2/32″ of wear, then prorated until 2/32″ remaining depth (1) |
| Manufacturer's Road Hazard Warranty: | None |
| Manufacturer Special Warranty: | 45-Day or 1st 2/32″ Customer Satisfaction Trial(2) |
| Additional Information: | (1) Repair voids warranty (2) Whichever comes 1st,purchase 4 exchange for another set of General. |
Grabber A/TX
warranty summary for replacement tires purchased at Tire Rack
| 14″ | | 15″ | |
| --- | --- | --- | --- |
| LT 27X8.50R14 | | 205/75R15 | 265/70R15 |
| | | 215/75R15 | LT 30X9.50R15 |
| | | 225/70R15 | LT 31X10.50R15 |
| | | LT 235/75R15 | LT 33X12.50R15 |
| | | 255/70R15 | LT 35X12.50R15 |
| 16″ | | 17″ | |
| --- | --- | --- | --- |
| 215/65R16 | LT 245/75R16 | LT 235/80R17 | 265/70R17 |
| 215/70R16 | LT 265/75R16 | 245/70R17 | LT 265/70R17 |
| 225/75R16 | LT 285/75R16 | LT 245/70R17 | LT 275/70R17 |
| 235/70R16 | LT 305/70R16 | LT 245/75R17 | LT 285/70R17 |
| LT 235/85R16 | LT 315/75R16 | 255/70R17 | LT 315/70R17 |
| | | 265/65R17 | LT 35X12.50R17 |
| | | | LT 37X12.50R17 |
| 18″ | | 22″ | |
| --- | --- | --- | --- |
| 265/70R18 | LT 275/70R18 | LT 265/60R20 | LT 285/60R20 |
| LT 265/70R18 | LT 285/60R18 | 275/55R20 | 305/50R20 |
| 275/65R18 | LT 285/65R18 | LT 275/55R20 | LT 305/55R20 |
| 275/70R18 | LT 35X12.50R18 | LT 275/60R20 | LT 325/60R20 |
| | | LT 275/65R20 | LT 33X12.50R20 |
| | | LT 285/55R20 | LT 35X12.50R20 |
| | | | LT 37X13.50R20 |
Grabber A/TX prices range from approximately $118.99 – $426.99 – Tirebuyer
General Grabber A/TX – Compare Prices
We found 6 online tire retailers selling General Grabber A/TX. Refer to the details below to get the best price:
General Grabber A/TX
PRICE
SOLD BY
 

$118.99

Offers

$124.99

Offers

$136.99

Offers
Grabber A/TX Ratings by consumer