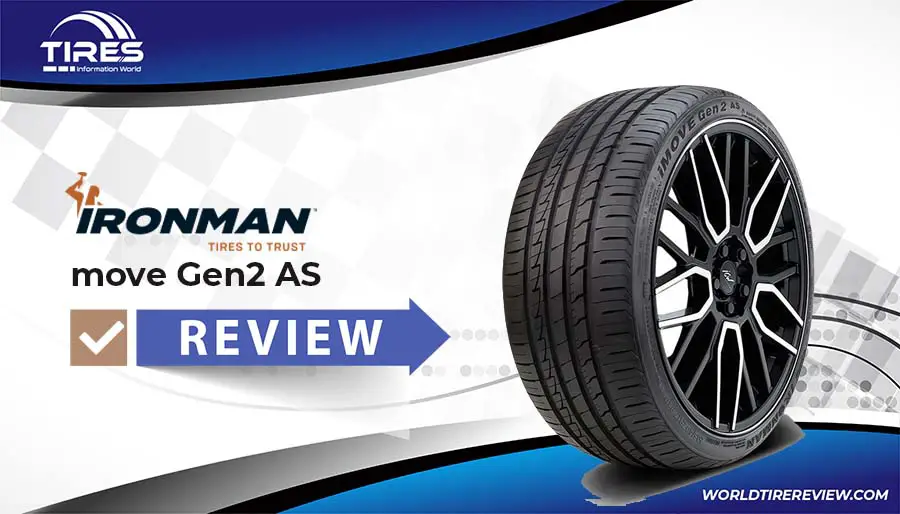 About Ironman
You have come to the right place if you are looking for an Ironman Imove Gen2 AS feature?. The tire comes from Ironman, a reputable brand notoriously known for its quality products at more affordable prices.
The company is a subsidiary of Hercules, which has developed for 60 years in the tire industry and has been growing fast in recent years thanks to its budget-friendly lines. One thing you will surely love about Ironman is that although it comes at a lower price than that of Hercules or other big names, it still offers well-built tires in the price range.
In terms of our primary concern for this article, several Ironman Imove Gen2 AS reviews have praised its up-to-the-mark quality and performance. Still, there are a few things we want to remind you as discussed below. 
Ironman Imove Gen2 AS Tire Review
The tire is rated as an entry-level ultra-high performance by Ironman. This means it boasts a long-lasting lifespan with wear resistance and is suitable for all seasons. A notable design factor of Ironman Imove Gen2 AS is that it has an advanced pressure distribution, which helps to improve the pressure balance of the tire to make it wear evenly and enhance its tread life.
Since the tire is said to have a well-rounded season's performance, it is no surprise that it features the M+S rating, with more reliability in muddy and snow conditions. It also incorporates an asymmetric tread design and longitudinal grooves. 
You should also expect it to handle well on wet roads with good traction and responsiveness. Its siped edge and asymmetry also help with cornering grip for a better driving experience.
Ironman Imove Gen2 AS comes in 4 different ratings for speed: W, V, H, and T. Besides, it has a wide range of sizes from 14″ to 22″. And a 60-month limited guarantee is also available.
Pros & Cons
Personal Opinion
Performance
For the performance Ironman boasts about the tire, some are true, and some are not that much. Obviously, this is something that you should expect from a lower-priced tire. Our opinions below are based on personal experience and might be different from others, but they can give you some helpful insights.
It is no surprise that the tire provides a relatively good amount of performance in dry conditions. Its traction is decent, and it should hold itself really well in most dry terrains. However, it would help if you didn't compare it to other superior performance options from premium brands, so it is no way near perfection. 
Its asymmetric and siped edge design also prove to be rather helpful in sharp-turning and aggressive corners, even at high speed. Again, nothing is superb here, but it can keep you safe and confident with the handling. Though developed with a more entry-level performance in mind, it still delivers dependable grip and responsiveness, essential for handling and braking.
Comfort
When it comes to comfort and noise, the tire offers an average quality. It is definitely not as refined as other top-of-the-line products, though the model is still handy to eliminate most bumps along the road with minimal discomfort. 
As we experience on bumpy roads, it is no less impressive than most other comparable products. We consider it a pretty quiet tire, with unnoticeable noise except for regular hums on rugged surfaces.
Tread Life
Something we will complain about is that Ironman Imove Gen2 AS does not come with a tread warranty, so you have to rely only on the 60-month limited protection policy. 
While it boasts superior longevity and treads life, we found that this aspect is subpar and not up to expectations. Nevertheless, you should take that into consideration before buying.
Who Should Buy It?
We will also not recommend it for winter, snowy or wet conditions. Despite its M+S rating, several reviews align with our experiences that it performs relatively poorly on slippery, snowy roads. In such conditions, the tire's grip is inferior and can be dangerous, so opt for other choices if this is your concern.
Regarding its price range, this tire is a decent option for entry-level users who want to have a good-quality product without paying too much. We hope that our reviews are helpful for you while considering this tire.
| | |
| --- | --- |
| Treadlife Warranty: | This product is not covered by a manufacturer's treadlife warranty. |
| Manufacturer's Road Hazard Warranty: | None |
warranty summary for replacement tires purchased on or after 06/01/19 at
| 14 | | 15 | |
| --- | --- | --- | --- |
| 185/55R15 | 185/70R14 | 185/55R15 | 195/65R15 |
| 185/65R14 | 195/70R14 | 185/65R15 | 205/60R15 |
| | | 195/50R15 | 205/65R15 |
| | | 195/55R15 | 205/70R15 |
| | | 195/60R15 | 215/70R15 |
| 16 | | 17 | |
| --- | --- | --- | --- |
| 205/45ZR16 | 215/60R16 | 205/40ZR17 | 225/50R17 |
| 205/50ZR16 | 215/65R16 | 205/45ZR17 | 225/55R17 |
| 205/55R16 | 225/50R16 | 205/50ZR17 | 235/45ZR17 |
| 205/60R16 | 225/55R16 | 215/45ZR17 | 235/50ZR17 |
| 215/55ZR16 | 225/60R16 | 215/50R17 | 235/55R17 |
| | | 215/55R17 | 245/40ZR17 |
| | | 225/45ZR17 | 245/45ZR17 |
| 18 | | 19 | |
| --- | --- | --- | --- |
| 225/40ZR18 | 235/50ZR18 | 225/35ZR19 | 245/45ZR19 |
| 225/45ZR18 | 235/55R18 | 235/35ZR19 | 255/35ZR19 |
| 225/50ZR18 | 245/40ZR18 | 235/50R19 | 265/30ZR19 |
| 225/60R18 | 245/45ZR18 | 235/55R19 | 275/30ZR19 |
| 235/40ZR18 | 245/50ZR18 | 245/40ZR19 | |
| 235/45ZR18 | 255/35ZR18 | | |
| 20 | | 22 | |
| --- | --- | --- | --- |
| 225/35ZR20 | 245/50R20 | 245/30ZR22 | |
| 245/35ZR20 | 255/35ZR20 | | |
| 245/40ZR20 | 255/45ZR20 | | |
| 245/45ZR20 | | | |
| 245/50R20 | | | |
Ironman Imove Gen2 AS prices range approximately from $73.97 to $171.96 (Simple Tire)
Ironman Imove Gen2 AS – Compare Prices
We found 4 online tire retailers selling Ironman Imove Gen2 AS. Refer to the details below to get the best price
Ironman Imove Gen2 AS
PRICE
SOLD BY
 

Offers




Offers




Offers




Offers



Imove Gen2 AS Ratings By Consumer