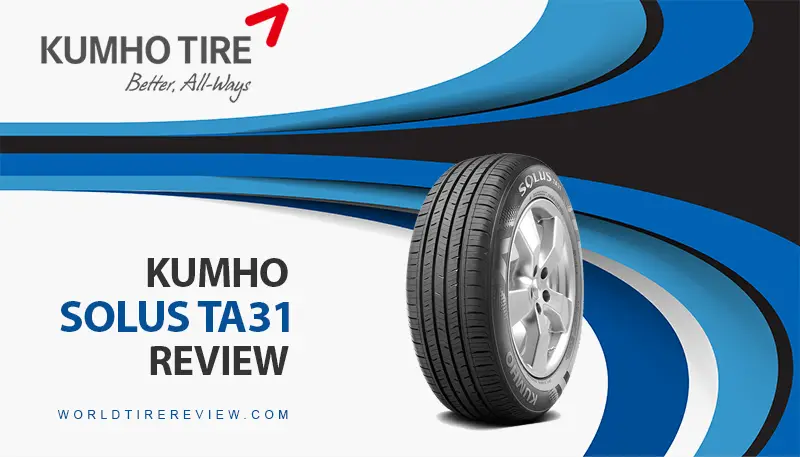 A wide range of all-season tires makes buyers harder in making the right decisions. If you are looking for a Kumho Solus TA31 review to decide whether it matches your need perfectly, this post is certainly what you can't miss. 
In this thorough review, we will go through the outstanding features of Kumho Solus TA31 to define its selling proposition, which makes it stronger among other tires. Especially, with user experiences, this Kumho Solus TA31 Tire Review also provides an honest assessment. 
Kumho has 60-year experience in delivering exceptional driving experiences to customers all around the world. This brand produces more than 68 million tires every year and distributes them in over 180 countries. The improvements in vehicle handling, stability, and safety have led it to the Tyre Manufacturer Industry's top positions. 
Being a Kumho's Grand Touring All-Season tire, Solus TA31 was installed as the original tires on Kia Soul, Hyundai Sonata, and a few ones,…
The all-season tread compound and tread pattern design help deliver comfort and good performance on almost all surfaces in different weather. This design also makes it a really worth-considering option for highway and city driving.
Like almost all-season tires, Kumho Solus TA31 also provides good dry traction. The symmetric tread and continuous center ribs enhance handling stability and ride comfort. Its wide shoulder blocks also offer more grip in corners and curves. 
Not only that, the steering response is quite light and instant.  It is no doubt that drivers can always feel safe once having Kumho Solus TA31 as companions in the journey or commute. 
Four-groove tread and engineered sipes along with the literal grooves are promising to provide good wet tractions for drivers. Actually, its wet traction performance is just above average. If you have read many other TA31 reviews, we trust that they also have the same thoughts as us about this model's wet traction. 
In harsh off-road conditions like deep snow or ice, tread compounds and sipes, and the lateral grooves are not good enough for it to stop well when going around a bend. However, it is still fine for you to go through light snow. 
Symmetric tread pattern lowers rolling resistance reducing vibration, noise, and fuel consumption.  
Kumho Solus TA31 Tire Review: Pros & Cons
Kumho Solus TA31 Tire Test Drive
Kumho Solus TA31 tires were already mounted on our Sonata as original equipment. Most of the time, we drive on mixed city roads and highways. So far, we are pretty happy with its performance in the dry weather. Its smooth ride makes us comfortable and enjoyable. 
Around 18,000 miles, it was a bit challenging for the tires to get good traction over the rain. Many times, they always spun before gripping and approaching a stop. We are not sure that they can work well in a 60,000-mile tread warranty.
Last year, snowfall was more frequent in Birmingham.  Under 1,3 inches of snow, we were quite surprised with its good traction and control over winter last year. At the same time, we also realized that tread wear was worn quicker after one winter season. 
In our experience, Kumho Solus TA31 is a good option for regular sedans, sports cars, and crossovers. Its decent price can't provide you excellent traction, comfort, and noise reduction level through all kinds of weather and road surfaces. However, it won't make you upset on both wet and dry pavement. 
Through our Review, we hope you gain useful information about good points and how well it performs. You are now confident of getting the best tires to meet your needs!
Competitors & Alternatives
| | |
| --- | --- |
| Treadlife Warranty: | 6 Years / 60,000 Miles Half mileage if different size front/rear tires |
| Uniformity Warranty: | First 1/32″ of wear |
| Workmanship & Materials Warranty: | 6 Years / Free replacement first 2/32″ of wear, then prorated to final 2/32″ remaining depth |
| Manufacturer's Road Hazard Warranty: | 1 Year / first 2/32″ of wear (1) |
| Manufacturer Special Warranty: | None |
Solus TA31 warranty summary for replacement tires purchased on or after 01/01/20 at Tire Rack
| 15″ | | 15″ | |
| --- | --- | --- | --- |
| 165/65R14 | 185/65R14 | 185/55R15 | 195/60R15 |
| | | 185/65R15 | 195/65R15 |
| | | P 185/65R15 | 205/60R15 |
| | | 195/55R15 | 205/65R15 |
| 16″ | | 17″ | |
| --- | --- | --- | --- |
| 205/55R16 | 215/65R16 | 205/50R17 | 225/50R17 |
| 205/60R16 | 225/55R16 | 205/55R17 | 225/55R17 |
| 205/65R16 | 225/60R16 | 215/45R17 | 225/60R17 |
| 215/55R16 | 225/65R16 | 215/50R17 | 235/55R17 |
| 215/60R16 | 235/55R16 | 215/55R17 | 235/65R17 |
| | 235/60R16 | 225/45R17 | 245/45R17 |
| 18″ | | 20″ | |
| --- | --- | --- | --- |
| 225/40R18 | 235/45R18 | 245/50R20 | |
| 225/45R18 | 235/50R18 | | |
Solus TA31 prices range approximately from $64.57 – $209.00 – Tirebuyer
Falken EUROALL SEASON AS210
Goodyear Vector 4Seasons Gen 3
BFGoodrich g Grip All Season 2
Bridgestone Weather Control A005 EVO
Continental AllSeasonContact
Nokian WeatherProof
Kumho Solus TA31 – Compare Prices
We found 6 online tire retailers selling Kumho Solus TA31. Refer to the details below to get the best price:
Kumho Solus TA31
PRICE
SOLD BY
 

Offers

$69.95

$66.22

Offers

$69.28

Offers
Kumho Solus TA31 Ratings By Consumer