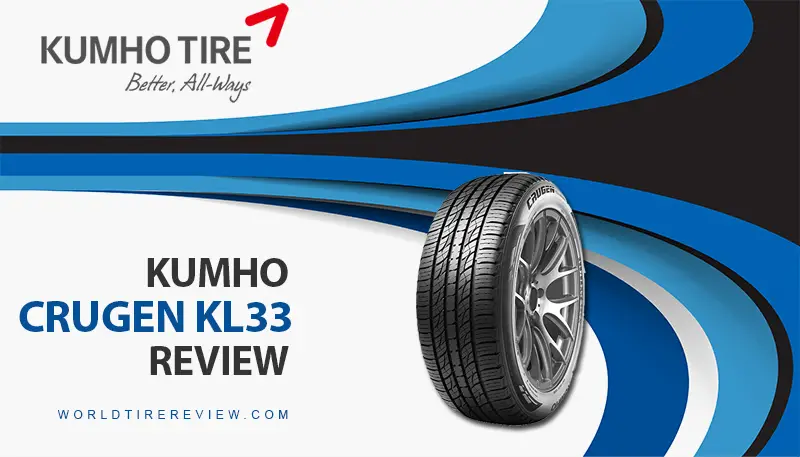 Crugen KL33 is known as the most popular and best-selling tire of Kumho, a South Korean tire brand that has been in the industry for over 60 years. It has become one of the largest tire manufacturers in the world.
This brand originally designed Crugen Kl33 for original equipment used on Santa Fe vehicles of Hyundai. However, it is now available for a variety of SUVs,trucks,and crossovers. Thanks to the solid all-season performance and affordable prices of this tire, Kumho offers an excellent choice for millions of drivers worldwide. But is this tire a proper fit for your needs and budget? Our review will help you answer that question. Let's scroll down!
Like other Kumho tires, Crugen KL33, with an elegant looking low-profile and a big rim diameter, can enhance your vehicle's appearance.
Besides being good-looking, Kumho's tread compound, which is suitable for all seasons, also provides enhanced traction in all weather conditions and better tread life. The tire's wide exterior tread blocks help increase cornering capabilities.
The Symmetric tread pattern with high variability and the noise-canceling tread play an important role in reducing noise and vibration, making you more comfortable when driving.
The large circumferential grooves that effectively channel away water from the tread improve wet and light snow traction. You will find an advanced rubber compound in the sidewall that keeps the tire cool during summer and flexible during winter.

The twin nylon-wrapped steel belts in the tire allow for added endurance and strength. Furthermore, a cord body by polyester can give you more ride comfort.
This manufacturer offers various sizes from 16-20 inches with a UTQG rating of 440.
Kumho Crugen KL33 Review: Pros and Cons
View more: Kumho Crugen HT51 Tire Reviews
Kumho Crugen KL33 Test Drive
Our SUV is the first vehicle that we had the chance to drive on Kumho Crugen KL33. We chose the tires to replace the old one when driving 15,000 miles. One of the points that we were impressed with is the 60,000-mile warranty. We have nothing bad to say about Kumho's service.
Besides, we couldn't recommend it more highly for treadlife. The Crugen Kl33 was more durable than the previous tire we already used. Nevertheless, the way you drive is the key factor that determines its longevity. The durability of this tire is great, but how about the performance? We will reveal its performance for you.
There is no doubt about the dry traction of Kumho Crugen KL33. This tire offers outstanding handling on dry pavement, which makes us more confident when driving.
Ride comfort is the best characteristic of this product for those who drive cars daily. The tires are smooth to ride on, and there is not much noise and vibration from the tire over larger potholes. If you keep the tire properly balanced, the noise will be minimal, even at a higher speed.
Moreover, the tread is designed in such a way that it drastically reduces rolling resistance. Therefore, it can help promote high fuel efficiency.
The only thing we would recommend for further improvement is snow traction. KL33 has no problem with traction in light snow. However, we are looking for a better performance of this tire on heavier ice.
Overall, Kumho Crugen KL33 is loved by many drivers due to great performance and the affordable cost. If you need a budget-friendly, good quality on-road all-season tire, Kumho Crugen KL33 is right for you. 
Have you chosen the right tire for your vehicle after reading our review? Let us know your options or ideas below.
Competitors & Alternatives
| | |
| --- | --- |
| Treadlife Warranty: | 6 Years / 60,000 Miles Half mileage if different size front/rear tires |
| Uniformity Warranty: | First 2/32″ of wear |
| Workmanship & Materials Warranty: | 6 Years / Free replacement first 2/32″ of wear, then prorated to final 2/32″ remaining depth |
| Manufacturer's Road Hazard Warranty: | 1 Year / first 2/32″ of wear (1) |
| Manufacturer Special Warranty: | None |
Crugen KL33 warranty summary for replacement tires purchased on or after 01/01/20 at Tire Rack
| 15″ | | 17″ | |
| --- | --- | --- | --- |
| 215/65R16 | 225/70R16 | 215/60R17 | 235/60R17 |
| 215/70R16 | 225/70R16 | 225/60R17 | 235/65R17 |
| | 235/70R16 | 225/65R17 | 245/65R17 |
| P 235/75R15 | | 235/55R17 | |
| 18″ | | 19″ | |
| --- | --- | --- | --- |
| 225/55R18 | 255/55R18 | 235/45R19 | 245/55R19 |
| 225/60R18 | P 255/65R18 | 235/50R19 | 255/50R19 |
| 235/55R18 | 265/60R18 | 235/55R19 | 255/55R19 |
| 235/60R18 | P 265/60R18 | 245/45R19 | P 255/60R19 |
| 235/65R18 | P 275/65R18 | | 275/55R19 |
| 245/60R18 | | | |
| 20″ | | 22″ | |
| --- | --- | --- | --- |
| P 245/50R20 | 255/55R20 | P 285/45R22 | |
| 255/45R20 | 265/50R20 | | |
| 255/50R20 | 275/60R20 | | |
Crugen KL33 prices range approximately from $113.63 – $174.21 – Tirebuyer
Bridgestone Dueler AT 001
Yokohama Geolandar G91AV
Hankook Dynapro HP RA23
Toyo Proxes CF2 SUV
Yokohama BluEarth RV02
Bridgestone Dueler HL 400
Kumho Crugen Premium (KL33) – Compare Prices
We found 6 online tire retailers selling Kumho Crugen Premium (KL33). Refer to the details below to get the best price:
Kumho Crugen Premium (KL33)
PRICE
SOLD BY
 

Offers

$108.97

Offers

Offers

Offers

Offers
Crugen KL33 Ratings By Consumer