To answer these questions, you need to research it and consider them carefully because this will directly affect the safety of you and your family.
Sometimes, the reason for the run-flat tire replacement is not because your tire is old or broken; rather, you like a new change that brings a novelty to your driving experience. Then let's explore some of the suggestions that we give you through this article!
Replacing Run Flat Tires
The answer is yes. You can completely replace flat running tires with regular tires, as long as it meets the manufacturer's requirements. A good tire not only improves the quality of your vehicle but also ensures your safety.
When preparing for the run-flat tire replacement, one point to keep in mind is that each different type of tire will have a different design and usage. Manufacturers have calculated very carefully when manufacturing so that every tire will achieve the best performance.
You need to keep in mind a few things when using your regular tires instead of run-flat tires.
The special feature of flat tires is that it allows you to continue traveling safely for a short period and distance even after a puncture. The special design with thick walls, made from good heat-resistant rubber, increases the ability to support the vehicle's weight even in difficult situations.
It would be best to equip the necessary support equipment for emergency movement when replacing run-flat tires with regular tires. Because run-flat tires are the solution to emergencies, vehicles with regular tires may not include a spare jack, rim, wheel, or tire. For your safety, pay attention to these things.
When switching from run flats to regular tires, some specifications may change. To ensure uniformity and avoid dangerous risks later, you should choose ordinary tires that meet standards on different criteria such as size, thickness, vehicle weight capacity, etc., according to the manufacturer's recommendations.
Using Both Run Flat Tires And Conventional Tires
This is not recommended by the manufacturers, but if you are in an emergency situation and your tires fail, this can be a temporary workaround. The combination of flat running tires with regular tires should only take place in a short period of time.
You should not overuse this alternative solution because combining two different types of tires with different wear levels for the same vehicle will throw off balance in movement, causing irreversible consequences.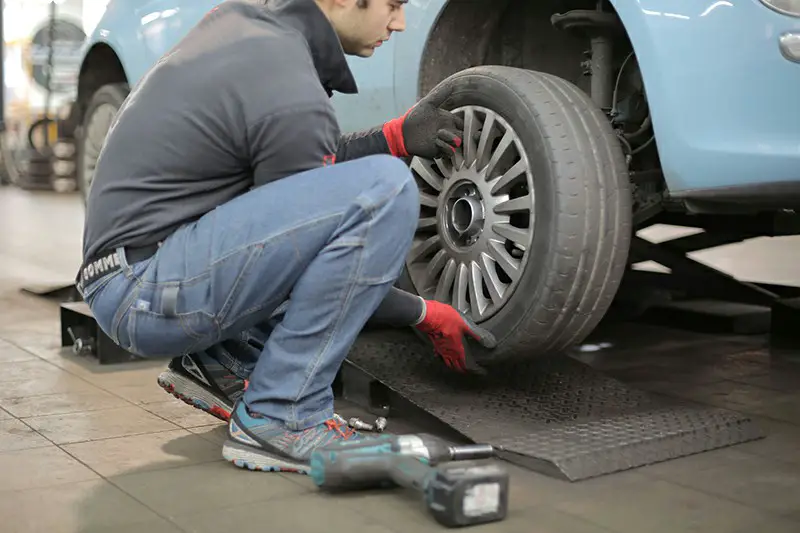 Prepare carefully by learning the details of the specifications, tire thickness and speed of a regular tire before combining them with flat running tires. If there is anything that goes wrong, immediately contact the manufacturer and support facility for help.
For more: Can I Replace Just One Tire?
Repairing Run Flat Tires
If you do not have spare tires and your run-flat ones have minor damages, you might want to consider fixing it yourself.
There are many causes for the failure of your run-flat tires. So, the repair depends on many different factors.
It is advisable to assess the extent of the puncture and its location prior to repair. If you skip this step, it is just a waste of your time as there are breakdowns that you will not be able to repair due to your lack of expertise.
While it is possible to fix run-flat tires, you should still contact a qualified technician or the manufacturer to ensure proper repair and avoid troublesome situations later. 
What You Should Consider Before Replacing Your Run Flat Tires
Before you repair, replace or combine your run-flat tires with regular tires, you need to carefully consider whether you really need to do so. You can still continue driving for some short distance and you can call for help for repair later.
This will be the best to ensure the safe operation of your vehicle, avoiding the need for repeated repairs that consume a lot of money and unnecessary time.
In case you have to change a new tire, you need to consult a professional. Because of the benefits that run-flat tires bring, it is a great alternative, especially when you don't want to carry a spare tire
Can a BMW use regular tires?
Yes, you can use regular tires on your run-flat-equipped BMW. Of course, there are benefits and drawbacks of regular tires as well as run-flat tires, and we want to help you make the decision that best suits your needs.
One cautious bit of advice, though, if you're considering changing your BMW's run-flat tires to regular tires, you must do so on all four tires because of the handling and performance differences between the types of tires.
Conclusion
Compared to regular tires, run-flat tires have a unique design with a reasonable tread depth to help you cover long distances.
Run-flat tires also increase the friction with the road surface, reduce slip and ensure your safety when the vehicle goes through corners. Even inside emergencies, they will still be able to get you to your destination safely.
Consider all the strengths and weaknesses of your tires and consult with experts in the field or contact the manufacturer when you have any problems to make the best choice.