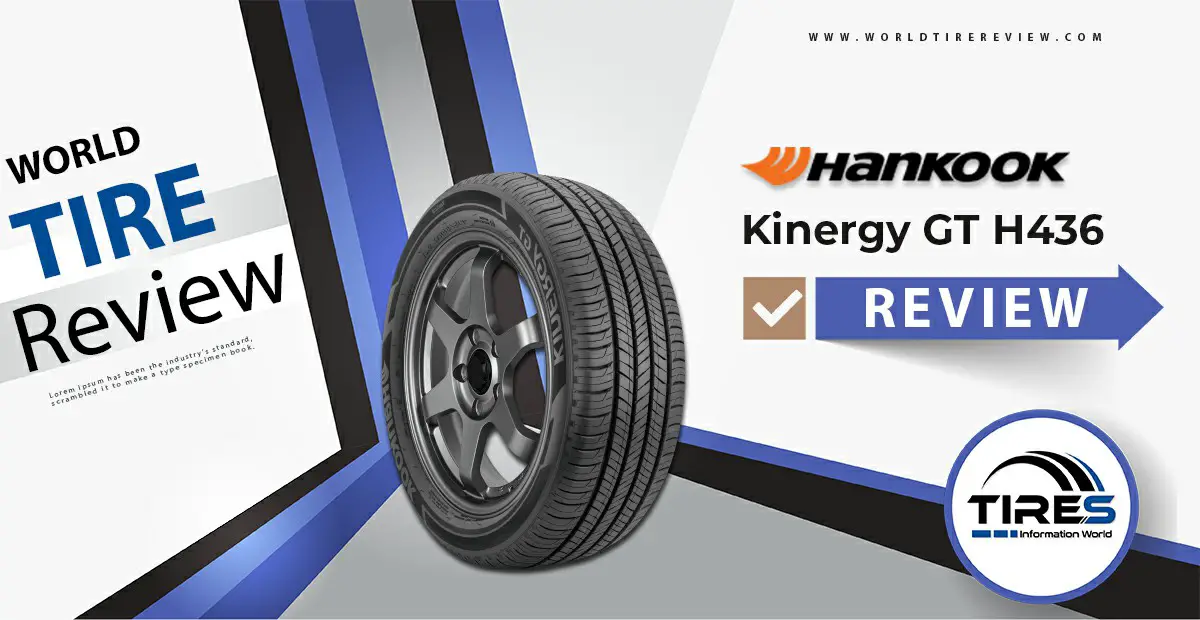 Hankook company is a tire manufacturing company based in South Korea founded in 1941. This year they're celebrating their 80th anniversary.
Hankook is a well-known brand worldwide, with its products being chosen by leading car makers as their OE tires. Many car models we know come with a Hankook OE tire set or use its products for replacement. 
Famous brands like Mercedes Benz, BMW, Audi, and Porsche's SUV, and more currently have Hankook tires as their original choice. 
With this Hankook Kinergy GT H436, the brand promises a quiet and comfortable ride and satisfactory performance on various terrains.
The first thing to mention is the structure of Kinergy GT H436. Hankook uses a high grip silica compound for the tread, which offers more traction and better grip on wet and snow-covered roads. 
Inside, you can find multiple layers giving support, and adding stiffness and stability to the outer shell. Those are a jointless reinforced belt and a strong bead filler which enhance the handling, promote quick steering response, and improve durability. 
Another highlight is the GT H436 tire pattern. This version adapted wider grooves, maximizing water evacuation for optimized wet-road traction. It also featured a center rib providing an excellent braking performance. 
The H436 tends to give better performance in dry and wet conditions. On snowy roads, its capability reduces considerably. Moreover, treadwear is considered a little above average compared to other top-class tires.
Tire Drive Test
In our opinion, the tread pattern is really simple, and there's nothing to brag about. If you've seen some of the Continental or Michelin all-season tires, you'll find that the grooves of this H436 are rather shallow and unimpressive. 
That leads to inadequate performance in severe weather. Some users complained about insufficient traction in moderate to heavy snow. 
However, this tire functions adequately considering the reasonable price. It is quiet and easy to handle with good traction on both dry and wet surfaces. The decent tread wear, coupled with a 70,000-mile tread warranty, makes it a good value for money overall.
There is a reason for car manufacturers to choose the Hankook Kinergy GT H436 over others. The tire meets the requirements of a well-function tire but costs less than other models of the same caliber. 
Thus, if you live in an area where you rarely see a lot of snow,, the Hankook GT H436 is a budget-friendly choice that's worth considering. 
Experienced drivers like these tires as they allow for more comfort and control over the drive, something that those expensive models fail to offer.
| | |
| --- | --- |
| Treadlife Warranty: | 6 Years / 70,000 Miles Half mileage front and rear if different sizes |
| Uniformity Warranty: | First 1/32″ of wear |
| Workmanship & Materials Warranty: | 6 Years / Free replacement first year or 2/32″ of wear, then prorated until 2/32″ remaining depth |
| Manufacturer's Road Hazard Warranty: | 1 Year / first 2/32″ of wear |
| Manufacturer Special Warranty: | 30 Day Free Trial (1) |
| Additional Information: | (1) Purchase 4 exchange for another set of Hankook |
Kinergy GT H436 warranty summary for replacement tires purchased on or after 01/01/19 at Tire Rack
| 15″ | | 16″ | |
| --- | --- | --- | --- |
| 185/65R15 | 195/65R15 | 205/55R16 | 215/60R16 |
| 195/60R15 | 205/65R15 | 205/60R16 | 215/65R16 |
| | | 205/65R16 | 225/60R16 |
| | | 215/55R16 | 225/65R16 |
| 17″ | | 18″ | |
| --- | --- | --- | --- |
| 205/50R17 | 225/50R17 | 215/45R18 | 235/60R18 |
| 205/55R17 | P 225/55R17 | 225/45R18 | 245/45R18 |
| 215/45R17 | 225/60R17 | 225/55R18 | 255/65R18 |
| 215/50R17 | 235/55R17 | 235/45R18 | |
| 215/55R17 | 235/65R17 | | |
| 225/45R17 | 245/50R17 | | |
| 19″ | | " | |
| --- | --- | --- | --- |
| 235/40R19 | 245/40R19 | | |
| 235/50R19 | 245/45R19 | | |
Kinergy GT H436 prices range approximately from $88.97 – $186.10 – Tire Rack
Hankook Kinergy GT H436 – Compare Prices
We found 6 online tire retailers selling Hankook Kinergy GT H436. Refer to the details below to get the best price:
Hankook Kinergy GT H436
PRICE
SOLD BY
 

Offers

$85.99

Offers

Offers

Offers

Offers
Kinergy GT H436 Ratings By Consumer