When it comes to tire shopping, it is not only about price and quality. The variety of related components such as rim, hubcaps, and wheel on the case may knock down the inexperienced from the first second. 
Does New Tires Come With Rims?
Unfortunately, reality may let you down. Tire purchases do not come with rims and vice versa. It only includes the rubber – the ring-shaped component. If your existing rim fails to work with the new tire's specifications, you must spend an extra amount to achieve compatibility. 
On the bright side, the market now offers wheel packages that provide a complete package for your vehicle. Is this payoff worth it, especially when your rims are still usable?
Is It Necessary To Replace Rims When Buying A New Tire? 
Manufacturers always recommend periodic tire replacement after 5-10 years. Whether damaged or not, it has eventually reached the aging stage. On the other hand, this rule does not apply to rims except under certain circumstances (mentioned in the upcoming section).
However, inspecting this part every time you change a tire is best. If you have no idea about rims, keep your eyes on the position connected to the tire. At the wheel's outer edge, it surrounds the spokes and hubs. 
When Should You Replace Rims? 
For the majority of vehicles today, it is almost impossible to disassemble the original rim. However, replacement is needed to compensate for damage when you hit a curb or pothole.
Road salt also reduces the quality of the rim. Another case that requires a new one is when overusing. For example, you have moved a hundred thousand miles during its lifetime.
In fact, you can find the answer at the same time as you change the tire. The most obvious sign is that many of your tires suffer from loss of air pressure. Though it may come from a valve leak, do not turn a blind eye to the rim. Once this part wears out, it hardly gets its key function done. 
Additionally, the shaking steering wheel tells the same story. If your car has a tendency to drift to one side, chances are problems with the rims have come.
Things To Consider When Shopping For A New Set Of Rims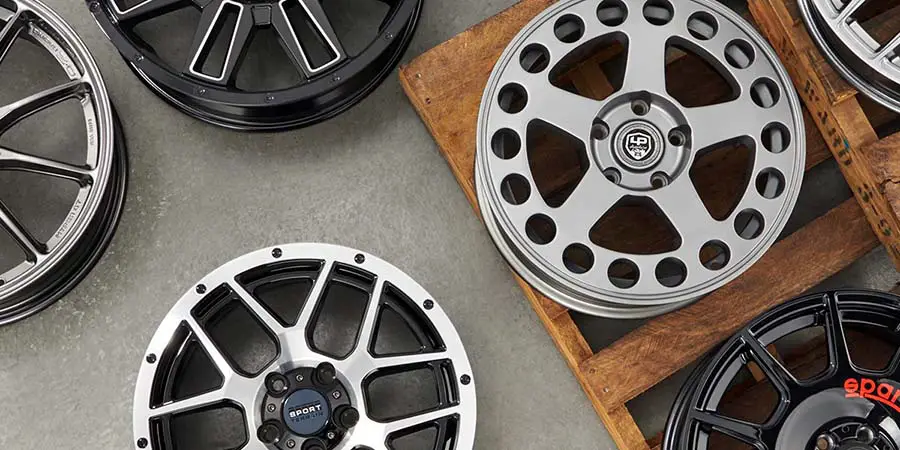 Regardless of your shopping goals (aesthetics, performance, or compatibility with new tires), be sure to make the right decision. As this purchase does not happen often, you may struggle a bit. That's when the following factors come in handy.
Wheel Diameter
Simply put, this parameter is the outer diameter of the wheel measured in inches. Most manufacturers set a mandatory standard for rim and tire compatibility. So do not outdo it by buying a product with the wrong size unless you want to end up with nothing.Note: To match low-profile tires for performance cars, we highly recommend going for a slightly larger type of rims.
Wheel Width
Similar to the diameter above, size matching plays an important role in wheel width (known as the distance between two beads). However, this task is a bit tricky because the wheel options and tire do not match completely in reality.
A general rule of thumb for this is to stay within 20mm. Try to keep the difference as low as possible to avoid unpredictable consequences for the components involved, especially the powertrain.
Offset
Wheel offset indicates the distance between the centerline and the mounting position of the wheel and axle. A correct rim set should match this deviation of the existing wheels. If you have never heard of it, pay attention to the neutral, negative, or positive offset between the two wheels. 
Bolt Pattern
Acting as the connecting element between the rims and the car, the bolt patterns of the former must have a similar design to the rest. This allows for successful installation and prevents potential accidents while driving.
Take advantage of the adapter set to save your budget for the minimal difference. However, we would like to emphasize that 100% compatibility is always best.
Load Rating
If you own a heavy truck or commercial vehicle, ensure you never overlook this category. It indicates the maximum weight that a set of rims can bear. Without a doubt, overloading not only causes signs of damage to this part but also leads to a serious accident.
Center Bore
Whenever you shop for a new rim, check out the wheel mounting. The center bore in the rim's center should never deviate from the surface mentioned earlier. If the two do not match, there is nothing you can do but spend additional cost for another set.
FAQs 
What Does A Rim And Tire Package Include?
If your vehicle has rim damage, it is time to invest in a wheel package that includes rims and tires. As the name suggests, it consists of two necessary sets of absolutely compatible parts. Buying in sets saves you money on both purchase price and installation fees.
A significant plus of this product is customization. Several unique sets come to personalize your vehicle and make it an icon on the road.
How Much Should You Pay For A Rim And Tire Set?
As mentioned above, a package is much cheaper than individual purchase. For small sedans, the average cost does not exceed $150 per wheel. Meanwhile, the price range goes up to $250 if you install it in pickup trucks, crossovers, or SUVs. Finally, it reaches $175 – $200 for large vehicles.
Remember that the above prices do not include installation or incidental costs.
Why Should Tires Go With Rims?
Are the rims just to complete the car's appearance? The answer is a big NO. Though it plays an important role in determining the outer side, its ultimate purpose is to increase performance and handling.
In contrast to the center hubcaps, one of your vehicle's options, rims are a required part. Manufacturers always provide suitable rim specifications for each model. Similarly, type and size are also clearly indicated for specific tires.
Do not change without heeding the recommendation. Otherwise, your insistence could damage the suspension and wheels. Worse, you put yourself and other road users in danger.