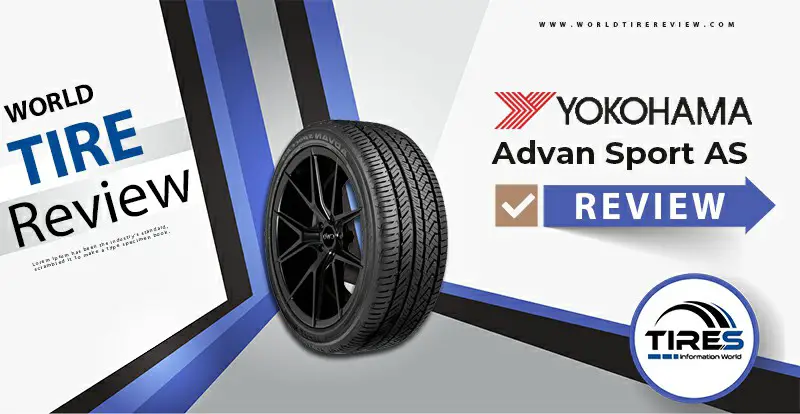 About Yokohama
Yokohama has long been a renowned brand manufacturing cutting-edge tires around the world. One of their highlight technologies is the S.4, known as the pioneer in ultra-high quality tires suitable for all seasons.
After that success, the brand continuously came up with a new tire generation: the whole new Yokohama Advan Sport A/S Tire, first released in 2014. 
Yokohama Advan Sport A/S Review
These tires are especially suitable for any kind of sport coupe and high-end sedans. Drivers can expect powerful traction and excellent handling for any time in a year, increasing riding satisfaction.
Their materials include many silica and advanced polymers in the tread substances. It helps the tread be more flexible to stabilize the handling in cold temperatures and increase grip on slippery surfaces. On both wet and dry traction, the products show good results. 
With such a large circumference of three grooves dislodging the water out, they increase the wet grip of tires. Their treads feature an asymmetric pattern, wider on the outer, to enhance cornering power on any terrain. 
Furthermore, all over the tread area is covered with wavy lines and z-grooves, making the tires hold tight on the snowy roads. However, our real experience will reveal this feature more thoroughly later.
Pros And Cons Of Yokohama Advan Sport A/S
Tire Drive Test
To sum up the Yokohama Advan Sport A/S, the brand has done a great job of producing a good all-season tire line. They show great abilities in dealing with dry and wet surfaces, coming with an outstanding lateral grip. 
There is no doubt that the Advan Sport A/S turns any driving experience into comfortable trips.
The surprising thing about this product is that you will feel the smoothness and silent ride throughout the road. You won't feel the jarring sensation as you are on other UHP tires. 
However, when you run into potholes, your vehicle may shake a little. In fact, what makes the Yokohama Advan Sport A/S tire virtually at the top among the best in its category is its minimal noise and smooth ride. 
The only downside of this model is that it does not perform very well on deeper snow and ice levels. But still, with a light snow-covered road, the tires can make their way through easily. 
Conclusion
Overall, with this model, Yokohama has a winner. It's a significant upgrade over the S.4, and we think it's one of the greatest UHP all-season tires on the market. After reading our review, we hope you can make up for what you should buy for your car.
Competitors & Alternatives
| | |
| --- | --- |
| Treadlife Warranty: | 5 Years / 55,000 Miles (Square tire fitments) Half mileage for rear if different size than front |
| Uniformity Warranty: | First 2/32″ of wear |
| Workmanship & Materials Warranty: | 5 Years / Free replacement first year or 2/32″ of wear, then prorated to 2/32″ remaining depth |
| Manufacturer's Road Hazard Warranty: | None |
| Manufacturer Special Warranty: | 30 Day Test Drive (1) |
| Additional Information: | (1) Full refund or exchange |
Advan Sport A/S warranty summary for replacement tires purchased at Tire Rack
| 17″ | | 18″ | |
| --- | --- | --- | --- |
| 205/45R17 | 235/45R17 | 215/40R18 | 245/45R18 |
| 215/45R17 | 245/40R17 | 215/45R18 | 245/50R18 |
| 225/45R17 | 245/45R17 | 225/40R18 | 255/35R18 |
| 225/50R17 | 255/40R17 | 225/45R18 | 255/40R18 |
| 225/55R17 | | 225/50R18 | 255/45R18 |
| | | 235/40R18 | 265/35R18 |
| | | 235/45R18 | 265/40R18 |
| | | 235/50R18 | 275/35R18 |
| | | 245/40R18 | 285/35R18 |
| 19″ | | 20″ | |
| --- | --- | --- | --- |
| 225/40R19 | 255/40R19 | 245/40R20 | 265/35R20 |
| 225/45R19 | 265/35R19 | 245/45R20 | 275/35R20 |
| 235/40R19 | 275/35R19 | 255/35R20 | 275/40R20 |
| 245/40R19 | 275/40R19 | 255/45R20 | |
| 245/45R19 | 285/30R19 | | |
| 245/50R19 | 285/35R19 | | |
| 255/35R19 | | | |
Advan Sport A/S prices range approximately from $117.00 to $294.00 – Discount Tire
Goodyear Eagle Sport All Season
Michelin Pilot Sport AS 3
Michelin Pilot Sport All Season 4
Vredestein Quatrac Pro
Nokian WR G3
Falken Azenis PT722
Yokohama Advan Sport A/S – Compare Prices
We found 5 online tire retailers selling Yokohama Advan Sport A/S. Refer to the details below to get the best price:
Yokohama Advan Sport A/S
PRICE
SOLD BY
 

$105.18

Offers

Offers

Offers

$106
Advan Sport A/S Ratings By Consumer