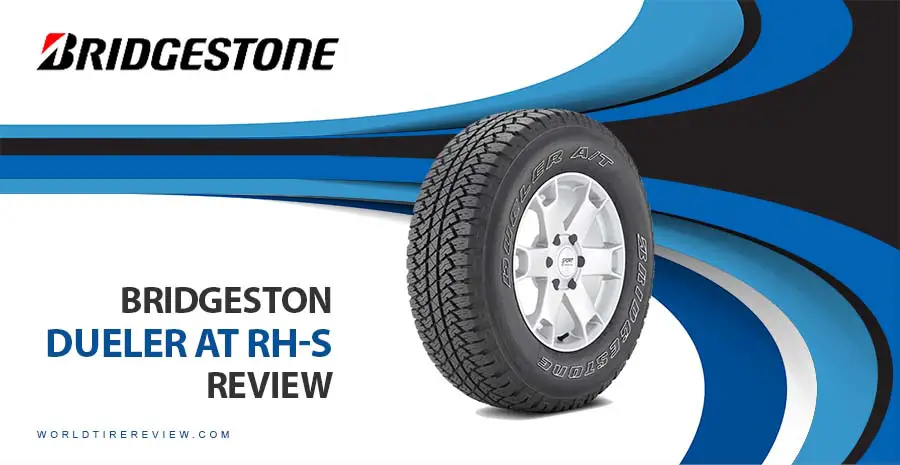 As you know, Bridgestone specializes in manufacturing vehicle accessories with a longstanding reputation. This Japanese brand has won the customers' hearts, reflected in its successful penetration into large markets such as the US, China, or the Asia Pacific.
Bridgestone has emphasized modernity and high technology in its manufacturing plants. Therefore, products, especially the tire line, were born with a credible quality.
Among them, the Bridgestone Dueler AT RH-S is dedicated to those passionate about conquering the terrain. It is not only used for on-road terrain but also rough or complex surfaces. Our Bridgestone Dueler AT RH-S reviews will exhaust this car's outstanding features.
Bridgestone Dueler AT RH-S Tire Review
All-terrain Performance
The tread structure is a thick, sturdy, and advanced design with numerous interlocking deep grooves and blocks. As a result, the contact area with the ground is increased. Traction on the road regardless of dry, wet, or snow conditions also becomes much superior.
More concrete, the tire is marked by M+S, demonstrating its versatility and traction on muddy and snowy surfaces.
In detail, the larger the off-shoulder tread blocks, the more certain biting edges on mud or snow. And Bridgestone Dueler AT RH-S is a typical example of this form.
Thanks to sophisticated tread patterns, the tire also breaks usual terrain barriers. Tires can neatly handle uneven surfaces such as gravel or sandy soil without causing shock or vibration. 
Therefore, you can reach your desired destinations no matter how hard the ways are.
Computer Optimized Component System
Technology is also applied to Bridgestone's tire lines. Relating to Dueler AT RH-S, the compatibility between tread patterns, materials, and construction has been reinforced by the computer-optimized component system (CO-CS). 
This way, tire performance is maximized, ensuring your smooth journey on sand or rocks.
Long Link Carbon
The long-link carbon is engineered in the tire's rubber, reinforcing tearing, cracking, and chipping resistance on rough or stony ground. This key not only wins the terrains but also preserves the tires' endurance. 
Ride Comfort
The bead is constructed by a single conductor, creating a seamless operation. In addition, the noise caused by contact is also somehow reduced significantly. 
These features are useful since drivers can remain comfortable while driving on aggressive roads
Bridgestone Dueler A/T RH-S reviews: Pros & Cons
Our Personal Experience
To make the review more convincing, we tested the Dueler AT RH-S for 6 months. As a result, we are super content with its dry and wet performance.
 Notably, we significantly appreciate its hydroplaning resistance. Therefore,  you can be safe when driving in flood conditions or through muddy, viscous, and slippery areas.
We tried going through the stony regions in dry weather, and we still didn't feel tremendous shock or vibration. We also have no difficulty in overcoming the quagmire. We were quite surprised because the tires showed their versatility well on the mud.
Normally, tires are often bogged down when traveling on sand, causing loss of control and unexpected accidents. However, with DUELER A-T RH-S, we no longer worry about that situation. This kit maintains consistent sand performance.
However, the ability to grip surfaces like ice is not much superior. Although being promoted as an all-seasoned performer, it sometimes lags on the deep snow.
In general, this item still acts well as an all-terrain tire. And, of course, it is a worthy choice for travelers aiming to discover the hardest areas and motorways themselves. 
The tire design also fits off-road vehicles. It will make your car more robust and sturdy than ever.
In addition, if you need tires serving goods transformation on long and dangerous roads, you can also consider this product.
It is noticeable that the treadlife is shorter than we expected. They can serve you long distances, but not for a long time.
To sum up, the Bridgestone Dueler AT RH-S is still a product worth trying and buying again. 
In our opinion, its benefits are fine compared to the price tag. Don't hesitate to purchase it once to satisfy your terrain desire.
Competitors & Alternatives
| | |
| --- | --- |
| Treadlife Warranty: | None |
| Uniformity Warranty: | First 2/32″ of wear |
| Workmanship & Materials Warranty: | 5 Years / Free replacement first 3 years, then prorated until 2/32″ remaining depth. |
| Manufacturer's Road Hazard Warranty: | None |
| Manufacturer Special Warranty: | 90 Day Buy & Try Guarantee (1) |
| Additional Information: | (1) Purchase four or more, full refund or exchange |
warranty summary for replacement tires purchased on or after 01/01/21 at
Tire Rack
| 16 | | 17 | |
| --- | --- | --- | --- |
| LT 285/75R16 | | 245/75R17 | 265/70R17 |
| | | 255/65R17 | LT 265/70R17 |
| | | 255/75R17 | P 265/70R17 |
| 18 | | 20 | |
| --- | --- | --- | --- |
| 255/70R18 | P 265/65R18 | P 275/55R20 | 275/60R20 |
| P 255/70R18 | | | |
Dueler AT RH-S prices range approximately from $164.96 to $306.97 (SimpleTire)
General Grabber APT
Yokohama Geolandar A/T G015
Bridgestone Dueler A/T RH-S – Compare Prices
We found 6 online tire retailers selling Bridgestone Dueler A/T RH-S. Refer to the details below to get the best price
Bridgestone Dueler A/T RH-S
PRICE
SOLD BY

Offers

Offers

Offers

Offers

Offers

Offers
Dueler A/T RH-S Ratings By Consumer