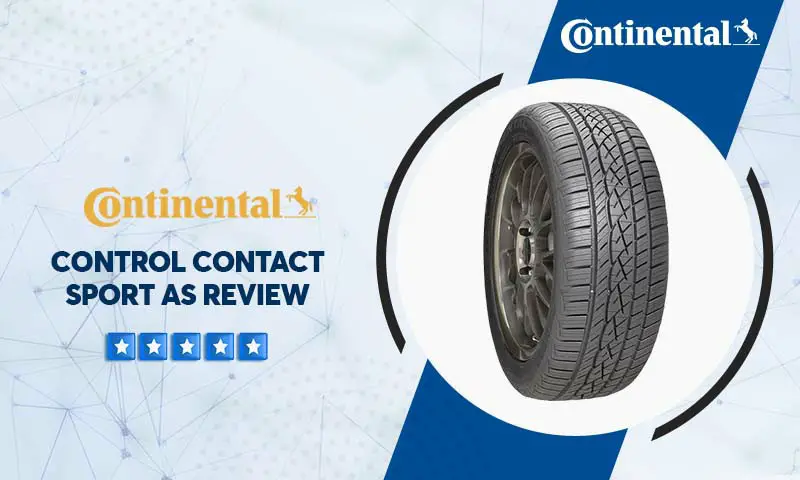 This Continental Control Contact Sport A/S would be lacking if not to mention this famous tire brand – Continental.
This is a company specializing in producing spare parts for cars and transport vehicles. Founded in 1915, it gradually became one of the companies with high-quality products, widely used worldwide.
Not only does it have stable quality, but the product design of this company is also quite diverse. Porsche, Audi, and Tesla are major partners who rely on Continental tires for their designs.
Control Contact Sport A/S Features
According to the manufacturer and the sellers, the Continental Control Contact Sport A/S offers the outstanding advantages of an all-season tire:
Perform impressively in dry, wet, and snow surfaces
High traction to increase safety
Long treadwear up to 50,000 miles
Easy to speed up and balanced at high speeds
Safe handling and braking
Low noise to provide more comfort
Pros & Cons
Personal Opinions
Manufacturer Information vs. Actual Experience
As enthusiasts who love learning about vehicle tires and have been experiencing this product for almost two years, there may be slight differences between our personal experience and the information from the company. These differences, however, are not too large and do not affect us that much.
All-season Performance
It works impressively and fulfills its responsibility in dry and wet weather conditions. It can be said that this is the biggest advantage that the manufacturer has focused on investing in this item.
On the market, there is no shortage of items labeled all-season tires but with average performance, even worse than other lines. Its high traction makes us relatively satisfied and gives it a plus point.
An all-season tire doesn't mean it works well in extreme-snowy conditions. If your area rarely snows or only has small snowfalls, it will not be worth worrying about this issue. But the density of heavy snow or slippery ice is not ideal for this item to work at full capacity and bring the effect you expect.
Treadwear
Treadwear is optimized. The manufacturer has upgraded and extended the treadwear life by increasing the tread block's stiffness to slow down the wear process.
Moreover, twin steel belts are used with a polyester cord to enhance durability and strength. However, we replaced our old tire after more than 43,000 miles instead of 50,000 miles as advertised.
High-speed Performance
The sporty design is ideal for speeding up. It is stable and balanced even when accelerating for a short time, and this is an advantage for those who have a passion for speed.
Braking and Handling
As mentioned above, Continental Control Contact Sport A/S is quite balanced and stable. When turning, we feel the high responsiveness that this tire brings to control everything more properly and safely.
High traction supports effective folding. But this performance will be reduced when traveling on wet snow or ice surfaces.
Noise and Comfort
It would be better to reduce the noise when traveling at a low speed. On highways, we feel comfortable and satisfied when it is relatively quiet. Yet when driving in the city, the noise seems louder and a bit annoying.
Who Should Buy The Control Contact Sport AS?
It will be the right choice for those who:
Live in little or no-snow areas
Prefer high-speed and responsive tire
Have a sedan, fast hatchback, or sporty car
Less bothered about small noises
Expectedly, our reviews provided you with an overview of this product. Also, we pointed out its advantages and disadvantages for you to consider.
Personally, we think this tire is worth trying one. Despite its high price and a bit of noise, you'll receive a notable experience.
| | |
| --- | --- |
| Treadlife Warranty: | 6 Years / 50,000 Miles |
| Uniformity Warranty: | 1 Year / first 2/32″ of wear |
| Manufacturer's Road Hazard Warranty: | None |
| 17 | | 18 | |
| --- | --- | --- | --- |
| 205/45ZR17 | 235/45ZR17 | 215/45ZR18 | 245/40ZR18 |
| 205/50ZR17 | 235/50R17 | 225/40ZR18 | 245/45ZR18 |
| 215/45ZR17 | 235/55ZR17 | 225/45ZR18 | 255/35ZR18 |
| 215/50ZR17 | 245/40ZR17 | 235/40ZR18 | 255/40R18 |
| 215/55ZR17 | 245/45ZR17 | 235/45ZR18 | 255/45ZR18 |
| 225/45ZR17 | 245/50ZR17 | 235/50R18 | 265/35R18 |
| 225/50ZR17 | | 235/55ZR18 | 275/35R18 |
| 19 | | 20 | |
| --- | --- | --- | --- |
| 225/45ZR19 | 255/35ZR19 | 245/45R20 | 275/40R20 |
| 245/40ZR19 | 255/40ZR19 | 255/45R20 | |
| 245/45ZR19 | | | |
Control Contact Sport A/S from approximately $123 and up