When it comes to all-terrain tires, many options are available on the market today. Among these, two of the most recommended tires are Falken Wildpeak A/T3W and BFGoodrich All Terain T/A KO2. However, these two often confuse people about their features, price, and performance.
So, what are the differences between them? Which one is more suitable for your rig? This post will show you a comprehensive comparison so that you can easily select the right one.
What Is Falken Wildpeak A/T3W? 
The Falken Wildpeak AT3W is a terrific tire that can work well on any terrain and under any kind of weather. You can use it for paved roads or even muddy and rocky terrain. 
Its performance is wonderful for both off-road and on-road. It has an excellent technology of heat diffusing that enables it to direct heat away from the internal parts. That helps to keep the tire stable for heavy loads.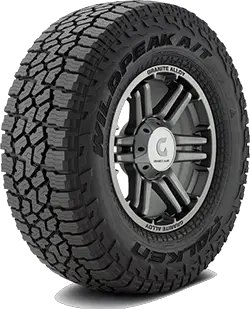 Key Feature
Provide higher friction and protect our safety
Amazing stability and handling
Tire Size
15″, 16″, 17″, 18″ and 20″.
Price Range
$140.00 – $453.00
Ratings
The Falken Wildpeak AT3W also has interlocked shoulders with the 3D Canyon sipe technology, protecting the tire from tear and wear because of high torque. 
Another brilliant feature is the functional design with ample tread depth. It improves vehicle handling and enables it to operate under any type of weather. At the same time, it repels stones and grime to prevent being stuck inside the grooves. 
The Falken Wildpeak AT3W is currently available in three diameter sizes of 15, 16, and 17 inches. The limited warranty of tread life is 55,000 miles. 
Overall, you can use this tire for both day-to-day and adventure driving. 
What Is BFGoodrich All Terrain T/A KO2?
BFGoodrich All Terrain T/A KO2 is the fourth generation of BFGoodrich. It is an all-terrain tire, and you can use it in any weather. The BFG KO2 is excellent for both off-road and on-road drives.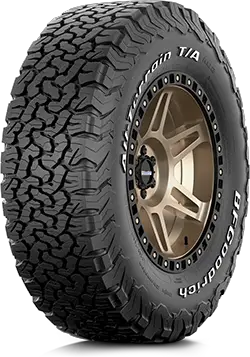 Key Feature
Excellent traction, cornering performance
Wear balance rate
Superior traction on wet
Tire Size
15″, 16″, 17″, 18″, 20″ and 22″.
Price Range
$158.99 – $531.99
Ratings
Compared with the previous generation, BFG KO2 is 20 percent stronger in terms of the sidewall. This is an essential feature for driving on tricky terrains. 
With a serrated shoulder design, this tire can impeccably handle your vehicle on deep snow and other soft terrains. It also has the 3D sipe technology, providing better traction when moving on snow. 
The tread rubber design is a special formulation for better endurance on gravel roads. This design is also an excellent distribution to prevent wear and tear for the tire after times of use.  
The tire is currently available in two diameter sizes of 15 and 16 inches. 
Detailed Comparison
Load And Speed Ratings 
The BFGoodrich KO2 offers a huge size selection and different load ranges of C, D, and E. For instance, with a light truck like 285/70R17, the C load range can provide a maximum load pressure of 50 PSI (2.775 pounds) for each type with a six-ply sidewall. 
Its E load range can be up to 80 PSI (3.095 pounds) with a 10-ply sidewall. The BFG KO2 also offers an amazing speed rating of R, S, Q, and T, similar to the Falken Wildpeak. 
The Falken Wildpeak AT3W even offers an additional rating of F and SL, signifying that you can use them for dual-rear-wheel applications. 
Tread Life Warranty 
When it comes to treading life warranty, the Falken Wildpeak AT3W has a bit longer warranty of 55,000 miles. The BFG KO2 only features a warranty of 50,000 miles or six years from the date you purchase.
Sizes Of Tire
The BFG KO2 provides a tire sizing category of 87 sizes with a wheel size range of 15-22 inches. The tire height can be up to 39 inches, and the tire width can reach 13.5 inches. 
Meanwhile, the Falken Wildpeak AT3W is available in 66 sizes ranging from 15 to 22 inches. Its tire height is up to 37 inches, and its width is up to 12.5 inches. 
Price Range
The Falken Wildpeak AT3W tires cost around $150 to $250 per tire, depending on the location and size. With this price range, they are in the category of mid-range tires. You can get a reasonable tire that can perform excellently on both off-road and on-road. 
Comparatively, the BFGoodrich KO2 tires are a bit more expensive. They cost between $190 to $380 per tire. With this price range, the BFG KO2 is also in the category of mid-range tires. 
One outstanding feature of the BFG KO2 is that it offers affordable tires with larger sizes. Almost all of its tires fall in the premium so that they can perform superbly with brilliant durability. 
Performance On Different Terrains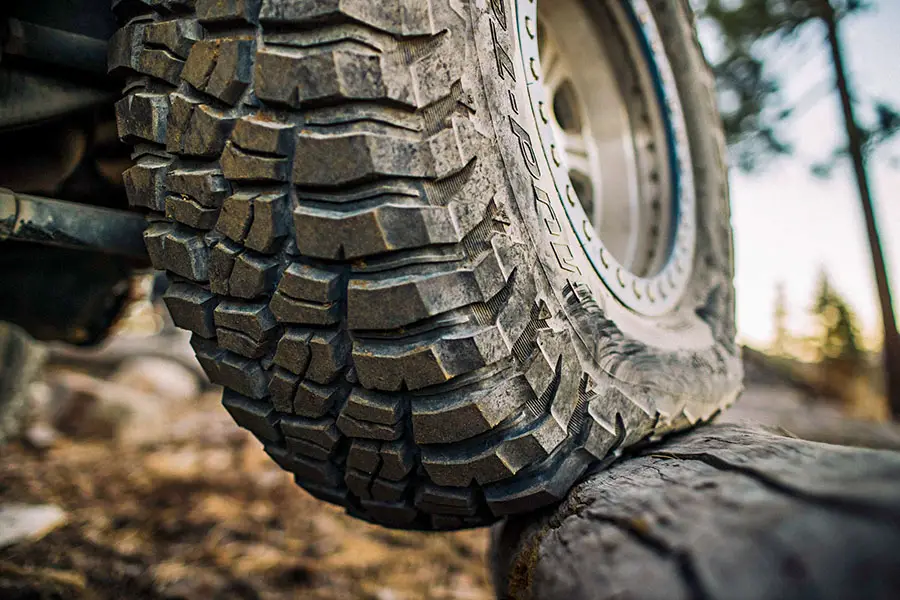 Both of these two tires can work well on different terrains. But still, there are several minor differences between them, making one take the edge of the other.
Road 
Both tires are efficiently comfortable on off-road terrain with great traction and handling, but the Falken Wildpeak AT3W is a bit noisier than the BFG KO2. 
Rocky 
These two have wide-space tread blocks to maintain adequate performance on rocky terrain. However, thanks to their deeper tread, the Falken Wildpeak AT3W tires have slightly better performance.
Mud 
The Falken Wildpeak AT3W equips a stepped block and wide-space design to help its tires shed effectively rocks, mud, or anything the tires can catch. 
The BFG KO2 has serrated edges biting into mud conditions and provides great grip. However, it does not eject the mud as well as the Falken does, giving Falken the edge. 
Snowflake
Both of them offer a three-peak snowflake rating. This rating means that these tires offer a stronger level of snow traction. 
However, these two tires are still all-terrain tires. That's why they are not the best choices for high-performance in constant snowy conditions. Thus, if you live in a country with harsh winters, we recommend considering winter tires.
Pros And Cons Of Falken Wildpeak A/T3W
Learning the pros and cons of the Falken Wildpeak AT3W helps you understand it better. Also, you can consider if it is right for your rig. 
Pros 
Heat diffuser technology: helps the tire and the internal parts stay cool when used. 
Great performance for off-road driving such as muddy and rocky terrains. 
Durable tread design: helps the tire be commendable and stable on heavy roads. 
Responsiveness to handling: this tire is quite sensitive to any road conditions, even cornering. 
Reasonable price and little vibration on uneven terrains.
Cons 
Limited sizes: this tire only offers a limitation of sizes.
Mild vibrations: it can sometimes produce noise on highways.
Pros And Cons Of BFGoodrich KO2 
Similar to the Falken Wildpeak AT3W, the BFGoodrich KO2 also has its advantages and disadvantages. Let's go through them now! 
Pros 
Providing a tough tread design and durable tread life. 
Reputed tire: it is an improved successor of the predecessors, so it works well on all terrains and weather conditions. 
Offering a number of sizes, more than the Falken Wildpeak AT3W can offer. 
Suitable for all seasons: this tire is fabulous for traction on dry and wet or even icy roads. 
Con 
Its tread life is shorter and cannot beat that of the Falken Wildpeak AT3W.
Frequently Asked Questions 
Below are some questions usually asked by the owners. Let's have a closer look at them to know which tire is better for your vehicle.
What Kinds Of Vehicles Can Use These Two Tires? 
Both the Falken Wildpeak AT3W and BFGoodrich KO2 work for pickup trucks and jeeps. They are not suitable for regular cars.  
Which Tire Is Out Of Off-Road Adventure? 
Those who need the greatest out of off-road adventure should select the Falken Wildpeak AT3W. This tire is the best value for your money choice. 
Are These Tires Still Smooth When They Get Older? 
According to the owners, these tires are still smooth on all terrains, even when they get older. Also, their traction does not waver after times of use.  
Can Big Sedans Use These Tires? 
Both sets of tires work well for off-road vehicles. They do not fit big sedans without modifications. 
Are These Tires Built For Driving In Winter Conditions? 
The Falken Wildpeak AT3W and BFGoodrich KO2 are appropriate for remaining decent traction in snowy conditions, but the BFG KO2 performs a bit better in winter conditions. 
For more all-terrain tire options you can check out our article: The 12 Best All Terrain Tires: Top Picks For 2022
Conclusion 
In short, the post has shown you the full comparison of the Falken Wildpeak AT3W and BFGoodrich KO2. These two tires are different in load and speed ratings, tread life warranty, size range, pricing, and performance on different terrains. 
We hope you can choose the most suitable tire for your rides and journey depending on your demands! If you still have any questions, do not hesitate to ask us.