Some may wonder which kind of tires are most suitable for their cars when driving a car. Michelin is one of the top tire brands worldwide, and it has produced various products.
Suppose you are confused between Michelin CrossClimate 2, Crossclimate Plus and Crossclimate SUV. In that case, this article is here to provide you with a detailed comparison of three kinds of tires so that you can differentiate them.
Overview About Three Kinds Of Michelin Crossclimate
The first tire of this brand was introduced in 2015, a summer tire with particular features for driving in winter conditions. 
From the first version, it was one of the best-selling car products throughout Europe. Today, we will compare three versions of this brand, including Crossclimate Plus, Crossclimate 2 and Crossclimate Suv.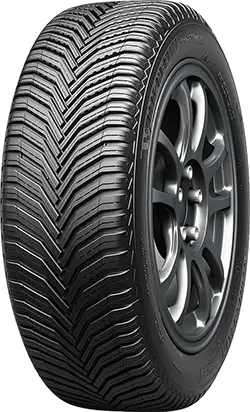 Key Feature
Exceptional traction in severe snow conditions
Directional tread pattern
V-Formation tread design
3D SipeLock technology
Tire Size
16″, 17″, 18″, 19″ and 20″.
Price Range
$147.99 to $278.99
Ratings
If you are looking for the tire that can be used in all weather conditions, this can be one of the most popular choices. 
On top of that, this product will help you ride in a comfortable, relaxing, and peaceful environment, thanks to many spectacular features. So, it can be one of the worth-trying options.
The first special feature is a tread compound that uses Thermal Adaptive, providing the car a more dependable grip when drying on wet and snowy roads. Moreover, it can keep the tire soft and pliable during cold weather.
Another remarkable feature is the combination of the tread pattern and the V-Ramp chambers. This combination gives the car some biting edges to handle with snow.
Last but not least, through the system of reducing noise, you can experience a peaceful ride.
Nevertheless, one of these drawbacks is the mileage warranty. That's why you should consider it carefully.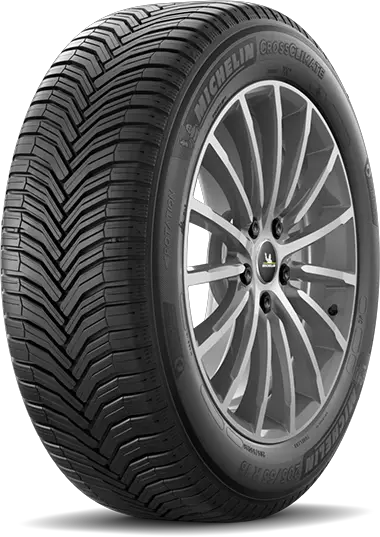 Specifications

Season: All-season
Size: 15″ to 18″
Construction: Radial
Speed Index: V
Mileage Warranty: 40,000 – 50,000 miles

Ratings
When choosing these tires, most users do not assess their abilities. It is a common belief that these kinds of car products can give people usable traction over the year, but this is not true.
In fact, these manufactured products cannot perform well in cold weather.
However, it is ubiquitous and is now facing more competition from other brands. Additionally, compared to other brands, its price is much higher.
So why does it have a more expensive cost? That's because of all the features that these products have.
This tire features a tread pattern focusing on multiple conditions, allowing the car to perform well in all weather. It also has a rubber molded highly directionally to increase snow traction.
The cornering ability, lateral grooves, and open shoulders are used to evacuate water and are enhanced through the tread pattern design.
Like other Michelin car products, this plus version has Emerging Grooves, which can make the tire wet.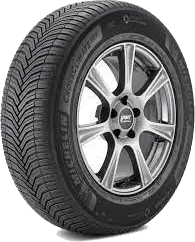 Specifications

Season: All-season
Size: 16″ to 20″
Construction: Radial
Speed Index: V
Mileage Warranty: 50,000 miles

Ratings

No Review Yet
This tire is designed for drivers of some specific kinds of cars, such as crossovers, trucks, or SUVs. It provides usable traction in all weather conditions. 
However, this product cannot perform as well as these two all-seasoned types above.
Performance Comparison
Dry Performance:
In fact, due to a softer tire compound, many types of all-season tires can drive well in cold conditions such as wet and snowy roads. Yet, it can reduce speed and traction when driving on dry roads.
However, Michelin seems to clear away that drawback by manufacturing this Crossclimate 2 version. Its performance in dry conditions is truly impressive compared to other kinds of car products.
When we compare it with other grand-touring tires, it is clear that it is among the greatest products in this selection.
In case you are driving on dry roads, you will experience light and responsive steering, which will help your vehicle stay in control. On top of that, it also brings a consistent grip on warm pavements.
The only disadvantage of this product is cornering. In fact, it is not a good performer when it comes to tight corners compared to other competitors. However, it never loses grip or makes your means of transport unsafe.
Regarding the Plus version, we pay attention to responsive traction. When using this tire, we feel it like one for racing, which can be a great point of this version.
This car product also has authorized brakes with the shortest braking distances on dry surfaces. Therefore, it is a great option when you look for modern dry handling.
Besides, the Crossclimate SUV can bring an excellent performance on dry tarmac. Yet, when comparing Michelin Crossclimate SUV Vs Crossclimate 2 vs Crossclimate Plus, the SUV version is still inferior to the above two types in handling.
See more: Michelin Defender vs Premier
Snow Performance:
If you dig up the sidewall of this MC2 product, you will realize that it has a label of the 3PMSF.
In fact, this stamp proves that the tires have been accepted for use on cold surfaces like snow. If you are residing in a snowy place, this product would be a great option for you.
Many special features are equipped in this tire to increase its ability to drive on snowy surfaces, such as rubber compounds, 3D sipes, or a directional tread pattern.
In terms of the plus version, the 3PMSF rating is a key feature that proves the tires have the ability to drive in cold conditions such as snow or ice. This means that you can experience a safe ride when driving on snow or ice. 
This tire also provides you greater acceleration traction, which can, in turn, help you to attack the snow on a deeper level without caring about being stuck. 
When it comes to Crossclimate Suv, although the manufacturer introduced it as an all-seasoned product, it cannot offer you smooth and safe trips in snow, especially in ice conditions. So, Michelin Crossclimate 2 is the winner in this term. 
However, you need to keep in mind that no matter how well it can perform on snowy surfaces, it can not take the place of a winter tire. You can use it in light or medium snowy weather, but you should not do it in harsh wintry weather. 
Off-Road Driving
Regarding the MC 2, the tire has grooves and tread patterns designed for off-road drive, which can, in turn, carry the car over many conditions such as rocks or dirt.
However, when you need to do a lot of off-road driving, it is not the right choice because this product is not designed for this type of driving.
In fact, when you experience conditions that need off-road driving, this could not give you adequate and reliable traction when you experience off-road driving surfaces.
When it comes to MC Plus, you can clearly see that its tread patterns with wide lateral grooves are specially designed for on-road driving.
Now fairly, it will give you great traction on hard-packed surfaces. Nevertheless, the tread might get damaged due to sharp things. That's why you should do off-road driving in a limited number. 
On top of that, these two products cannot provide you with a high level of traction in surface conditions such as mud or rock.
Noise And Comfort
This type of product from the brand is famous for its comfort and refinement. The Crossclimate 2 is considered among the most relaxing and comfortable tires. 
Its performance on surfaces like bumps or potholes is also great, minimizing the vibration transfer.
Regarding the MC Plus and MC SUV, unfortunately, these two will create a louder sound. However, the sound from the hum is not too intrusive. 
Thus, the MC 2 dominates the others in terms of noise and comfort.
See more: Top 10 Best Winter Tires For Snow 2022
Quick Run-Down Of Three Types Of Tires
Type of tire
Pros
Cons
Michelin CrossClimate 2
– Perform better than overall all-season tires
– Brake on short distances in all road conditions.
– Perform greatly in cold weather
– Ride responsively and steer controllably
– Provide a relaxing and comfortable ride
– Not long wear life
Michelin CrossClimate Plus
– Provide impressive braking and handling in dry conditions
– Having a direct steer and excellent feedback, same as a summer tire
– Provide great performance on snow-covered surfaces and are the best all-season tire
– Remarkable tread life for an all-season tire and great treadwear warranty
– Not good wet braking
– A little bit stiff
– Noise
– Very prohibitive
Michelin CrossClimate SUV
– Excellent wet braking
– One of the best brakings on dry roads
– Exceptional handling in wet and dry weather
– Good highway stability
– Great standard performance on snowy roads (except braking)

– Pricey
– Noisy
– Long treadwear warranty
Conclusion
Although three kinds of tires have their particular advantages and disadvantages, the best one can be the Michelin Crossclimate 2, thanks to its wonderful performance.
Before picking one, you should consider your needs carefully. Hopefully, this article has informed you about the comparison to choose the most suitable one for your vehicle.