With the COVID-19 pandemic gradually fading into the past, it is time for travelers to brave the roads again. Therefore, one must get themself and their car ready to take on all types of terrain, in which the most important feature to check out is car tires.
When it comes to the best tires for off-road terrains, you can't miss the showdown between two of the best: BF Goodrich KO2 vs Cooper ST Maxx. These tires are the best choice for experienced expert truckers and drivers alike who look forward to some challenges down the road.
Before going to the comparison, let's take a closer look at the characteristics of these amazing tires!
Cooper ST Maxx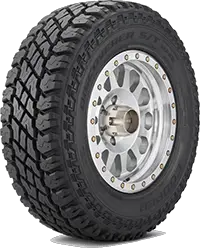 Specifications

Category: All Terrain
Warranty: No
Max Speed: 100 mph (Q Rated)
Load Range: E
Load Index: 115/112 (2679/2469 lbs)
Sizes Available: 15″, 16″, 17″, 18″, 20″

Ratings
Cooper ST Maxx is the first to analyze on the list. Cooper Tire & Rubber Company has long been known for manufacturing great heavy-duty tires for automobiles, especially medium to heavy trucks and motorcycles. ST Maxx is one of their best products.
Features
It features an extremely durable and efficient structure that can withstand the hardest terrains. The most highlighted feature is the Armor Tek3 construction, built to support the tread and sidewall under the weight and pressure from all directions.
Thanks to the surface designed with symmetric patterns with sharp edges, it adds more traction to the tire and prevents hydroplaning. The structure has stone ejector ribs and groovy walls to prevent small rocks from sticking while extending the tire's expectancy by removing stone drills.
On icy or wet trails, ST Maxx shows its strength by draining the water away more quickly with the specialized patterns. The cut-and-chip resistance design works like road claws, improving balance when traveling on soft and unstable dirt roads.
Cooper offers various sizes for a wide variety of cars, including pickups, 4x4s, vans, SUVs, huge crossovers, etc. These tires can provide great performance in every terrain under snowy, dry, and wet weather.
The interior of the tires consists of two hardened steel belts to enhance the sustainability of the tread, along with the nylon protection above them. These features allow Cooper ST Maxx to utilize the total speed of the vehicle.
Last but not least, multiple plies constructed along the sipes help reduce the gap between the body cords on the sidewall. The reinforcement significantly improves the durability during high-speed traveling.
Weaknesses
Some reviews pointed out that the tire's resistance to puncture is limited. The damage becomes clear after traveling for 20,000 miles. They are also pretty loud, as the tread can cause a lot of noise while pressuring on the dirt, mud, and rocky paths.
BF Goodrich KO2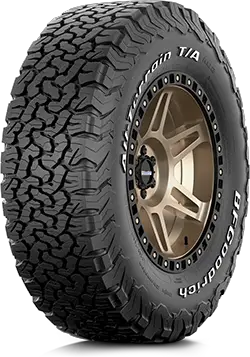 Specifications

Sizes Available: 15" to 20"
Speed Rating: R, S, Q, T
Mileage Warranty: 50000 miles
Rim Width Range: 5.5" to 11"
Overall Diameter: 27" to 36.5"
Revs Per Mile: 569 to 751
Max Load Capacity: 2,755 lbs
Tread Depth: 15/32"
Max Inflation Pressure: 50 psi

Ratings
The BFGoodrich KO2 tires are recognized as one of the toughest road contenders in the BFGoodrich series. With an extra-thick structure, it can provide the greatest protection against the hardest terrains.
Features
This tire is designed specifically for medium-sized trucks, from pickups to military jeeps, to take on extreme road types with amazing traction forces and durability. The patterns on the tread were computer-optimized to increase its performance to the highest.
Like Cooper ST Maxx, KO2 features a cut-and-chip resistant tread compound to extend its useful life. The sidewall armor has an extra thick layer of rubber which provides even more traction by the "road-claws" to help to steer on unstable dirt.
Not only that, these tires boast single-strand beads that are wrapped into many layers to improve strength, which contributes to the wheel's stability and boosts driving quality. This feature significantly facilitates driving under heavy snow, branded with the 3PMSF (three-peak mountain snowflake) symbol.
The internal structure of these tires includes a set of twin steel belts wrapped in a spiral shape by nylon, plus 3-ply polyester cords on the sidewall. Such structure is the secret of the tires' strength and durability.
Weaknesses
Due to their bulky and heavy sizes, the tires are difficult to balance after approximately 20,000 miles. There is a noticeable vibration, which can affect steering. The structure is thick and tough, so it is difficult to remove small rocks and debris once they get stuck in.
Pros and Cons
Cooper ST Maxx:
Pros
Great performance
Various weather and condition handling
Long expectancy
Cons
Loud noise
Puncture particles
BF Goodrich KO2
Pros
Heavy-duty layers
Great against extreme hazards
Long expectancy
Cons
Bulky
Objects easily get stuck
In-Depth Comparison of BF Goodrich KO2 vs Cooper ST Maxx
Durability
In general, both tires are the most durable in their series. ST Maxx is effective when it comes to braving every type of terrain; however, KO2 is meant to withstand the toughest paths under the hardest circumstances.
KO2's well-calculated design accents high accuracy, so you can expect it to stand the test of time. Therefore, KO2 is more durable than ST Maxx.
Efficiency
ST Maxx has graceful and elegant housing, with well-placed patterns and tire structures to remove objects and drain water. Meanwhile, KO2 is bulky with a simple tread pattern design that may cause imbalance after driving for a long period.
In addition, the ST Maxx structure allows it to eject objects no matter how deep they are stuck between the lines. As a result, Cooper ST Maxx is the winner of this round.
Internal Support
At first glance, one cannot easily tell them apart regarding the inside of the tires. Still, ST Maxx's internal design is more complicated, which helps increase the strength and the maximum speed of the vehicle. KO2, on the other hand, only supports the strength.
To be more precise, the design of ST Maxx helps eliminate the pressure on the road, allowing the vehicle to move faster and easier while removing dirt and particles on the outside. Therefore, ST Maxx is better in this aspect.
Weakness Comparison
After a while of use, ST Maxx can make loud noises very frequently, which can cause a disturbance. Sharp objects tend to easily pierce through the outer layer of the tire, leading to damage through time.
KO2, thanks to its massive design, stays quiet while maneuvering; however, little stones and debris can get stuck between the lines, so imbalance after an extended time of driving is predictable.
In general, the defects of both tires are noticeable, so the result of this round is a draw.
Final Verdicts
In conclusion, the winner is Cooper ST Maxx. With outstanding performance and durability, ST Maxx has proven itself a great choice for medium to heavy vehicle drivers to ensure safety on the road.
If you enjoy the deep and rough terrain, you can also pick KO2 to conquer those paths. This tire possesses unmatched durability against even the toughest conditions. You will not be disappointed by the power of one of the toughest tires in the world.