The showcase of the Vredestein Quatrac Pro vs Michelin Crossclimate 2 has created controversy in the automobile community. With the excellent features and overall quality, choosing the better product out of them makes you confused.
The better-quality tire can help you keep a safe and perfect grip while driving on various terrains and provide a comfortable ride on the road. In the article below, we'll look at a detailed comparison of these tires. Let's read on!
Vredestein Quatrac Pro Vs Michelin Crossclimate 2 – A Full Comparison
Size
The Vredestein Quatrac Pro tire is available in different sizes ranging from 17" to 21".
The 17'' type includes six different sizes such as 205/50R1793V, 225/45R1794Y, 225/50R1798Y, 225/55R17101Y, 235/55R17103Y, and 245/45R1799Y.
There are nine sizes in 18'', namely 215/50R1892W, 225/40R1892Y, 225/45R1895Y, 225/55R18102V, 235/60R18107W, 235/65R18110H, etc. 
19'' comes in seven sizes such as 225/45R1996W, 235/50R1999V, 235/55R19105W, 245/45R19102Y, 255/50R19107W, and 255/55R19111W.
20'' includes eight sizes, for example, 235/45R20100W, 245/35R2095Y, 245/40R2099Y, 255/40R20101Y, etc.
245/35R2196Y, 275/40R21107Y, 275/45R21110Y, 285/40R21109Y are four sizes that belong to the 21" type. 
Crossclimate 2 comes in a broad range of sizes from 16'' to 20''. 205/55R16 91H, 205/55R16 91V, 205/65R16 95H, 215/55R16 97H are four sizes in 16''.  17'' entails nine different sizes such as 215/50R17 95V, 215/50R17 95H, 215/55R17 94H, 215/55R17 94V, to name a few.
There are seven sizes in 18'' such as 225/55R18 98H, 235/50R18 97H, 235/50R18 97V, or 235/55R18 100V. 19'' comes with four sizes such as 235/50R19 103V, 235/55R19 105H, 235/55R19 105V, and 235/55R19 103V. In the 20" category, only one size is 245/50R20 102V. 
In conclusion, Vredestein Quatrac Pro comes in a broader range of sizes than its counterpart. 
Tread Design 
The Crossclimate 2's distinctive design is outstanding. Biting edges feature a V-shaped design and circumferential groove that optimizes traction on dry or wet roads. The model with a great road grip can increase your mileage to ensure your tire does not wear out rapidly.
With divergent lamellas in the shoulder, the primary drainage grooves on the Vredestein Quatrac Pro boost water drainage from the contact area. It also enhances hydroplaning resistance and excellent wet performance even at high speeds. Controllability and crisp steering responsiveness are better thanks to the large center ribs.
The multidirectional sipes in the core region of the Vredestein Quatrac Pro's tread ensure equal pressure distribution in the contact area and give a longer tread life.
We found that Vredestein Quatrac Pro features a superior tread with a sturdy design and longer life than Crossclimate 2.
Performance  
Slippery And Wet Roads
The asymmetric tread design of the Vredestein Quatrac Pro boasts a "summer-oriented" and a "winter-oriented" outer side, including rubber and straight sipes. These components allow the tire to run in cold weather in winter or snowy conditions. Dry handling is stable thanks to the wide center ribs, resulting in shorter braking distances on most roads and terrains, such as dry, muddy, ice, or snow.
Four deep divergent and longitudinal grooves in the shoulder improve traction on slippery and wet surfaces. The item compound's high resin and silica component intensify the wet and slippery traction.
The Crossclimate 2, on the other hand, gets an admirable performance on slippery and wet surfaces, such as snow, rain, or ice. Its unique V-shaped tread design helps water wipe away the tire when it comes into contact with the tire. 
You may relax knowing that such great performance can aid you in keeping control of your automobile on slippery and wet roads. Wet roads are prone to sliding. Thus this model's holding performance is a superior feature to increasing safety.
Therefore, Crossclimate 2 is worth being the better choice for the slippery and wet roads to help you take a safe and firm drive.
Snow Roads
Quatrac Pro promises 5% greater in snow performance and 10% superior grip on the snowy surface. Its innovative composition material consists of a large amount of resin and silica, ensuring optimal performance on snowy terrain. The central sipes are also aggressive when you take a drive on the snow. 
The Michelin Crossclimate 2 with the V-shaped tread design patches it into the snowy roads for more outstanding traction. 
You can see the symbol of the Three-Peak Mountain Snowflake (3PMSF), which is popular on the all-season and all-terrain tires such as Crossclimate 2. This symbol shows the excellence of the tire in maintaining excellent traction for snow driving. 
Thus, for snowy performance, Crossclimate 2 is the better option for getting a safe and powerful grip. 
Noise
Using the advanced noise reduction technology known as Piano Noise Reduction Tuning, Crossclimate 2 becomes the winner for producing less noise than Quatrac Pro. Thus, you can choose this tire if you enjoy the magic quietness during your trips on the roads. 
Durability 
With the sturdy material and unique innovations, Quatrac Pro puts a strong challenge to Crossclimate 2 in terms of durability. Its rugged components can endure longer than Crossclimate 2 tires in the rough terrains.
It is an all-terrain and all-season tire with excellent durability when dealing with severe weather situations such as snow and rain.
Price
Regarding price, there is a difference in the matchup of them. The Vredestein Quatrac Pro tires are slightly more affordable than their counterparts. Yet the difference is not that much. The price varies depending on the size, with the bigger the more pricey.
Pros And Cons
Vredestein Quatrac Pro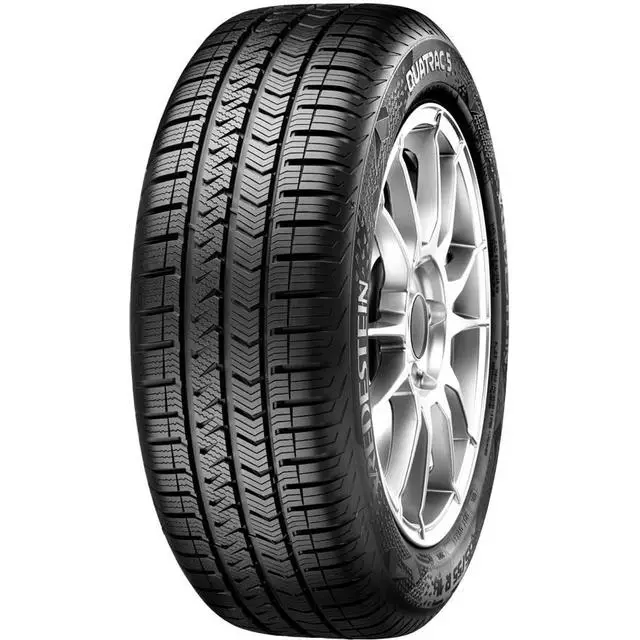 Specifications

Category: All Season
Warranty: No
Max Speed: 186 mph (H Rated)
Load Range: XL
Load Index: 93 (1433 lbs)
Sizes Available: 17″, 18″, 19″, 20″, 22″

Ratings
Michelin Crossclimate 2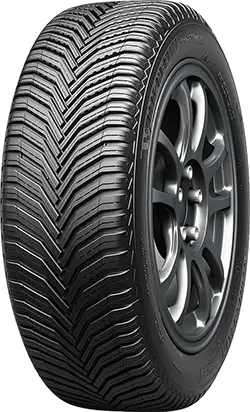 Key Feature
Exceptional traction in severe snow conditions
Directional tread pattern
V-Formation tread design
3D SipeLock technology
Tire Size
16″, 17″, 18″, 19″ and 20″.
Price Range
$147.99 to $278.99
Ratings
Conclusion 
We hope you can make the right decision about which one is greater. This article also provides useful information about the criteria of each type that make them distinct.
Think about features from size, design, and quality to on- and off-road capability to budget to complement your car and improve your drive.  
We consider the Crossclimate 2 a great investment for wet and snow terrain with utmost safety. Meanwhile, the Vredestein Quatrac Pro proves itself to be a decent candidate for a durable tire at an economical price