General Grabber ATX and BF Goodrich KO2 battle triggers controversies among the automotive community. You might feel confused about getting the better tire out of two with the overall quality and superior features. 
The superior tire can support you to hold the best grip while traveling off and on-road and take a comfortable drive on all terrains. Let's examine a full comparison of the two most popular tires in the article below.
Overview
1. General Grabber ATX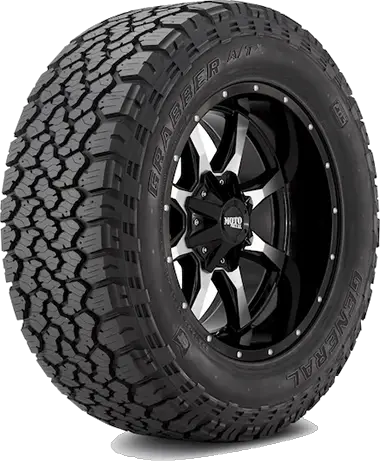 Specifications

Type: All-terrain
Size: 14″ to 20″
Construction: Radial
Speed Index: H, V
Mileage Warranty: 50,000 miles

Ratings
2. BFGoodrich All Terrain T/A KO2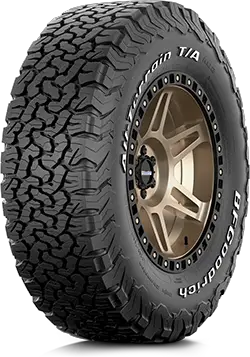 Key Feature
Excellent traction, cornering performance
Wear balance rate
Superior traction on wet
Tire Size
15″, 16″, 17″, 18″, 20″ and 22″.
Price Range
$158.99 – $531.99
Ratings
3. Details Comparison
Size
BFGoodrich All Terrain T/A KO2 includes 87 different sizes with provided tires of C, D, E load range in the various wheel sizes. Other load ranges of R, S, Q, T are also offered. 
General ATX is available in 54 sizes ranging from 27 – 37 inches and wheel diameters of 14-20 inches. You can find the C load range in a few tire sizes. D, E, and XL load range tires are also in store for more choices.   
Design 
KO2 sports an innovative design with thinner and smaller grooves and blocks. This style perfects your vehicle with a luxurious and beautiful look. 
Meanwhile, Grabber ATX models are bigger and thicker, with more extensive blocks and grooves. Its dynamic and sturdy construction gives your vehicle an attractive and powerful style.
Sidewall And Tread 
Sidewall
The sidewall is the smooth surface in the vertical side of the tire, between the edge tread and the bead that holds the tire on the wheel's rim. It is one of the important parts of any tires taken off-road or used on all terrains. 
BFGoodrich has constantly improved the KO2 sidewall structure to make it one of the best. You can explore its sidewall combining twin-steel belts with BF Goodrich's TriGard in an all-terrain tire.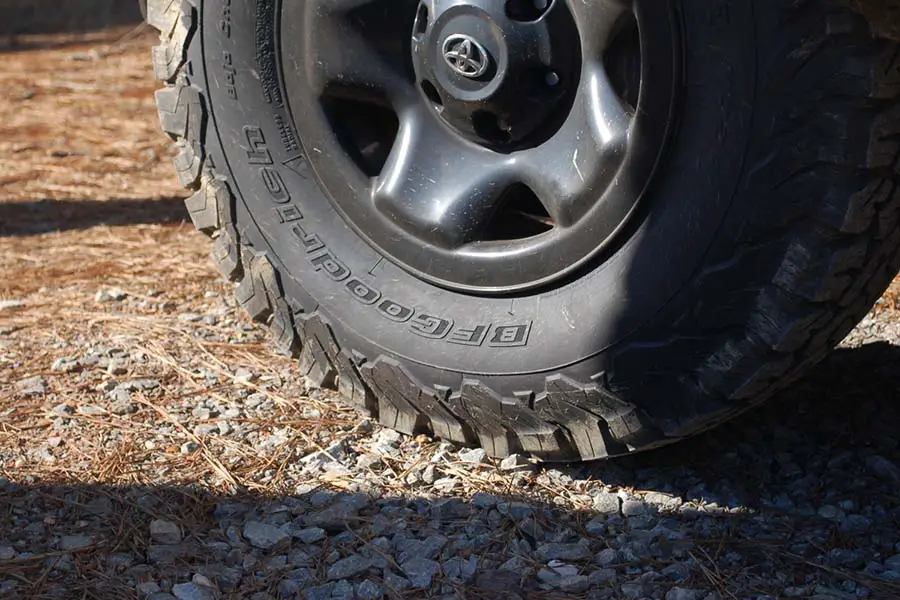 This well-established brand also applies the CoreGard technology to produce the bruise and split-resistant rubber sidewall. An extensive shoulder made from the rubber compound also contributes to a tougher sidewall. 
KO2 sidewall is excellent to deflect sharp objects and lower the splitting and snagging risks. It lends BF Goodrich tires more strength to sustain the various pavements such as trails or bumpy roads. 
General Grabber sidewall, on the other hand, can resist damage and abrasion with the durable polyester material. It is suitable for muddy grounds and restricts the bad impact of terrain on your vehicle. 
Tread     
It is a rubber exterior on the tire's circumference to contact the ground or the road. 
General Grabber's tread features a cushioning system incorporating the lugs to offer a flexible and smooth ride on the road. The improved General tread's lifespan provides a 60,000-mile limited treadwear warranty and 50,000 miles for you to take multiple mile road excursions.  
KO2 tread has been familiar with off-roading for a long time because it works well without being updated. It keeps tires longer and stronger thanks to the tear and chip-resistant compound. The comparable tread life makes this round a tie.
Performance  
In the BF Goodrich KO2 and General Grabber ATX matchup, ATX provides superior traction without affecting the off-road performance. The combination of sturdy sidewall and reliable tread of Grabber ATX gives excellent tire performance with a smooth ride on the road. 
To achieve optimal performance, General used some modern technology techniques. Firstly, Stabili Tread's technology increases tire durability up to 20%. Also, the three-rubber layer application in DuraGen technology makes the tires the toughest. 
You can experience comfortable rides with fewer vibrations thanks to General's Comfort Balance Technology. 
This model gives the highest performance to Jeeps, small trucks, and SUVs to control them on the various roads. 
BF Goodrich tires using the proprietary compound are also a reliable choice for high-performance on-road and off-road driving. The anthem off-road avenger works well to improve tire performance. But based on our experience, this candidate still falls short compared to its rival.
On And Off-road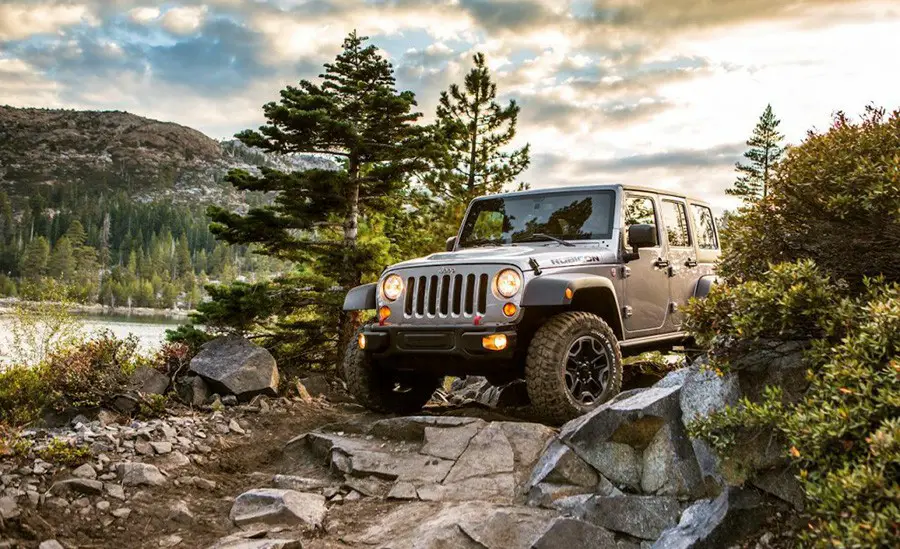 On-road 
Both ATX and BFGoodrich KO2 contact the pavements all the time. So, don't miss their on-road capabilities to decide which is better. 
If you often use your all-terrain tires on the highways and paved roads, KO2 is great to handle the anticipated on-road impacts on highways. This tire has a respectable capability to adapt to all terrains with minimal vibration. 
ATX tires fall behind KO2 because they don't work well on the highways with greater vibrations.
Off-road 
It is hard to choose which tire is better when ATX and BF Goodrich tires can handle mild-to-moderate off-roading. 
Rocks
The aggressive shoulders allow both tires to have great traction in favorable off-road manners. They can run on the rocks with soft compounds and big lugs. 
However, KO2 includes bigger tracks and grooves than Grabber ATX to get more grip for your vehicles to have better off-roading. 
Mud
Both of these tires can perform well on mud terrains with ease. Yet, ATX is the better choice for only mud because it can grip the mud better with greater self-clearing capability and a stronger 5-way thread pattern. 
Although BF Goodrich's tires work in this terrain, they lose traction and stop clearing in sticky, wet mud. 
Snow 
ATX can keep the momentum going on the snow terrain thanks to the deep grooves capturing the water and snow. 
KO2's deep and extensive grooves allow snow to fill in, giving a solid grip with excellent acceleration to contact the slippery surface. Thus, your vehicle can move on the snowy ground without difficulty. 
With such profiles, we call this round a draw.
Sand 
BF Goodrich's tires are more excellent for sand, one of the hardest terrains to take a drive because of its reinforced sidewall. Meanwhile, ATX is not suitable for sand due to its more aggressive tread pattern.
Noise
Grabber ATX's big grooves create an open area for the airflow producing more sounds, so we have to say that this is a noisy buddy. Thanks to its smaller grooves for blocking noises, BF Goodrich's tire is quieter than ATX when driving on the roads. 
Durability 
Regarding durability, ATX puts a solid challenge on KO2 with the tough material using unique technologies. Also, it can last longer than BF Goodrich's tires with its robust components in the harshest terrains. 
It is an all-season and all-terrain tire when dealing with various weather conditions such as heavy rain, snow.  
Price
The KO2 is more expensive than its counterpart but it is greater to gain your satisfaction.    
Pros And Cons
General Grabber ATX
Pros 
Optimal all-terrain off-road performance
Solid traction and stability on the hard-packed surfaces
Good tread life and long treadwear warranty
Excellent on-center and straight-line tracking 
Comfortable enough on all off-road terrains
Applied with Duragen Technology 
Smart grip Technology for good steering management
Affordable cost 
Cons: 
Noisier on highways
Unresponsive to handle on the dry tarmac
Lacking maintenance indicators
BF Goodrich KO2
Pros: 
Respectable traction capability
Solid rubber sidewall
Excellent wear-and-tear resistance
Superior traction on the rock, snow, sand, and mud
Suitable for all seasons and weathers
Quiet and comfortable on both the off and on-road
Longer lifespan 
Great rigidity and toughness
Cons: 
High price
Poor tread wear performance
For more all-terrain tire options you can check out our article: The 12 Best All Terrain Tires: Top Picks For 2022
Conclusion 
Hope that you can make the suitable pick for which tire is superior through the showcase of General Grabber ATX vs BF Goodrich KO2. This article also gives useful information about features of each type that make the difference between them. 
To complete your vehicle and enhance your ride, you need to consider the overall criteria from size, design, on and off-road performance, and price.