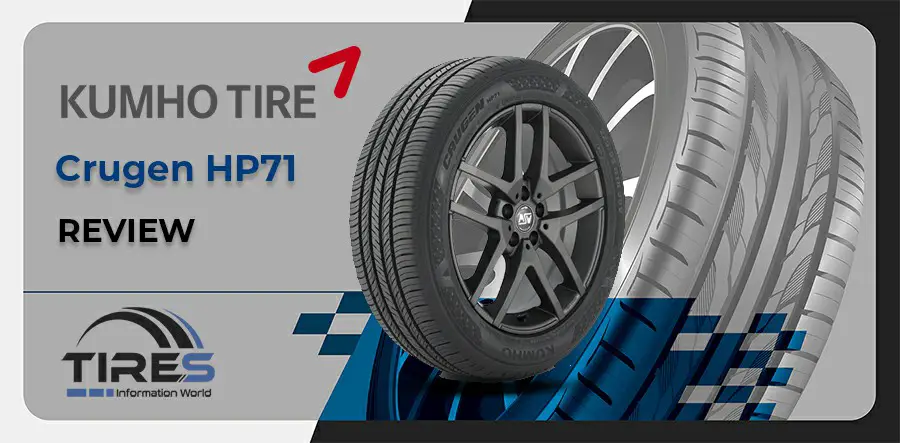 Kumho Crugen HP71 Overview
This model has one of the highest ratings on the market. Up to 96% of customers said they would get it for their beloved ride again. What is it that makes them so content? Let's find out at our Kumho Crugen HP71 Tire Review!
Kumho Tire Overview
Kumho Crugen comes from Kumho Tire Company, one of the biggest tires manufacturers in South Korea. For those passionate about automotive vehicles, this brand could be some of the most recognizable out there on the market. 
They have gained remarkable achievements, such as being an official supplier for the NBA and a Manchester United FC's Platinum Partner. They have already furnished tires for many global car brands, including BMW MINI, Mercedes-Benz, Dodge, Ford, etc.
Kumho Crugen HP71 Features
Having the advantage of being an all-season tire, the most prevalent type on the market, Kumho Crugen enables drivers to get a quiet and comfortable ride throughout all their trips. 
Is it that good or just another marketing hype? Let's figure it out yourself on our Kumho Crugen HP71 Tires Reviews!
It's always the appearance that catches your first sight. Crugen HP71 comes with a practical design with a big rim size that elevates your vehicle's overall look to the next level.
The tasteful design isn't all there is to HP71, though. The model also offers symmetrical five-rib tread utilizing Variable Pitch Technology to enhance the traction in every weather condition. Meanwhile, the durable compound of the tire keeps it malleable at different temperatures.
These features enhance the pressure endurance of the tires, contributing to greater treadwear and help your vehicle get a more stable and responsive corning power.  
When it comes to handling and controllability, they equipped the model with a broad shoulder block and a robust center rib that further improves maneuverability, leading to the better performance of the tires. 
Although Crugen HP71 prioritizes more about tread life, all-season traction, and ride quality rather than overall handling performance. Yet, it still has adequate controllability that guarantees driving safety due to these factors. 
Here is another plus for this model. It has a 65 000 miles treadwear warranty rating, a substantially longer tread life compared to other tires on the market.
Additionally, Kumho Crugen HP71 ensures a vibration-free drive, allowing more comfort during any of your journeys.
Kumho Crugen HP71 Review: Pros & Cons
Kumho Crugen HP71 Tire Drive Test 
If you are looking for a wonderful package of all-season tires for your companion, you're definitely in the right place! 
We will give you our take on our hands-on experience of the tires' traction in all kinds of weather conditions. 
Why Should You Choose Kumho Crugen HP71 For Your Car? 
The Crugen HP71 does an excellent job in wet and slippery conditions. These tires perform well against hydroplaning and have an outstanding grip on wet roads. Even in rainy or thawing snow conditions, this model will provide more stability, aiding the driver in maintaining handling and controllability. 
Still, the HP71 best suits dry weather. Whether in terms of turning strength or driving responsiveness, it's an outstanding candidate. That's the reason why it deserves positive responses in most of the reviews as it truly does.
Though these tires can easily overcome light snow conditions, they don't work as effectively on heavier snow. They would still manage to prevail over the obstacle. How would it go on the ice, as you may be wondering? They function somewhat better than on heavy snowfall!
Another crucial factor is noise. No one wants to spend the entire journey in a car that is so noisy and vibrates all the time. Crugen HP71 can eliminate this anxiety for you! 
Indeed, the manufacturer claims that it is as quiet as any other tires on the market, and it truly is. Many customers even said that this model is much quieter than their previous tires.
One more aspect to take a look at is its ride quality and the comfort it brings about. With vibration-free performance, H71 would bring you the most incredible road trips of your life. So for those seeking top-quality tires, HP71 is the go-to option.
Which Type Of Car Would Suit Kumho Crugen HP71?
The Kumho Crugen HP71 is the most popular all-season brand for crossovers, pickups, and SUVs. With the reputation of best ride quality, traction, and tread life, you will never regret putting it on your to-buy list!Hope you enjoy your visit to our Kumho Crugen HP71 Review. And with this insight, you will have one more reliable option when it comes to finding suitable tires for your beloved car.
Competitors & Alternatives
| | |
| --- | --- |
| Treadlife Warranty: | 6 Years / 65,000 Miles  Half mileage if different size front/rear tires |
| Uniformity Warranty: | First 2/32″ of wear |
| Workmanship & Materials Warranty: | 6 Years / Free replacement first 2/32″ of wear, then prorated to final 2/32″ remaining depth |
| Manufacturer's Road Hazard Warranty: | None |
| Manufacturer Special Warranty: | 1 Year / first 2/32″ of wear |
| Additional Information: | None |
Warranty summary for replacement tires purchased on or after 01/01/20
| 16 | | 17 | |
| --- | --- | --- | --- |
| 215/70R16 | 245/70R16 | 225/60R17 | 235/65R17 |
| 225/70R16 | 255/65R16 | 225/65R17 | 245/65R17 |
| 235/70R16 | | 235/55R17 | 265/60R17 |
| | | 235/60R17 | |
| 18 | | 19 | |
| --- | --- | --- | --- |
| 215/55R18 | 235/65R18 | 225/55R19 | 245/55R19 |
| 225/55R18 | 245/60R18 | 235/45R19 | 255/50R19 |
| 225/60R18 | 255/55R18 | 235/50R19 | 255/55R19 |
| 235/50R18 | 255/60R18 | 235/55R19 | 255/60R19 |
| 235/55R18 | 265/60R18 | 245/45R19 | 275/55R19 |
| 235/60R18 | | | |
| 20 | | 22 | |
| --- | --- | --- | --- |
| 235/55R20 | 265/50R20 | 265/35R22 | 285/35R22 |
| 245/50R20 | 275/40R20 | 265/40R22 | 285/45R22 |
| 245/60R20 | 275/45R20 | 275/45R22 | 305/40R22 |
| 255/45R20 | 275/50R20 | 275/50R22 | |
| 255/50R20 | 275/55R20 | | |
| 255/55R20 | 275/60R20 | | |
| 265/45R20 | 285/50R20 | | |
Crugen HP71 prices range approximately from $128.00 to $219.00 (Tire Rack)
BFGoodrich Advantage T/A Sport LT
Bridgestone Dueler H/L Alenza Plus
Bridgestone Dueler H/L Alenza
Bridgestone Dueler H/L 422 Ecopia
Cooper Discoverer SRX
Kumho Crugen HP71 – Compare Prices
We found 6 online tire retailers selling Kumho Crugen HP71. Refer to the details below to get the best price:
Kumho Crugen HP71
PRICE
SOLD BY
 

Offers

$126.96

Offers

Offers

Offers

Offers
Crugen HP71 Ratings By Consumer