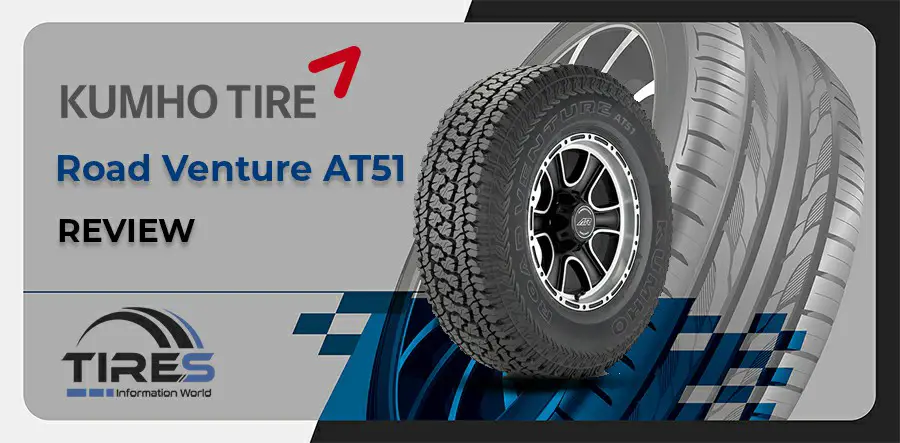 Kumho Road Venture AT51: A Brief Overview
"Overcoming every kind of street/weather" is a very accurate statement about Kumho Road Venture AT51 variants. If you're looking for a smooth ride, why don't you give them a try?
Wait no more! Scroll down on our review to understand more about it!
Glance At The Kumho Brand
Having operated for many decades, Kumho Tire Company gradually conquered the consumer's belief thanks to their advanced technique and optimal meticulousness in each product.
This Korean brand's products and models are currently available in 180 countries all over the world. Certainly among them, Kumho Road Venture AT51 is the most brilliant candidate.
Kumho Road Venture AT51's Incredible Characteristics
There are five basic rim diameters of 15, 16, 17, 18, 20, with widths ranging from 215 to 315 millimeters. In total, there are around 43 different sizes, including LT, non-LT, and P-metric lines.
Appearance-wise, it has an attractive exterior from combining the three-peak mountain snowflake concepts and symmetric deep slots.
Kumho uses dual advanced silicone and steel radials for the outside and inside structures. The tires can bear the roughest condition thanks to their wise choices in materials.
If you're thinking about the rating of load & speed, the maximum can range from 101 to 126 pounds depending on the type. At the same time, the highest speed allowance reaches R (106mph) and T (118 mph).
Furthermore, Kumho Road Venture AT51 has also gained the standard of The Uniform Tire Quality Grading. The three factors that led to the excellent performance are as follow:
Treadwear: About 540, which is 5.4 times higher than the 100 standard treads. 
Traction: Incredible capacity in gripping on any surface condition.
Temperature: Phenomenal ability to absorb high heat generated from road impact. 
Kumho Road Venture AT51: Pros & Cons
In this review, our team of experts has figured out the pros and cons listed below:
Tire Drive Test: Our Truthful Experience
Below are our precious and incredible experiences after using this tire.
Kumho Road Venture AT51's Performance
Moving on the highway at high speed can bring much risk of distortion or even explosion. However, it still works quite well due to its unique materials. These special compounds can partly reduce heat generation, which increases longevity.
Additionally, the tire also shows a good all-terrain traction ability. All four under a vehicle can utilize friction features to bite on the surface through roads full of mud and rocks. At the same time, it rejects any substance stuck by hard blocks.
As many are concerned, this specific tire can grip and keep itself stable on the road without slips in thin ice-covered streets in winter.
It is also crucial to consider the deep-mud road state after having looked at cold weather conditions. Kumho's engineers did not design it for extreme road conditions. It may create some noise while accelerating in addition to that.
All of which can lead to uncomfortable experiences for those sitting inside. Yet, these two downsides have been remarkably improved when compared to other current top all-terrain products.
Which Vehicles Will The Kumho Road Venture AT51 Fit?
Although we have experienced similar kinds on a typical SUV Highlander coming from Toyota, it can also suit many light pickup trucks and jeeps. For instance, Jeep Grand Cherokee, Jeep Wrangler, Grand Ford Ranger, Dodge Ram, etc., are commonly used vehicles.
Why Should You Choose Kumho Road Venture AT51?
With many years of experience, Kumho always makes an effort to adapt to the customers' demands, including providing a guarantee policy. Not satisfied with the quality? You can return it as long as it is still within 30 days from the day of purchase.
"An excellent product – Perfect customer service," proving that you should choose this exact Kumho product. We hope you can find the most suitable one after reading our article.
Competitors & Alternatives
| | |
| --- | --- |
| Treadlife Warranty: | 6 Years / 55,000 Miles (Euro & P-Metric sizes)  None LT & flotation sizes  Half mileage if different size front/rear tires |
| Uniformity Warranty: | First 2/32″ of wear |
| Workmanship & Materials Warranty: | 6 Years / Free replacement first 2/32″ of wear, then prorated to final 2/32″ remaining depth |
| Manufacturer's Road Hazard Warranty: | 1 Year / first 2/32″ of wear |
| Manufacturer Special Warranty: | None |
Warranty summary for replacement tires purchased on or after 01/01/20
| 15 | | 16 | |
| --- | --- | --- | --- |
| LT 215/75R15 | LT 30X9.50R15 | LT 215/85R16 | P 255/70R16 |
| 235/75R15 | LT 31X10.50R15 | LT 225/75R16 | 265/70R16 |
| LT 235/75R15 | LT 32X11.50R15 | P 235/70R16 | P 265/70R16 |
| P 235/75R15 | LT 33X12.50R15 | LT 235/85R16 | LT 265/75R16 |
| | | 245/70R16 | P 265/75R16 |
| | | P 245/70R16 | LT 285/75R16 |
| | | LT 245/75R16 | LT 305/70R16 |
| | | P 245/75R16 | LT 315/75R16 |
| 17 | | 18 | |
| --- | --- | --- | --- |
| 235/65R17 | LT 255/75R17 | 255/70R18 | LT 275/65R18 |
| 235/75R17 | 265/65R17 | 265/60R18 | P 275/65R18 |
| LT 235/80R17 | P 265/65R17 | 265/65R18 | LT 275/70R18 |
| P 245/65R17 | LT 265/70R17 | LT 265/70R18 | LT 285/65R18 |
| LT 245/70R17 | P 265/70R17 | P 265/70R18 | |
| P 245/70R17 | LT 275/70R17 | | |
| LT 245/75R17 | LT 285/70R17 | | |
| P 255/70R17 | LT 315/70R17 | | |
| 20 | | | |
| --- | --- | --- | --- |
| LT 265/60R20 | LT 285/55R20 | | |
| P 275/55R20 | LT 305/55R20 | | |
| P 275/60R20 | LT 35X12.50R20 | | |
| LT 275/65R20 | | | |
Road Venture AT51 prices range approximately from $134.00 to $324.00 (Simple Tire)
General Grabber A/TX
BFGoodrich All-Terrain T/A KO2
Cooper Discoverer AT3 XLT
Hankook Dynapro AT2
Kumho Road Venture AT51 – Compare Prices
We found 7 online tire retailers selling Kumho Road Venture AT51. Refer to the details below to get the best price:
Kumho Road Venture AT51
PRICE
SOLD BY
 

Offers

$134

$134

Offers

Offers

Offers
Road Venture AT51 Ratings By Consumer