Currently, the market offers us a lot of good tires with diverse models and outstanding features. Toyo Open Country AT3 and BFGoodrich All-Terrain T/A KO2 are the two typical examples of the segment of all-terrain tires. 
Choosing the suitable one will help drivers have a more comfortable experience. Therefore, this post would like to give you a detailed comparison between these two tough rivals.
In the following, we will give objective information, then compare and summarize their pros and cons so that you can make a smart choice!
Brief Overview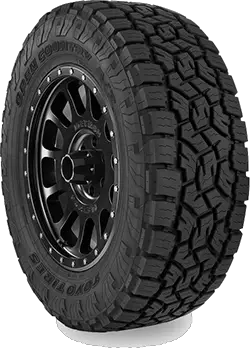 Key Feature
Perfect for snowy or icy conditions
Smooth ride quality
Tire Size
15″, 16″, 17″, 18″, 19″, 20″ and 22″.
Price Range
$139.99 – $548.99
Ratings
The Toyo Open Country AT3 is a Toyo Tires Corp product first introduced in March 2020. This tire is available in more than 130 sizes, each with its own set of specifications, including sidewall, load, and so on, for wheel diameters ranging from 15 to 22 inches. 
According to the manufacturer, Toyo Country AT3 was released as an all-terrain tire for light vehicles and SUVs/CUVs. In addition, this tire comes with a free trial period of 45 days or 500 miles. Furthermore, it gains the three-peak Mountain Snowflake (3PMSF) logo.
Due to advancements in tread compound and design, and other innovative features, the inheritor Toyo Open Country AT3 continues to gain success following its predecessor model AT2.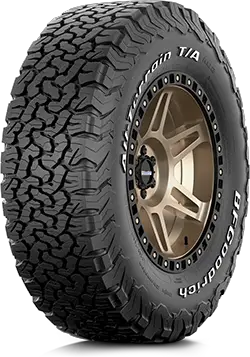 Key Feature
Excellent traction, cornering performance
Wear balance rate
Superior traction on wet
Tire Size
15″, 16″, 17″, 18″, 20″ and 22″.
Price Range
$158.99 – $531.99
Ratings
Similar to its competition, the BFGoodrich KO2 is built to serve light trucks, SUVs, and CUVs. However, KO2 is available in about 86 sizes for wheel diameters from 15 to 22 inches.
The manufacturer claims that this is the toughest BFGoodrich's one in all-terrain tires. It has flexible traction for both on-road and off-road adventures. This tire also gains the 3PMSF certification for good snow performance.
BFGoodrich manufacturer also offers a satisfaction guarantee service for this tire within 60 days, which is a plus. 
In other words, the users can make an exchange as announced policy if they're not satisfied with KO2. Besides, it is also entitled to 50,000 miles of limited warranty.
Detailed Comparison?
Tread Appearance
The innovative feature comes from the chip-and-cut resistant material compounds that make up the Toyo Open Country AT3. This tire has a symmetrical design with a high ratio of scattered voids. Compared to its rival, its voids are larger and higher. 
In the center, the S-shaped section offers an eye-catching appearance for this tire. 
All of the above tread features aim to improve off-road traction and tread block stiffness. From there, AT3 may bring drivers enhanced stability and resistance ability.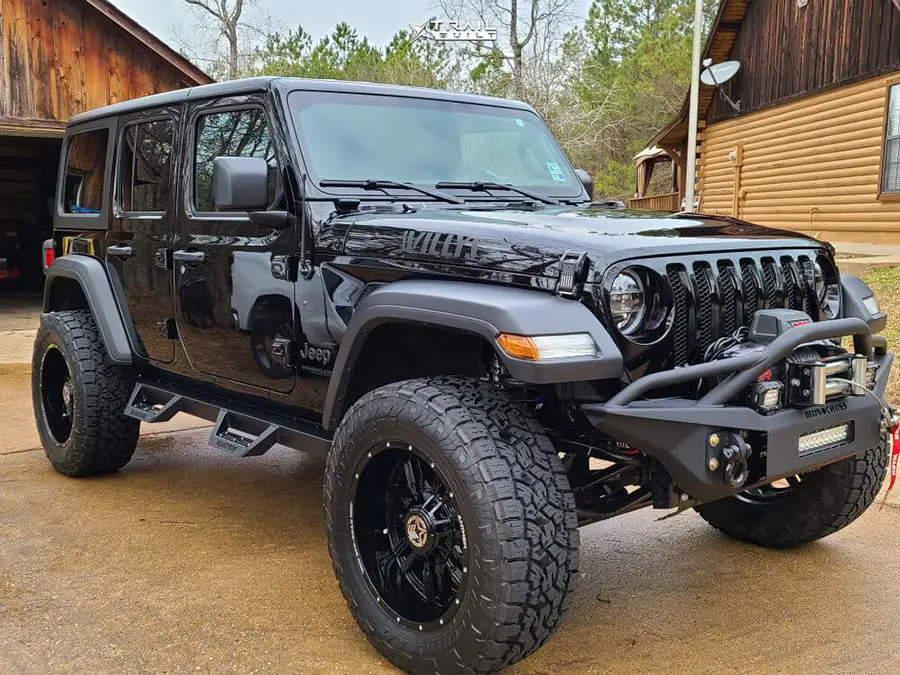 Furthermore, in rough terrain, the big lateral grooves are supplied with stone-ejecting blocks to remove stuck stones, if any.
On the other hand, BFGoodrich KO2 is designed with a lower voids ratio and bigger tread blocks in a C shape. So, it provides a wider contact area between the tire and the road, which enhances traction in general. Additionally, the 3D sipes are also equipped to maximize stability and traction.
The prominent feature here is that the sidewalls of KO2 are enhanced by 20% toughness through the CoreGard Technology, which can prevent the phenomenon of bruising or splitting sidewalls.
On-road Performance
Dry Conditions
As mentioned before, the higher density of voids makes AT3 have less contact with the road than KO2. In addition, the large grooves and tread blocks of this tire are also smaller than KO2 in general. As a result, those elements make the grip of KO2 could be slightly better.
However, in reality, both of these all-terrain tires work well in dry conditions simply because all-terrain tires have good traction. 
We suppose the difference lies in steering and handling ability may be slightly different when we accelerate. Thanks to its slightly better grip, the KO2 can deliver better directional stability and striding feedback when at high speed.
Wet Conditions
On the contrary, the Toyo Open Country AT3 outperforms its competition in wet conditions, thanks to its design on sipes density. Toyo's design's large, wide grooves allow for smoother drainage, increase wet traction, and avoid hydroplaning.
While working excellent in dry, BFGoodrich KO2 does not perform as well as AT3 on slippery roads. However, you do not need to worry because the KO2 is also equipped with voids and grooves with a reasonable ratio to help drain water in wet terrain.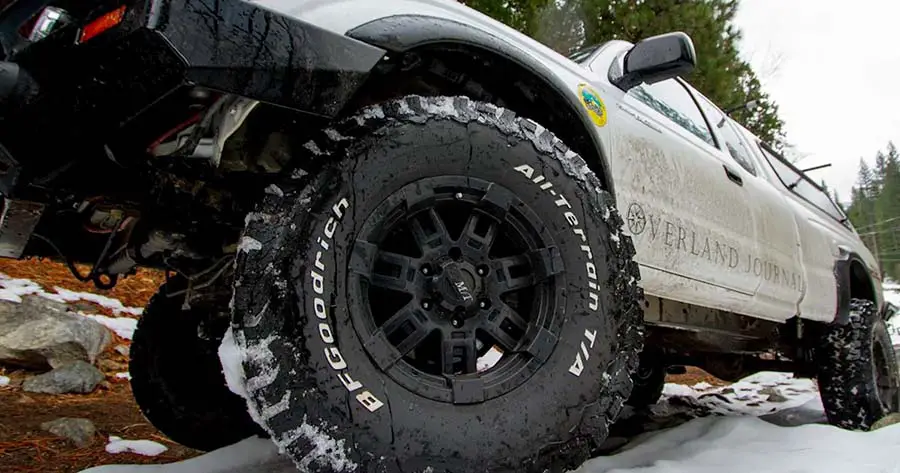 As a result, although both of them work well in wet terrain, the design of AT3 makes it slightly beyond KO2, especially at higher speeds.
Off-Road Performance
Mud
Mud performance is often correlated with the capacity to evacuate and bite. Therefore, the design of the shoulders is crucial. In this case, both have distinct shoulder designs that permit them to boost their biting capabilities.
Furthermore, the bigger lugs along the shoulders of the AT3 also aid in the clearance of mud from the grooves. In reverse, with thinner grooves and smaller studs, KO2 can't push the mud backward as effectively as AT3.
In general, BFGoodrich KO2 performs pretty well in mud. However, we suppose that Toyo Open Country AT3 can do the same more easily.
Rock
On this terrain, the BF Goodrich KO2 may dominate the Toyo Open Country AT3. In BFGoodrich KO2, the shoulders design greatly improves sidewall durability. Moreover, the bold intersection stone-ejecting blocks help KO2 superior to its opponent.
AT3 takes its higher voids ratio as an advantage, which offers a better grip at different angles on rocky surfaces. So, AT3 is adequate, but BF Goodrich KO2 is better.
Sand
BF Goodrich KO2 is a good option for sand driving. Besides, Toyo Open Country AT3 is a more on-road-oriented tire. So, we are convinced that AT3 absolutely can perform fair well on the sand. Nevertheless, the BFGoodrich product is a somewhat superior choice.
Durability
As usual, the durability is contributed by the nature of the frame and compounds.
Both tires are quite durable. They have sidewall and rim protectors to keep the form. Sidewalls of KO2 are created with CoreGard Technology, while AT3 has more solid and cut-and-chip resistant compounds. Both are strong.
Moreover, the Toyo Open Country AT3 promises a little greater durability with the large center lugs. But in general, these two may don't have problems with durability.
Fuel Efficiency
When comparing Toyo AT3 vs KO2 regarding fuel efficiency, we recommend the Toyo Open Country AT3 as it is a more compact tire. So, it requires less fuel to operate. The weight may differ from 3 to 10 pounds depending on the size.
Noise & Comfort
The greater the tread tire is, the more likely it will be loud. The AT3 features smaller tread blocks and more equally distributed voids. This contributes to reducing the tire's noise level. 
However, the KO2 has not been left far behind as its different pitch patterns also aid noise reduction.
The level of noise usually influences a comfort level since a quieter ride is actually more pleasurable. The AT3 provides quieter driving while maintaining good off-road traction. 
The solid substance of tread blocks and sidewalls also improves stability. As a result, it offers a smoother experience.
Warranty
Coming to BFG KO2 and Toyo AT3 service, BFGoodrich KO2 is a little better, although both offer a warranty package. KO2 has a satisfaction guarantee, which allows the drivers can exchange if they find unsatisfied with the products, and a standard treadwear warranty of 50,000 miles.
AT3 does not have that confidence about users' satisfaction, but Toyo does offer an ideal treadwear warranty of 65,000 miles.
N.B. The exchange based on a satisfaction guarantee should be followed the manufacturer's policy.
Quick Comparison Summary
Criteria
Toyo Open Country AT 3
BFGoodrich KO2
Tread Appearance
– Compounds: Chip-and-cut resistant
– Design: symmetrical, higher void ratio
– Larger voids and grooves
– Lower void ratio with bigger tread blocks
– 3D sipes
– CoreGard Technology enhances sidewalls
On-road performance
– Perform better in wet conditions thanks to bigger voids and grooves.
– Good in dry weather
– Outstanding in dry weather through higher contact between blocks and the road
– Good in wet but limit higher speeds.
Off-road performance
– Operate better than KO2 in mud conditions thanks to its great voids.
– On rock and sand surfaces, AT3 can perform well too.
– Can work in mud but need more effort than its rival.
– Excellent performance on rocky and sand terrain because of the advanced sidewall durability.
Durability
– Solid compounds make it slightly better
– Good. The CoreGard Technology is applied to improve durability.
Fuel Efficiency
– More efficient
Normal
Noise & Comfort
– QuieterMore pleasurable experience
Good
Warranty
65,000 miles
50,000 milesA satisfaction guarantee
Conclusion
– Operate excellently in wet or muddy conditions
– Chip-and-cut resistant substance
– Softer sounds with a smoother driving experience
– Perform outstandingly in dry conditions and rock terrain.
– Innovative technology for sidewalls' durability
– Can be exchanged through a satisfaction guarantee
Conclusion
In this comparison, we suppose both possess their strengths and limits. Toyo AT3 offers drivers a high handling ability in wet conditions while operating well in others. 
BFGood Rich KO2, in reverse, brings us an outstanding drive on sunny weather, dry conditions, and other dried surfaces, including tricky rocky ones or sand terrain.
Overall, you should choose the suitable one for your conditions, including your budget, personal taste, living weather conditions, etc.
For more all-terrain tire options you can check out our article: The 12 Best All Terrain Tires: Top Picks For 2022