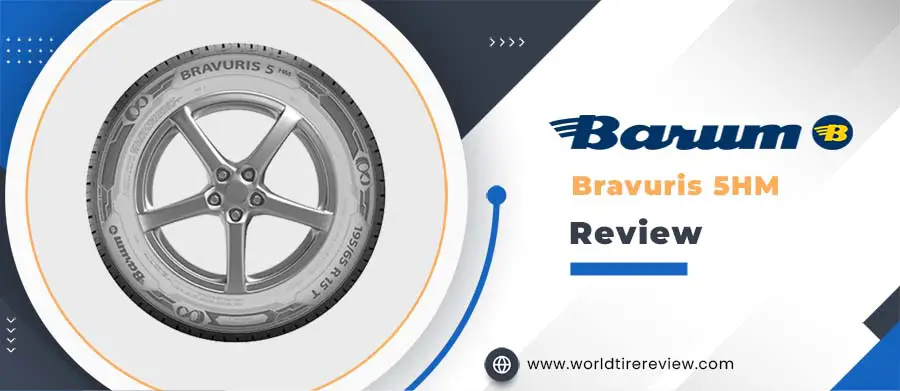 There are a lot of Barum Bravuris 5HM articles out there, but we know for sure you are waiting for us to raise our voice. It is one of the new product lines from Barum. Will it be worth it to pay for like others? Let's dive into it!
Barum Brand
Firstly, let's take a look at the Barum brand. They are a tire company in the Czech Republic that was a child of a principal player in the tire market – German Continental after an M&A in 1993.
Barum is positioned as an affordable but durable tire. With the support and knowledge from Continental experts- the leading tire manufacturers, Barum was and is taking the lead tire brand of medium market segmentation.
Barum Bravuris 5HM Review
Advanced Tread Compound
The state-of-the-art polymer technology is added to the tread compound of the tire, which gives it high tear strength, fatigue resistance, and low rolling resistance. The tread lifespan is reinforced and prolonged by its abrasion resistance. 
Excellent Traction 
In detail, according to UTQG, the product is classified to A rating regarding traction parameters. Drivers can stop immediately on the wet surface roads as it owns the top point in the traction benchmark of the item.
5 Times Better Than Standard Tread Wear
With 500 at tread wear indicator compared to standard 100, the item also defines the name for its enduring performance. 
All-Season Tire
It hasn't come to a halt yet. 
Equipped with the newest silica compound, the tire promises to offer low rolling resistance, thereby requiring less effort and energy to move the car. This is a plus point on dry roads – where exist high friction.
That is not to say it falls short in the rainy season. The long grooves were meant for removing water when the tread contacts a wet surface. This way, the grip is significantly increased, bringing you a secure drive and preventing hydroplaning accidents.
Enhanced Tire Sipes Design
The interlocking sipes design makes the tread block stiff, which enhances the item's grip function and steering response. 
It also works especially well when the driver is driving at corners and turns as the product is hard enough not to be deformed. All contribute to safety when drivers are on the road.
Optimal Finished Rubber
Last but not least, the superior match of rubber and vulcanization increases the product's elasticity, viscosity, harness, and tire pressure. Therefore, the item is less deformed and abrasive!
Pros & Cons
Personal Opinions – Barum Bravuris 5HM Reviews
Features
The item is an affordable but long-lasting and high-performance tire. However, it does not classify high performance as a premium brand like Michelin or other tire lines of Continental. Still, it is worth every cent on the price range you trade for the daily tire.
When we drove at 70mph, it maintained low noise and was pretty smooth. It owns an outstanding grip in normal weather conditions. 
Besides, the handling is quite good. The tire balancing is not bad. Therefore, drivers can control steering and have a comfortable experience when adding it to their vehicle!
We find it superior on dry surfaces. However, it is not too egregious on wet surfaces. Practically, wet traction is fair, not too great. Wet braking seems to work, but just fine. 
Another minus point is at high speed; the cornering grip is not really impressive.
However, with its lower fuel consumption and the humble money you invest in, this product is hard to be defeated.
Aimed Users
The product is the best couple to moderate chill drivers looking for affordable, high-performance all-season tires. However, we don't recommend it for speed chasers as it is bouncy in hard cornering at high speed! 
They are pretty good on dry surface roads, driving in town, city, and highway but just fair in wet conditions!
Is It Worthy To Choose?
For the price that does not break a motorist's bank and all-season selection of high mileage tires, the product is the "hard-to-say-no" type! Yes, it is worth your consideration!
Above is our review. We hope it will support your choice easier for all-season tires. 
Subjectively, we strongly believe that the product of Barum plus the name over a hundred years from Continental is worth your try!
| | |
| --- | --- |
| Treadlife Warranty: | None |
| Uniformity Warranty: | 1 Year / first 3/32″ of wear |
| Workmanship & Materials Warranty: | None |
| Manufacturer's Road Hazard Warranty: | None |
| 14 | | 15 | |
| --- | --- | --- | --- |
| 155/65 R 14 | 175/80 R 14 | 155/60 R 15 | 195/45 R 15 |
| 165/60 R 14 | 185/55 R 14 | 165/60 R 15 | 195/50 R 15 |
| 165/65 R 14 | 185/60 R 14 | 165/65 R 15 | 195/55 R 15 |
| 165/70 R 14 | 185/65 R 14 | 175/55 R 15 | 195/60 R 15 |
| 165/80 R 14 | 185/70 R 14 | 175/60 R 15 | 195/65 R 15 |
| 175/65 R 14 | 195/70 R 14 | 175/65 R 15 | 205/55 R 15 |
| 175/70 R 14 | | 185/55 R 15 | 205/60 R 15 |
| | | 185/60 R 15 | 205/65 R 15 |
| | | 185/65 R 15 | 215/65 R 15 |
| 16 | | 17 | |
| --- | --- | --- | --- |
| 185/50 R 16 | 215/55 R 16 | 205/40 R 17 | 225/50 R 17 |
| 195/45 R 16 | 215/60 R 16 | 205/45 R 17 | 225/55 R 17 |
| 195/50 R 16 | 215/65 R 16 | 205/50 R 17 | 225/60 R 17 |
| 195/55 R 16 | 215/70 R 16 | 205/55 R 17 | 225/65 R 17 |
| 195/60 R 16 | 225/50 R 16 | 215/40 R 17 | 235/40 R 17 |
| 205/50 R 16 | 225/55 R 16 | 215/45 R 17 | 235/45 R 17 |
| 205/55 R 16 | 255/65 R 16 | 215/50 R 17 | 235/50 R 17 |
| 205/60 R 16 | 265/70 R 16 | 215/55 R 17 | 235/55 R 17 |
| 215/45 R 16 | | 215/60 R 17 | 235/60 R 17 |
| | | 215/65 R 17 | 235/65 R 17 |
| | | 225/45 R 17 | 245/40 R 17 |
| | | | 245/45 R 17 |
| 18 | | 19 | |
| --- | --- | --- | --- |
| 205/40 R 18 | 235/45 R 18 | 225/35 R 19 | 245/45 R 19 |
| 215/40 R 18 | 235/50 R 18 | 225/40 R 19 | 255/30 R 19 |
| 215/45 R 18 | 235/55 R 18 | 225/45 R 19 | 255/35 R 19 |
| 215/50 R 18 | 235/60 R 18 | 225/55 R 19 | 255/40 R 19 |
| 215/55 R 18 | 245/35 R 18 | 235/35 R 19 | 255/45 R 19 |
| 225/35 R 18 | 245/40 R 18 | 235/40 R 19 | 255/50 R 19 |
| 225/40 R 18 | 245/45 R 18 | 235/45 R 19 | 255/55 R 19 |
| 225/45 R 18 | 255/35 R 18 | 235/50 R 19 | 265/35 R 19 |
| 225/55 R 18 | 255/40 R 18 | 235/55 R 19 | 265/50 R 19 |
| 225/60 R 18 | 255/45 R 18 | 245/35 R 19 | 275/30 R 19 |
| 235/40 R 18 | 255/55 R 18 | 245/40 R 19 | 275/40 R 19 |
| | 255/60 R 18 | | 275/45 R 19 |
| | 265/35 R 18 | | |
| 20 | | | |
| --- | --- | --- | --- |
| 225/35 R 20 | 255/50 R 20 | | |
| 235/45 R 20 | 265/45 R 20 | | |
| 245/35 R 20 | 275/30 R 20 | | |
| 245/40 R 20 | 275/35 R 20 | | |
| 245/45 R 20 | 275/40 R 20 | | |
| 255/30 R 20 | 275/45 R 20 | | |
| 255/35 R 20 | 265/40 R 21 | | |
| 255/40 R 20 | 295/35 R 21 | | |
| 255/45 R 20 | | | |
| 255/50 R 20 | | | |
| 265/45 R 20 | | | |
prices range approximately from $74.00 to $151.00
Barum Bravuris 5HM – Compare Prices
We found 1 online tire retailer selling Barum Bravuris 5HM. Refer to the details below to get the best price
Barum Bravuris 5HM
PRICE
SOLD BY
 

Offers



Barum Ratings By Consumer