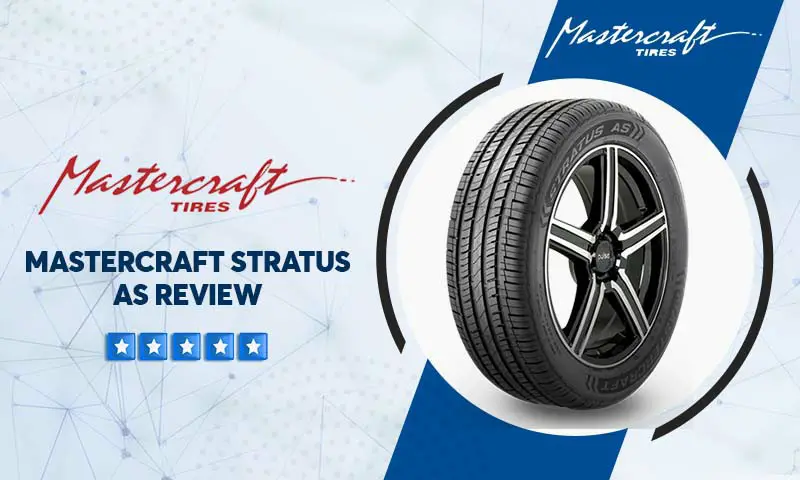 Mastercraft is a division of Cooper Tires, famous for producing high-quality tires for over a century. It produces tires for various vehicle types (light trucks, SUVs, and passenger vehicles.)
Our Mastercraft Stratus A/S is meant for customers who want a cheap value on a terrific tire. 
Furthermore, this all-season performance tire's tread is intended to offer grip in wet, dry, and moderate winter weather.
Mastercraft Stratus A/S Tire Review
Features
Tread with variable pitch
Advanced all-season tread design
Shoulder slots that are deep and lateral
Nylon spiral overwrap
Sipe technology on the shoulders
Rib in the middle that is solid
Benefits
The ride is smooth, and the handling is precise.
The various-sized pieces work together to generate a quiet-running system. They were computer-designed to cut down noise.
Compound and profile of the tread have been upgraded over previous Cooper Tires products to give all-season grip in wet, dry, and winter conditions while delivering plenty of miles for the driver.
The lateral grooves in the shoulder of this tire aid to guarantee great traction.
Near higher speeds, the overwrap helps preserve dimensional stability in the tread by controlling expansion at the center of the tire. This increases the tire's contact area with the road.
Sipes in the shoulders and intermediate tread rows feature strategically positioned deep portions that give biting edges for all-weather performance while retaining tread block stability for handling throughout the tire's lifespan.
Pros & Cons
Personal Opinion
Affordable costs
The Stratus AS tire is accessible and far less expensive than premium ones. It is well worth it with such great features. 
Safe Driving on Dry Roads
If you spend most of your time driving in dry conditions, Mastercraft's yield should meet your expectations. While the tires are not very sporty, they do offer excellent cornering stability, fast steering, and good handling.
Meanwhile, the braking distances are low enough, which is useful to know the next time you need to make a quick stop. Our Mastercraft Stratus A/S tire reviews have proved that it performs admirably in dry weather. As a result, we strongly recommend them.
Useful for Rainy Days
Most low-cost tyres deteriorate to the point of becoming unsuitable in wet weather. In these situations, these products are fortunately safe to drive. 
The pricier competition has superior traction and braking. Yet, Mastercraft tires are rather outstanding for the price.
Most Mastercraft models, notably Stratus AS, have excellent hydroplaning resistance, yet traction is adequate for competent handling and braking.
On a rainy day, we found the tire responsive and left us a secured feeling.
Treadwear Warranties with a Long Life Cycle
Treadlife is one of Mastercraft products' most significant benefits over other low-cost competitors. This means you will save money not just on the tires themselves, but also on their maintenance.
Comfortable and Quiet
The Stratus AS tire is also rather quiet and comfy. The premium competition is quieter, but Mastercraft tires aren't far behind. Besides, they are even closer in terms of ride quality.
Not Reliable On Thick Snow
So far, so good. But everything has its flip side. The tire's performance in snowy roads can't live up to our expectation, despite being an all season tire.
On thick snow, you can feel a drop in traction and a poor braking experience.
By and large, it's still a worthy investment for dry and wet terrain. "How low can you go in terms of pricing before sacrificing safety?" is a question we frequently encounter. Our review might give you the proper answer. 
The business appears to have figured out how to make low-cost tires that are also safe and dependable.
Even lower is possible, but those tires begin to reveal limits in the most crucial attribute of a tire – safety. So, if you're on a budget, we recommend Mastercraft tyres, but don't anticipate miracles.
| | |
| --- | --- |
| Treadlife Warranty: | 50,000 Miles |
| Manufacturer's Road Hazard Warranty: | None |
| 14 | | 15 | |
| --- | --- | --- | --- |
| 205/75R14 | 175/65R14 | 205/75R15 | 205/65R15 |
| 185/70R14 | 185/65R14 | 215/75R15 | 215/65R15 |
| 195/70R14 | 185/60R14 | 235/75R15 | 185/60R15 |
| | | 205/70R15 | 195/60R15 |
| | | 215/70R15 | 205/60R15 |
| | | 185/65R15 | 215/60R15 |
| | | 195/65R15 | |
| 16 | | 17 | |
| --- | --- | --- | --- |
| 215/70R16 | 205/60R16 | 215/65R17 | 235/60R17 |
| 225/70R16 | 215/60R16 | 225/65R17 | 215/55R17 |
| 205/65R16 | 225/60R16 | 235/65R17 | 225/55R17 |
| 215/65R16 | 205/55R16 | 245/65R17 | 235/55R17 |
| 225/65R16 | 215/55R16 | 215/60R17 | 215/50R17 |
| 235/65R16 | | 225/60R17 | 225/50R17 |
| 18 | | | |
| --- | --- | --- | --- |
| 225/60R18 | 235/50R18 | | |
| 235/60R18 | 225/45R18 | | |
| 225/55R18 | 235/45R18 | | |
| 235/55R18 | | | |
‎Mastercraft Stratus A/S prices range approximately from $76.95 to $144.97 (Simple Tire)
prices range approximately from
Mastercraft Stratus AS – Compare Prices
We found 2 online tire retailers selling Mastercraft Stratus AS. Refer to the details below to get the best price
Mastercraft Stratus AS
PRICE
SOLD BY
 

Offers




Offers



Mastercraft Stratus AS Ratings By Consumer