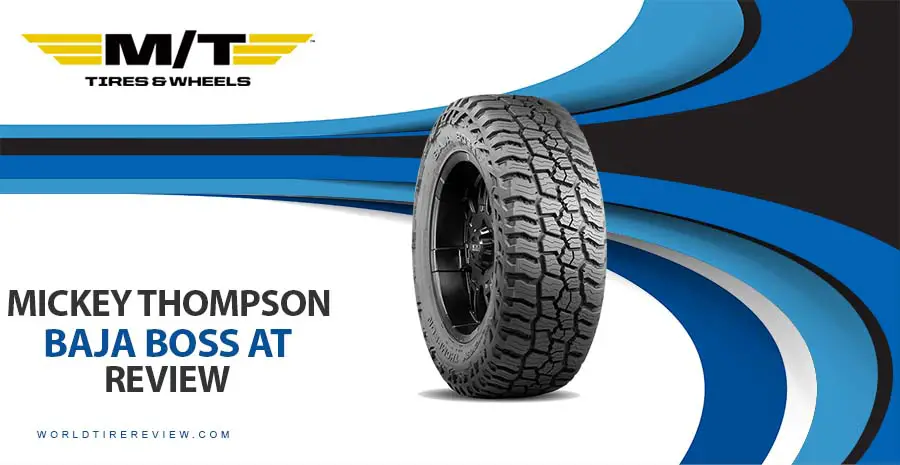 Introduction
As the only part of the vehicle connecting to the road, tires are vital for driving comfort, stability, safety. Once standing in front of all-terrain tire choices, selecting the perfect one is getting harder.
This dedicated Mickey Thompson Baja Boss A/T will gives you insight into the marvelous tires through a concise analysis of features and performance. Let's check it out.
Brand Overview
Mickey Thompson tires, named after the renowned off-road racer, is known for extensive rubber research and develop the leading automotive tires. 
From the strip, street, and off-road, Mickey Thompson's products are built for winning and necessity, which every car enthusiast desire. 
In 2013, Mickey Thompson Tires officially became a subsidiary of Cooper Tire. Under the support of Cooper Tire & Rubber Co, Mickey Thompson continues launching ultra-high-performance tires tackling any kind of terrain. 
Its MTZ lines and Baja series set them apart from other tires on the market as the most versatile tires. Of note, Baja Boss AT is the premium all-terrain tire built for durability and exceptional handling. Continue reading on to discover its distinguishing features!
Mickey Thompson Baja Boss A/T: Features
At a glance, Baja Boss AT is noticeable with the bold look. Remarkably, its appearance comes from an aggressive tread design. This innovative soft-asymmetric tread pattern enhances its maneuver in all terrains. 
Pairing with this, Baja Boss's application in PowerPly XD technology has also opened a new phase for tire design. Utilizing the bias-angled third ply can dramatically increase the puncture resistance, smooth riding, and faster steering response. 
Another distinct difference between the Baja Boss At from the earlier model is extreme side biters. Compared with Baja ATZP3™, the boss AT is 150% deeper. Wheeling your truck is at ease on rocky mountains, granite rocks, or muddy areas thanks to more excellent traction coming from the bitter side tire. 
As the boss of all-weather tires, the Baja Boss AT undoubtedly delivers exceptional handling and stability under harsh conditions. Furthermore, the tread life is also extended. All these great capacities come from silica-reinforced tread compounds.
Last but not least, 3PMS Symbol and 50,000-mile treadwear warranty on LT sizes are proven facts for their outstanding performance over diverse terrains.
Pros & Cons
Personal Opinion
Moving to the final part of Mickey Thompson Baja Boss A/T tire review, let us share with you our real personal experience. 
Although there are plenty of positive customer reviews and many good Mickey Thompson Baja Boss A/T tire reviews, it can not stop us from giving this product a try! We put a pair of 37×12.5R17LT Baja Boss A/T on our Silverado 2019. 
We could not be happier than with this selection. At off-roads in South California, the Silverado frequently crawls on rock and plows through deep sands. The Boss A/T gives us firm handling and good traction anytime we want. 
The tires withstand sharp edges on the gravel roads while still giving good traction in sandy areas. The side biter sidewall provides extra grip to grab the dirt. We enjoy journeys without being noticed by tire noise or any shock. 
Under the wintry season like rain, these tires proved themselves built for the wonderful performance. It is beyond impressive with us!   
The tire has also shown us the unstoppable off-road capacity and is well-mannered in any weather, from the tire technology to the actual performance. It deserves as the leading tire among off-road models. 
However, it is a bit sluggish when we try this product on the highway due to its stiffen sidewalls. That's why we also think that this tire needs more improvement for smoother city riding. 
We hope our concise Mickey Thompson Baja Boss A/T review releases your doubt about its capacity. Indeed, you would get incredible experience and self-confidence once riding them!
| | |
| --- | --- |
| Treadlife Warranty: | 6 Years / 50,000 Miles (LT sizes)  6 Years / 60,000 Miles (Euro-metric sizes) |
| Uniformity Warranty: | First 2/32″ of wear |
| Workmanship & Materials Warranty: | 6 Years / Free replacement first 2/32″ of wear, then prorated to 3/32″ remaining depth |
| Manufacturer's Road Hazard Warranty: | None |
| 17 | | 18 | |
| --- | --- | --- | --- |
| LT 255/85R17 | LT 33X12.50R17 | LT 275/70R18 | LT 305/70R18 |
| LT 295/70R17 | LT 35X12.50R17 | LT 285/65R18 | LT 33X12.50R18 |
| LT 305/65R17 | LT 37X12.50R17 | LT 295/70R18 | LT 35X12.50R18 |
| LT 315/70R17 | | LT 305/60R18 | |
| 20 | | 22 | |
| --- | --- | --- | --- |
| LT 275/55R20 | LT 33X12.50R20 | LT 325/50R22 | LT 35X15.50R22 |
| LT 275/60R20 | LT 33X13.50R20 | LT 33X12.50R22 | LT 37X13.50R22 |
| LT 275/65R20 | LT 35X12.50R20 | LT 35X12.50R22 | |
| LT 285/55R20 | LT 35X13.50R20 | | |
| LT 295/55R20 | LT 35X15.50R20 | | |
| LT 295/60R20 | LT 37X12.50R20 | | |
| LT 305/55R20 | LT 37X13.50R20 | | |
Baja Boss A/T prices range approximately from $307.00 to $836.00 (Discount Tire)
Mickey Thompson Baja Boss A/T – Compare Prices
We found 5 online tire retailers selling Mickey Thompson Baja Boss A/T. Refer to the details below to get the best price
Mickey Thompson Baja Boss A/T
PRICE
SOLD BY
 

Offers

Offers




Offers




Offers




Offers



Mickey Thompson Baja Boss A/T Ratings By Consumer