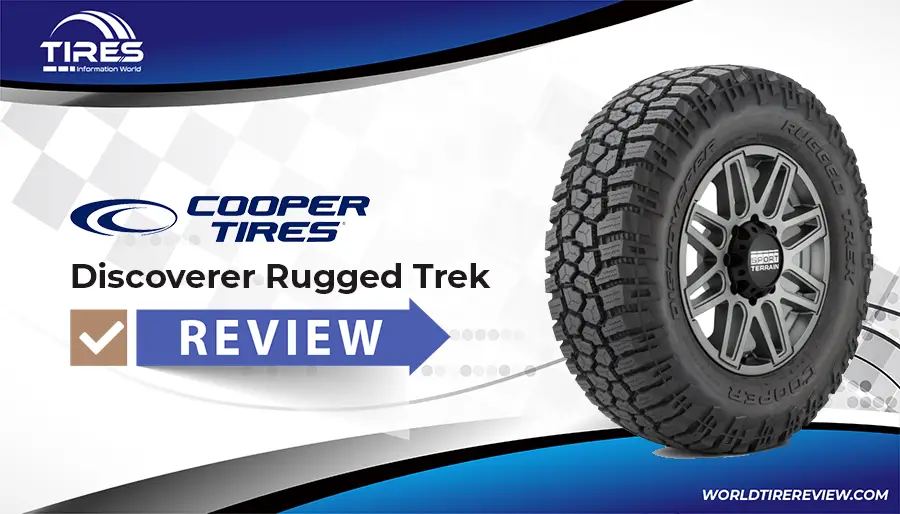 Introduction
About Cooper 
Cooper Tire & Rubber Company is a global group of businesses that design, manufacture, market, and sell passenger cars, light trucks, medium trucks, motorcycles, and racing tires. 
Cooper's headquarters are in Findlay, Ohio, and its family of companies has manufactured and had their sales, distribution, technical, and design activities in more than a dozen nations worldwide.
Cooper Discover Rugged Trek Reviews
Check out our reviews if you're seeking for all-season truck and SUV tires built for adventure!
The Rugged Trek, released in early 2021 from Cooper, is a cross between a mud-terrain tire and an all-terrain tire.
This is an all-season tire for trucks and SUVs designed for off-roading adventures while also providing exceptional performance on the highway for regular usage. A 60000-mile guarantee comes included on the tire.
The product also gives drivers the option of choosing between two distinct top designs for the sidewalls, one on each tire side, for a distinctive look. Off-road traction is updated with long, deep cleats on both sides, along with black raised writing in all sizes.
Pros & Cons
Personal Thoughts
Road Noise
If you think that a decibel meter app on your phone can accurately measure scientific qualities, then we can tell you that these tires are many decibels quieter than stock size Falkens with 50% wear. 
At interstate speeds, a 285/70 with an 18/32′′ tread is quieter than a 265/70 with a 7/32′′ tread. It was a great surprise for customers. We couldn't hear anything but the standard AT hum.
Wet Conditions
Cooper did an excellent job of removing water from between the treads with their siping. These tires appear to be quite well-anchored on wet pavement from mild speeds to interstate speeds. 
Because they're an AT and not a specialized road tire, they hydroplane a little, but not to the point of being dangerous.
Performance On Dirt, Gravel, And Rock 
These tires adhered to the gravel forest service roads like concrete after they were down to around 20 psi. The strong sidewalls protected the tire from slipping off of whatever it came into contact with.
Small to medium-sized pebbles and roots, uneven terrain, and loose dirt were no problem for them.
Mud Terrain
Although this is not a designated Mud Terrain tire, they could get and keep traction, and the lugs were cleaned effectively. It was like driving on an ice rink in the latter case.
The increased tread depth and space between lugs help these tires perform better in mud than a conventional AT tire. If we were going to be driving in a lot of mud regularly, we would go for an MT, but this is ideal for the performance and other advantages.
A Closer Examine
The Discoverer Rugged Trek has an all-season tread pattern with huge shoulder scoops that scrape out dirt, sand, and mud, letting you easily navigate soft terrain. 
Stable TracTM Technology improves traction and handling in difficult conditions while jutting ridges evacuate stuck stones and protect against harm from sharp pebbles. 
This durable tire also has dual sidewall designs and class-leading tread depths (16/32″ for SUV sizes; 18.5/32″ for LT). Finally, specifically built sound barrier walls minimize road-noise, resulting in a more pleasant on-road driving experience.
Who Should Buy This Tire?
We can see the Discoverer Rugged Trek as an aggressive All-Terrain tire that incorporates the company's newest technology. 
The shifted shoulder block contains the Earth Diggers Technology, allowing it to grip better in the deep mud, dirt, or sand and increase traction when traveling off-road. This item is the ideal tire if you want to conquer on- and off-road terrain, thanks to its aggressive and robust appearance. We hope that our reviews will assist you in making an educated selection!
Competitors & Alternatives
| | |
| --- | --- |
| Treadlife Warranty: | 6 Years / 60,000 Miles  6 Years / 55,000 Miles (LT sizes)  Half mileage for rear if different size than front |
| Uniformity Warranty: | First 2/32″ of wear |
| Workmanship & Materials Warranty: | 6 Years / Free replacement first 2/32″ of wear, then prorated until 2/32″ remaining depth |
| Manufacturer's Road Hazard Warranty: | None |
| Manufacturer Special Warranty: | 45-Day Road Test (1) |
| Additional Information: | (1) Exchange for another Cooper brand tire |
Warranty summary for replacement tires purchased on or after 01/01/22 at
Tire Rack
| 16 | | 17 | |
| --- | --- | --- | --- |
| 265/70R16 | | 265/70R17 | LT 285/70R17 |
| | | LT 265/70R17 | |
| 18 | | 20 | |
| --- | --- | --- | --- |
| 255/70R18 | LT 275/65R18 | 265/50R20 | LT 275/65R20 |
| 265/60R18 | LT 275/70R18 | LT 265/60R20 | LT 285/55R20 |
| 265/65R18 | | 275/55R20 | LT 305/55R20 |
| | | 275/60R20 | LT 35X12.50R20 |
Cooper Discoverer Rugged Trek prices range approximately from $207.00 to $432.00 (Discount Tire)
Cooper Discoverer Rugged Trek – Compare Prices
We found 6 online tire retailers selling Cooper Discoverer Rugged Trek. Refer to the details below to get the best price
Cooper Discoverer Rugged Trek
PRICE
SOLD BY
 

Offers

Offers




Offers




Offers




Offers




Offers



Discoverer Rugged Trek Ratings By Consumer