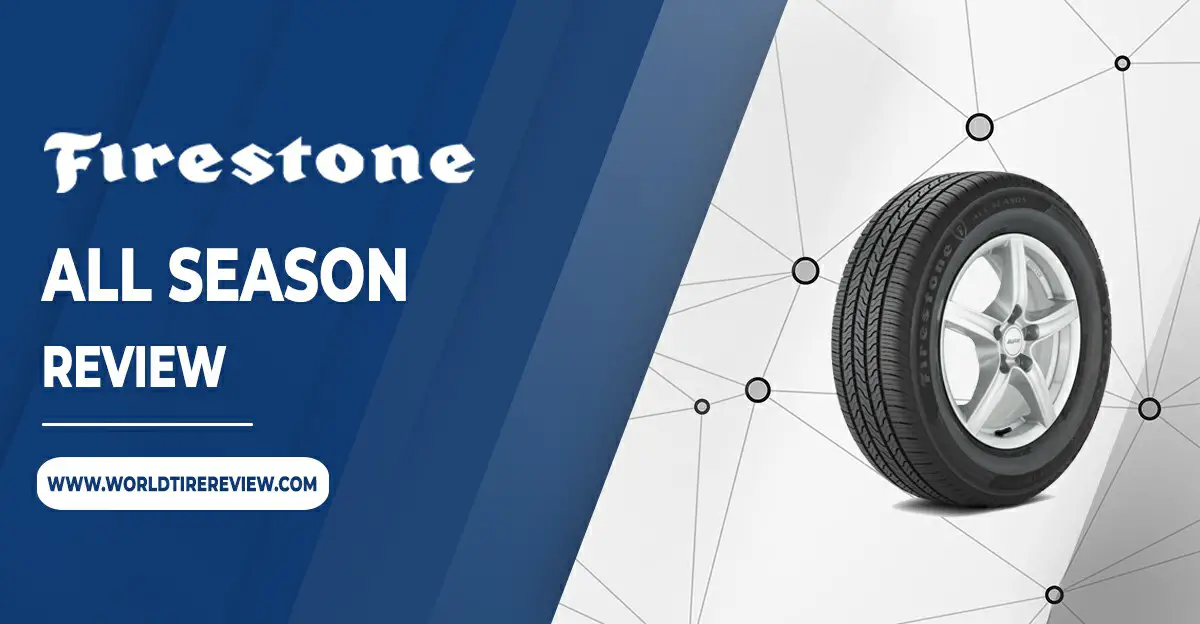 Before heading for our Review to explore this excellent product, let's find out the famous Firestone brand. Having over 100 years of experience in the tire industry, Firestone has consistently been a popular name among fans of four-wheelers. 
Under its merger with Bridgestone, the company is constantly improving to satisfy a wider range of customers. One of its most recent releases is the Four-Season-Tire collections, with which it sets to offer high quality at a competitive price.
This time, the brand prides itself on providing quality, value, and dependability to its customers with the Firestone All-Season tire. 
Firestone All Season Review
Firestone did excellently in making the tires highly geared to road safety. Deep sipes are crucial in enhancing traction in slippery conditions. 
Moreover, what makes these pairs of tires beat their competitors is that they comprise more biting edges – these increase traction even on frost-covered roads. 
Both circumferential and lateral grooves are effective in channeling and evacuating water, thus preventing hydroplaning. Above all, tread patterns are designed meticulously to guarantee performance in either dry, wet, or snowy conditions, hence the proud name "All Season".
All these features, however, don't come at the expense of your comfort. Firestone engineers have succeeded in creating tires that offer a quiet ride, decent handling, and responsiveness. 
The brand boasts about what it dubs a "5-degree noise reduction" – the tires produce noise-canceling sound waves when running on the roads. The continuous center rib also adds up to your experience by shutting out the outside noise, saving you from the annoyance of a loud ride. 
In terms of longevity, the brand utilizes a Sicilia-enhanced rubber tread while designing the pattern symmetrically so that the tires will wear evenly throughout their life. All sizes of the tires come with a 55K or 65K warranty. 
What's more, Firestone All-Season tires are highly compatible. They offer various options for different vehicles, be it coups, crossovers, minivans, or sedans. You don't have to worry about your car "not being the right type" because Firestone got them all covered.
Tire Drive Test
From our own experience, we found that the tires mostly live up to the brand's advertised standards. They perform decently in either wet, dry, or snowy conditions. This makes them our go-to options because they're suitable any time of the year, considering that we regularly drive – almost daily. 
Yet, when it comes to durability, they fall a little short of our expectations. Having no special maintenance indicators, Firestone only uses TWI's, which can only signal when the tread is already completely worn out. You might find yourself in need of replacing them sooner for the sake of safety. 
To sum up our reviews, at such a price, Firestone All Seasons are a great asset to your four-wheelers. Family buyers, in particular, should consider a purchase for the convenience and comfort it offers.
| | |
| --- | --- |
| Treadlife Warranty: | 5 Years / 65,000 Miles 5 Years / 55,000 Miles (CUV Intended Sizes) Half mileage for rear if different size than front |
| Uniformity Warranty: | First 1/32″ of wear |
| Workmanship & Materials Warranty: | 5 Years / Free replacement first 3 years, then prorated until 2/32″ remaining depth |
| Manufacturer's Road Hazard Warranty: | None |
| Manufacturer Special Warranty: | 30 Day Buy & Try Guarantee (1) |
| Additional Information: | (1) Purchase four or more, full refund or exchange |
Firestone
All Seasons warranty summary for replacement tires purchased on or after 06/01/19 at Tire Rack
| 14″ | | 15″ | |
| --- | --- | --- | --- |
| 185/65R14 | 195/70R14 | 175/65R15 | 195/65R15 |
| | | 185/60R15 | 205/65R15 |
| | | 185/65R15 | 205/70R15 |
| | | 195/60R15 | 215/70R15 |
| 16″ | | 17″ | |
| --- | --- | --- | --- |
| 185/55R16 | 215/70R16 | 205/50R17 | 225/55R17 |
| 205/50R16 | 225/60R16 | 215/50R17 | 225/60R17 |
| 205/55R16 | 225/65R16 | 215/55R17 | 225/65R17 |
| 205/60R16 | 225/70R16 | 215/60R17 | 235/55R17 |
| 205/65R16 | 235/60R16 | 215/65R17 | 235/60R17 |
| 215/55R16 | 235/65R16 | 225/50R17 | 235/65R17 |
| 215/60R16 | P 235/70R16 | | |
| 215/65R16 | | | |
| 18″ | | 19″ | |
| --- | --- | --- | --- |
| 225/55R18 | 235/65R18 | 235/55R19 | P 255/60R19 |
| 225/60R18 | 245/55R18 | 245/55R19 | |
| 235/45R18 | 245/60R18 | | |
| 235/55R18 | P 255/65R18 | | |
| 235/60R18 | 265/60R18 | | |
| 20″ | | | |
| --- | --- | --- | --- |
| P 245/50R20 | P 255/55R20 | | |
All Seasons prices range approximately from $83.75 to $183.08 – TireRack
Firestone All Season – Compare Prices
We found 4 online tire retailers selling Firestone All Season. Refer to the details below to get the best price:
Firestone All Season
PRICE
SOLD BY
 

Offers

Offers

Offers

Offers
Firestone All Seasons Ratings By Consumer