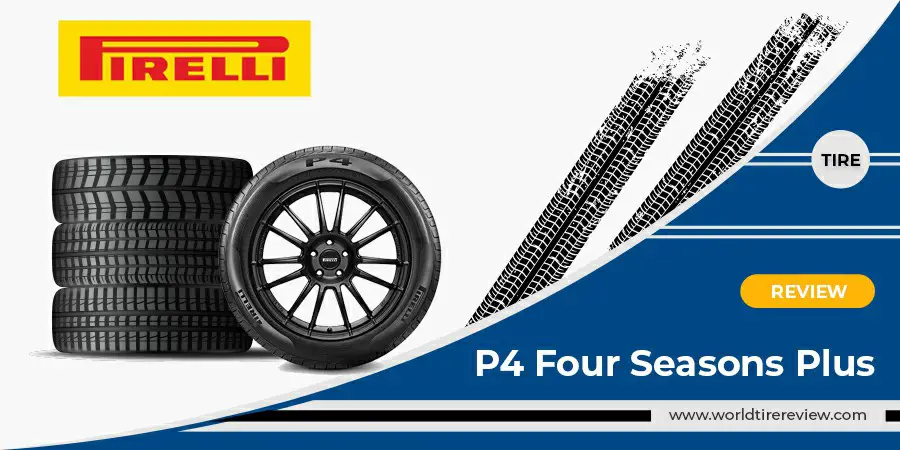 Pirelli P4 Four Seasons Plus Introduction
Before testing the product on the actual road, let's take a closer look at the company Pirelli and its product's various features in our Pirelli P4 Four Seasons Plus review.
About Pirelli
Pirelli is a well-known name in the tire industry. Its fame has spread over the world after its establishment in Milan in 1972. Many customers choose this brand for its high-performance tires. Recently, P4 Seasons Plus has emerged as a new heir of Pirelli with new improvements. Does this tire suit your vehicle? This Pirelli P4 Seasons Plus review will help you answer this question.
Pirelli P4 Four Seasons Plus: Features
Overall, the Pirelli P4 Four Seasons Plus is a great set of tires used in several situations. Under the manufacturer's test, all of the metrics are outstanding.
The feature we would want to mention here first is speed. Users can choose from a wide range of rim diameters (from 14 to 18 inches) for many cars. The tire can help drivers reach H or T rating speed with ease.
Pirelli has also conquered customers by using silica-rich tread compounds and applying innovative technology. The center of the tire has transverse grooves that aid in preventing hydroplaning and improve grip, allowing drivers to utilize these tires on slippery roads or in heavy rain.
Moreover, the molded symmetric pattern scarves that come with the tire are not only decorative but also aid in the tire's stability when running. Therefore, car drivers won't get disappointed as the twin steel belt feature with the nylon cover helps the car run quietly.
Pirelli manufacturers equipped their tires with spiral twin steel belts wrapped in nylon which helps make their product more comfortable. And the great news is Pirelli offers a 90,000 mile treadwear warranty for all users with unlimited time. Compared to other premium opponents, this is the best warranty on the market ever.  
Pirelli P4 Seasons Plus Reviews: Pros And Cons 
Below we will list all the positive features and drawbacks of this tire. Let's have a closer look to see whether its benefits outweigh the limitations.
See more: The 10 best all-season tires in 2021
Pirelli P4 Four Seasons Plus – Tire Drive Test
In this section, we would love to share our experience using the Pirelli P4 Four Seasons Plus on our sedan. We concede that the advancement in design elements has resulted in a car tire with consistent traction and handling characteristics that can handle all sorts of roads.
Once we tested the tire in the wet weather conditions and we were really satisfied with it. The tire's longitudinal grooves give great resistance. Even when driving in heavy rain, the Pirelli P4 Four Seasons Plus manages to get us through all of the road's challenges.
However, there is a small issue that we don't like much about this tire. Smaller rocks tend to get stuck in the tread grooves, and it might bother drivers. On the other hand, finding a tire with a certain size seems to be a bit difficult as this brand of tire offers a limited version of the tire size.
Apart from the minor issue mentioned above, the P4 Four Seasons Plus had all the qualities that most drivers look for in a car tire. It offers excellent grip in all types of weather and a reliable braking system that works well on all sorts of roads. It is also a friendly environment. The Pirelli P4 Four Seasons Plus is a wonderful alternative for individuals seeking a budget-friendly tire. And the 90,000-mile treadwear warranty simply assures customers of a tire that will last a lifetime.
Competitors & Alternatives
| | |
| --- | --- |
| Treadlife Warranty: | Unlimited Time / 90,000 Miles  Half mileage for rear if different size than front |
| Uniformity Warranty: | 1 Year / First 2/32″ of wear |
| Workmanship & Materials Warranty: | Unlimited Time / Free replacement first year or 2/32″ wear, then prorated until 2/32″ remaining depth |
| Manufacturer's Road Hazard Warranty: | None |
| Manufacturer Special Warranty: | 30 Day Trail (1) |
| Additional Information: | (1) Must purchase a set of 4, exchange for anotherset of 4 Pirelli brand tires. |
Warranty summary for replacement tires purchased on or after 02/13/20
| 14 | | 15 | |
| --- | --- | --- | --- |
| 185/65R14 | P 195/70R14 | P 185/60R15 | 205/65R15 |
| | | P 185/65R15 | 205/70R15 |
| | | 195/60R15 | P 205/70R15 |
| | | P 195/60R15 | P 215/60R15 |
| | | 195/65R15 | P 215/65R15 |
| | | P 205/60R15 | P 215/70R15 |
| 16 | | 17 | |
| --- | --- | --- | --- |
| 205/55R16 | P 215/65R16 | 215/50R17 | 225/50R17 |
| 205/60R16 | 225/60R16 | 215/55R17 | 225/55R17 |
| P 205/65R16 | 225/65R16 | 215/60R17 | P 225/60R17 |
| 215/55R16 | 235/65R16 | P 215/65R17 | |
| 215/60R16 | | | |
P4 Four Seasons Plus prices range approximately from $100.00 to $146.90 (Tire Rack)
Continental TrueContact Tour
Goodyear Assurance MaxLife
Michelin Defender T+H
Cooper CS5 Grand Touring
Hankook Kinergy ST
Pirelli P4 Four Seasons Plus – Compare Prices
We found 7 online tire retailers selling Pirelli P4 Four Seasons Plus. Refer to the details below to get the best price:
Pirelli P4 Four Seasons Plus
PRICE
SOLD BY
 

$100

Offers

Offers

Offers

$95.34

Offers

Offers
P4 Four Seasons Plus Ratings By Consumer