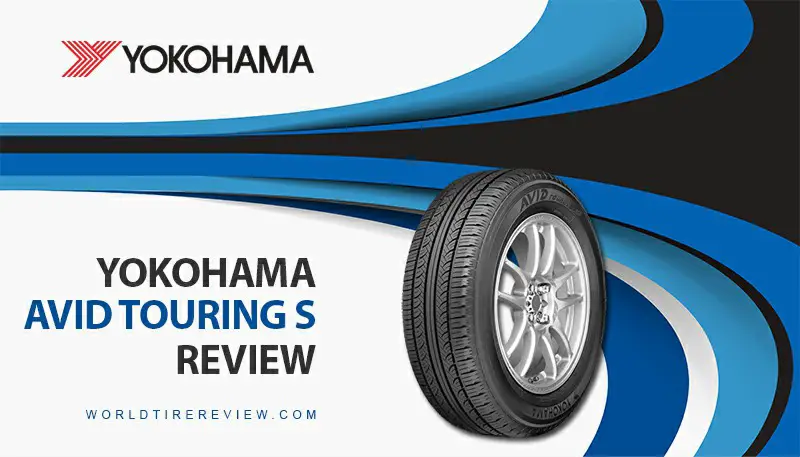 Established in 1917, Yokohama was the first Japanese tire manufacturer to receive ISO.9001 certification from recognizing the company model of quality assurance in design, development, production installation, and other related services.
Yokohama designed the Avid Touring-S as a standard tire that can cope with all seasons, including wet and dry conditions, and even in light snow.
With Yokohama's special Triplex wheel compound, Avid Touring-S provides longer tire life and good traction. The manufacturers molded this compound into a symmetrical spiky shape with variable block sizes of Silent Shoulder. That means we can rotate all tires for each other (unlike an asymmetrical design that cannot be rotated back to front).
This tire has a central Double Rail Stabilizer for added stability, enhanced steering response, and improved noise reduction.
Furthermore, Yokohama has equipped tread power steering and interchangeable tread blocks for increased cornering, steering and dry traction.
Conical rain grooves, diagonal trench grooves, and perimeter grooves around the tire help drain water, improve grip on wet, steep, or snow-covered roads, and absorb water from under the tire. 
Also, the Cross Traction tread grooves provide beveled edges for good grip in dry and cold weather.
Inside the tire, you'll see a two-steel construction, a polyester resin layer, and a nylon rim that work together to provide more strength and durability at higher speeds. The Touring-S also features higher rigid rubber side pads that absorb bumps and vibrations, resulting in better ride quality. 
The Yokohama Avid Touring-S comes with a 5-year warranty (up to 65,000 miles) or the first 2/32 inches when worn. Besides, Yokohama also allows you to test drive this tire for 30 days. If you are not satisfied, you can exchange or request a refund. 
Pros & Cons
For more: Yokohama Avid Ascend Tire Review
Tire Drive Test
After a long time using this tire, we found that Yokohama Avid Touring-S does very well in several fields. You will find that this model has a good dry grip and handling ability. The steering is responsive and gives a solid feeling on the road. In addition, traveling with Yokohama Avid Touring-S tires is also quite smooth and comfortable.
On the other hand, it started to have some problems after a time, such as poor wet traction that was only below average. Furthermore, as the tire gets older, its grip will be greatly reduced.
Unlike advertisements for all-season adaptability, in fact, winter grip, braking, and acceleration are inferior to top tires. The brakes are not smooth and responsive as we expected. Eventually, road noise increases as the tires start to wear out.
From our experience, Yokohama Avid Touring-S is appropriate for drivers of coupes, sedans, minivans, and small SUVs.
Overall, it doesn't perform as well as other expensive tires. However, with a moderate price, the quality of the tire is suitable for mid-income earners. Avid Touring-S from Yokohama guarantees you a comfortable ride. We wish you will have a perfect experience with this tire after reading our review.
Competitors & Alternatives
| | |
| --- | --- |
| Treadlife Warranty: | 5 Years / 65,000 Miles Half mileage for rear if different size than front |
| Uniformity Warranty: | 1 Year / first 2/32″ of wear |
| Workmanship & Materials Warranty: | 5 Years / Free replacement first year or 2/32″ of wear, then prorated to 2/32″ remaining depth |
| Manufacturer's Road Hazard Warranty: | None |
| Manufacturer Special Warranty: | 30 Day Test Drive (1) |
| Additional Information: | (1) Full refund or exchange |
Avid Touring-S warranty summary for replacement tires purchased on or after 12/01/14 – Tirerack
| 14″ | | 15″ | |
| --- | --- | --- | --- |
| P 175/65R14 | P 185/70R14 | P 185/60R15 | P 205/65R15 |
| P 185/65R14 | P 195/70R14 | P 185/65R15 | P 205/70R15 |
| | | P 195/60R15 | P 215/60R15 |
| | | P 195/65R15 | P 215/65R15 |
| | | P 205/60R15 | 215/70R15 |
| | | | P 235/75R15 |
| 16″ | | 17″ | |
| --- | --- | --- | --- |
| P 205/55R16 | P 215/70R16 | 215/55R17 | P 225/60R17 |
| P 205/60R16 | P 225/60R16 | 215/60R17 | 225/65R17 |
| P 215/60R16 | 235/65R16 | 215/65R17 | 235/60R17 |
| 215/65R16 | P 235/70R16 | 225/50R17 | 235/65R17 |
| | | 225/55R17 | |
Avid Touring-S prices range approximately from ‎$76.76 to $135.06 – Tirerack
Kleber Quadraxer 2
Goodride SW602
Kumho Solus HA31
Bridgestone Turanza GR90
Kleber Quadraxer
Falken EUROALL SEASON AS200
Yokohama Avid Touring S – Compare Prices
We found 6 online tire retailers selling Yokohama Avid Touring S. Refer to the details below to get the best price:
Yokohama Avid Touring S
PRICE
SOLD BY
 

$84.15

$69.95

$67.18

Offers

$63.41

Offers
Avid Touring-S Ratings By Consumer