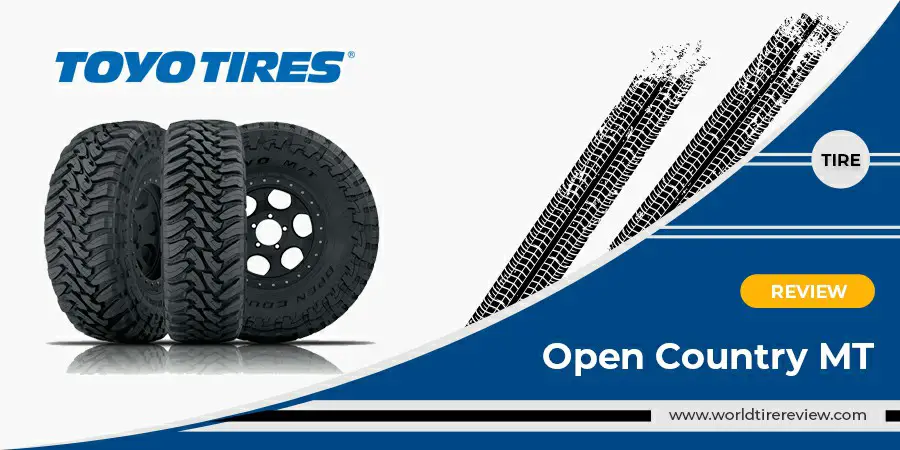 It's crucial to choose a perfect tire because it directly affects your driving experience and the appearance of your car. Why not take the Toyo Open Country M/T tire into consideration? Believe it or not, Toyo tires will definitely surprise you. Keep scrolling down our review for more.
Toyo Open Country M/T Review 
Toyo Tire Brand
Established in 1945 in Japan, Toyo Tires has been solidly flourishing in the OE auto market, especially the U.S marketplace. There are many well-known products from Toyo that we can't overlook, such as Toyo Open Country A/T, Toyo Open Country H/T, Toyo Open Country M/T, etc.
With the release of Toyo Open Country M/T, Toyo immediately won a vantage position over other rivals. 
The tire manufacturers nonstop enhance the high-level characteristics in handling and stability control. Whether it's a light truck or a SUV, Toyo Open Country M/T stands out as a perfect option for your car. Let's see how these features have evolved over time in the next section!
Toyo Open Country M/T Tire Features
Stylish, sustainable, practical, and great to drive, not many tires tick all these boxes. Toyo's excellent Open Country M/T is different. It has all those features with even additional class-leading eco cred and safety.
The Toyo Open Country M/T tire is a just-right combination of muscularity and elegant lines. Thanks to the forceful tread form, it's no surprise that this highly acclaimed model easily leaves a huge impression at customers' first glances. 
Together with the deep-slot design and scallop-shaped shoulder blocks, they make cornering on wet surfaces more effortless than ever before. Its dimensions range from 15 to 24 inches regarding basic size and material, combined with three-layer polyester to improve weight/heat resistance. 
Indeed, the load capacity can reach 3960 pounds per tire. The highest speed rate is approximately 99-mph without causing any tire explosions. Its high M+S index is another point that won't make you feel worried when driving in bad weather conditions.
Pros & Cons
Here, we would like to summary for you as below:
Our Experience With Toyo Open Country M/T Drive Test
Although you can read many reviews on the Internet, you must wonder if these tire variants work effectively in different real conditions. That's a big yes! With our experience using it, let us show you how they've conquered our hearts!   
Outstanding Features In Reality 
Driving on highways is not the same as handling wet roads, especially with mud and many potholes. Yet, this type of tire becomes an ideal choice for both on/off-road conditions.
It's the deep-groove design and rigid shouldered blocks that help cars get rid of water, rocks and mud-terrain as well as extra traction to pull your car out of immersed places. You have all the reasons to be confident when gripping and cornering without any slip.
What's more? The aggressive treads, made from high-quality material, enable it to push any snow or ice aside to move forward in poor winter challenges. 
If you're owning a light truck/SUV car or living in harsh weather, let's take a glance at this tire from Toyo. We ensure you will have an amazing driving experience on holidays with homies.
Environmental Impacts
"Go further, but fuel efficiency must be optimal" – The Toyo company always engraves this statement in their mind when manufacturing products. 
How does this tire lessen fuel consumption anyway? Toyo focuses strongly on reducing the energy loss when a tire rolls. That's why it can help your vehicle consume less fuel and partly control CO2 emissions. 
Moreover, tires featuring many sturdy blocks can lower noise output to ensure the driver and passengers have the most comfortable experience. These also contribute a remarkable part to diminishing noise pollution.
With lots of the above pros, it gradually plays an important role in protecting the environment and saving fuel. Now you understand why we highly recommend this tire for your favorite car. It's time to get your car this reliable companion!
Competitors & Alternatives
| | |
| --- | --- |
| Treadlife Warranty: | None  |
| Uniformity Warranty: | First 1/32″ of wear |
| Workmanship & Materials Warranty: | 5 Years / Free replacement first 25% of wear, then prorated to final 2/32″ remaining depth |
| Manufacturer's Road Hazard Warranty: | None |
| Manufacturer Special Warranty: | No Regrets 500 Mile or 45 Day Trial (1) |
| Additional Information: | (1) Exchange for Michelin, BFGoodrich, or Uniroyal |
| 15 | | 16 | |
| --- | --- | --- | --- |
| LT 31X10.50R15 | LT 33X13.50R15 | LT 235/85R16 | LT 285/75R16 |
| LT 33X10.50R15 | LT 35X13.50R15 | LT 245/75R16 | LT 305/70R16 |
| LT 33X12.50R15 | LT 37X14.50R15 | LT 255/85R16 | LT 315/75R16 |
| | | LT 265/75R16 | LT 385/70R16 |
| | | LT 285/70R16 | |
| 17 | | 18 | |
| --- | --- | --- | --- |
| LT 255/75R17 | LT 315/70R17 | LT 265/70R18 | LT 305/65R18 |
| LT 255/80R17 | LT 33X12.50R17 | LT 275/65R18 | LT 315/70R18 |
| LT 265/70R17 | LT 35X12.50R17 | LT 275/70R18 | LT 33X12.50R18 |
| LT 285/70R17 | LT 37X12.50R17 | LT 285/65R18 | LT 35X12.50R18 |
| LT 285/75R17 | LT 37X13.50R17 | LT 285/70R18 | LT 37X13.50R18 |
| LT 295/70R17 | LT 40X13.50R17 | LT 285/75R18 | LT 38X13.50R18 |
| | | LT 295/70R18 | LT 38X15.50R18 |
| 20 | | 22 | |
| --- | --- | --- | --- |
| LT 275/55R20 | LT 33X12.50R20 | LT 295/55R22 | LT 37X12.50R22 |
| LT 275/65R20 | LT 35X12.50R20 | LT 325/50R22 | LT 37X13.50R22 |
| LT 285/60R20 | LT 35X13.50R20 | LT 33X12.50R22 | LT 38X15.50R22 |
| LT 295/55R20 | LT 37X12.50R20 | LT 35X12.50R22 | LT 40X15.50R22 |
| LT 295/60R20 | LT 37X13.50R20 | | |
| LT 295/65R20 | LT 38X13.50R20 | | |
| LT 305/55R20 | LT 38X15.50R20 | | |
| LT 315/60R20 | LT 40X15.50R20 | | |
| 24 | | 26 | |
| --- | --- | --- | --- |
| LT 37X13.50R24 | LT 40X15.50R24 | LT 40X15.50R26 | LT 42X15.50R26 |
| LT 375/40R24 | | | |
| LT 40X15.50R24 | | | |
Open Country M/T prices range approximately from $388.71 to $581.29 (Tire Rack)
Firestone Destination M/T2
Toyo Open Country M/T – Compare Prices
We found 5 online tire retailers selling Toyo Open Country M/T. Refer to the details below to get the best price:
Toyo Open Country M/T
PRICE
SOLD BY
 

Offers

Offers

$220.13

Offers

$221
Open Country M/T Ratings By Consumer