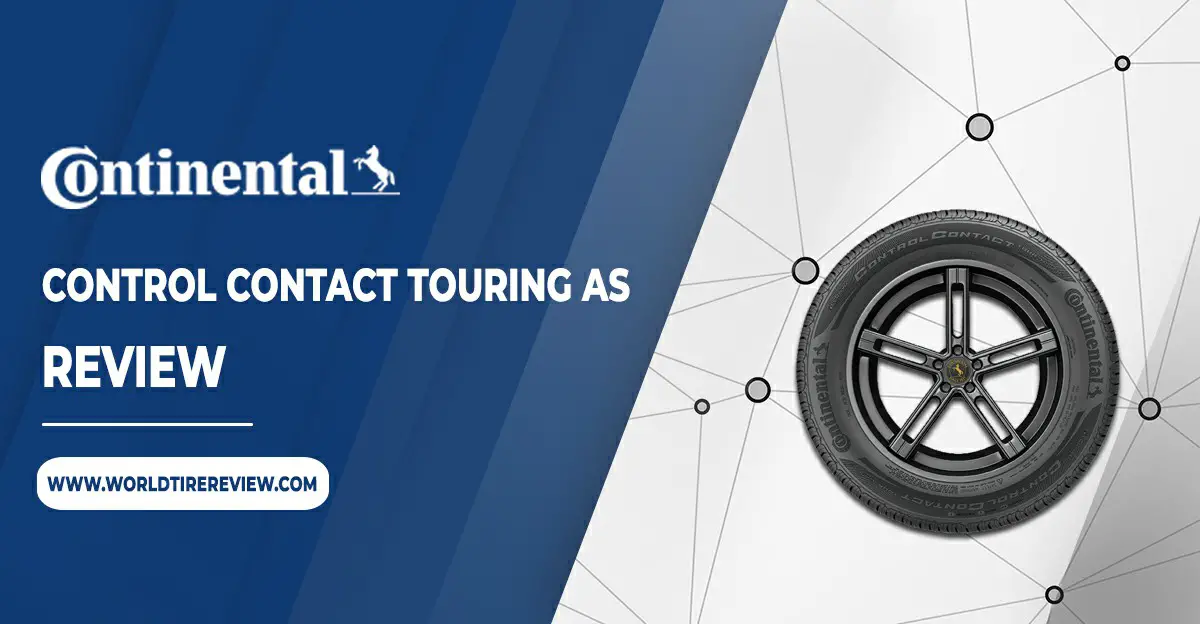 Continental is an established company founded in 1871 which offers multiple vehicle supplies. One of their most sought-after products is the Contact tire, considered to be the top-tires available on the market. 
Designed for all types of minivans, crossovers, coupes, and sedans, Continental Control Contact Touring AS is another all-season tire from the Continental. This tire delivers a powerful grip, strong performance combined with the silence and comfort needed on the road. 
Since this tire causes so much attention, we want to give you a Continental Control Contact Touring A/S tire review according to what we've experienced.
The Control Contact Touring AS has five-grip patterns, whereas its similar model Continental TrueContact has only four. The extended treadwear helps with reducing rolling resistance and additional traction, thus, effectively cutting down on stopping distance to ensure you park safely and precisely. 
This highly favored tire has a unique tread compound with Tg-OF Polymers and Silane that promises more traction on any road surface and longer tire life. 
For an all-season tire like this, the tread compound is extremely important for it is supposed to work in various weather conditions. Thus, its compound is a plus point. Even though some say this tire performs not as good in heavily snowed weather.
EcoPlus technology is what makes this tire fuel-efficient and saves you money in the long term. Many of the other tires of the Continental lineup also have this technology combined, which is cost-efficient and environmentally friendly. 
Customers are promised comfortable, smooth driving when purchasing this product. That is due to the comfort band between the belt and tread to absorb and reduce road vibration and pavement bumps known as the Continental Quiet Design. 
The brand offers 90,000 miles limited treadwear warranty, three years of roadside assistance, 12 months of manufacturer road hazard coverage, and a 90-day trial period. Continental truly wants to make sure that its customers are satisfied.
Continental Control Contact Touring A/S Review: Pros and Cons
Tire Drive Test
We want to share with you some of our thoughts and experiences about this model of Continental tire. 
First of all, Continental Control Contact Touring AS is a solid all-season tire. It certainly has a strong grip and crisp handling. According to our experience when driving on dry roads, noise is kept to a minimum, thanks to the added comfort band. 
Secondly, additional grip patterns make braking satisfying. The tire responds immediately and grips tight on the road. We were amazed by the superior responsiveness of this tire. 
The tire performs fairly well on the wet road; we encountered almost zero slip and felt very in control for the whole drive. 
Thirdly, we want to talk about its capability in snowy weather. Many have said that this tire is uneasy in deep snow, and we find it is partly true. Traveling in deep snow does not fit the competence of Control Contact Touring AS. 
But let's be fair, being a multipurpose tire, it is normal for this product to not have the quality needed for heavy snow. So, we recommend you get a snow chain in case of facing 10 to 12 inches of snow or a mountain trip. However, this tire works fine in light snow weather.
On the whole, Continental Control Contact Touring AS is a complete package with good performance on dry, wet, and snow roads, quiet and comfortable drive, and good responsiveness.
Competitors & Alternatives
| | |
| --- | --- |
| Treadlife Warranty: | 6 Years / 90,000 Miles Half mileage for rear if different size than front |
| Uniformity Warranty: | First 1/32″ of wear |
| Workmanship & Materials Warranty: | 6 Years / Free replacement first year, 2/32″ or 25% of wear, then prorated until 2/32″ remaining depth |
| Manufacturer's Road Hazard Warranty: | None |
| Manufacturer Special Warranty: | 60-day satisfaction (1), 3-yr flat changing |
| 14″ | | 15″ | |
| --- | --- | --- | --- |
| 185/65R14 | | 185/60R15 | 195/65R15 |
| | | 185/65R15 | 205/65R15 |
| | | 195/60R15 | 215/65R15 |
| 16″ | | 17″ | |
| --- | --- | --- | --- |
| 205/55R16 | 225/60R16 | 215/60R17 | 225/60R17 |
| 205/60R16 | 225/65R16 | 205/60R16 | 225/65R17 |
| 215/60R16 | 235/65R16 | 215/60R16 | 235/65R17 |
| 215/65R16 | | | |
Control Contact Touring A/S prices range approximately from $85
Control Contact Touring A/S Ratings By Consumer