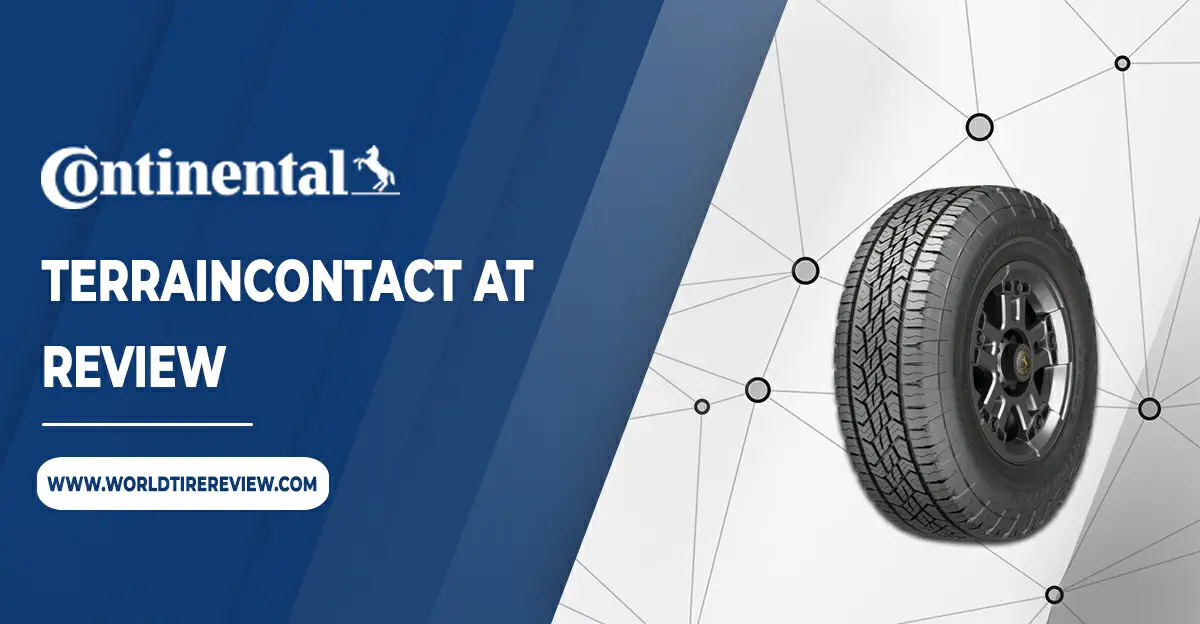 Continental Tire the Americas, LLC, based in Fort Mill, South Carolina, produces and sells a full line of premium passenger, light truck, and commercial tires for both original equipment and replacement markets. 
Its ultra-high-performance tires have award-winning technology that prioritizes safety while also reducing costs.
The TerrainContact A/T Features
Continental Tire the Americas has unveiled its new Continental TerrainContact A/T, the company's first entry into the all-terrain market.
CUVs, SUVs, and light trucks will benefit from the new tire's balanced on-and off-road performance. In this review, we will show some features of this tire, such as: 
For all-season traction and longevity, an open tread design with big stable blocks is used.
Traction grooves with "teeth" for better traction in the snow, mud, and gravel.
Noise-canceling technology and pattern-changing for a smooth, silent ride.
Longer tread life thanks to a flat contour design and robust tread shoulders that allow for uniform road surface contact.
Patented silane additives that improve traction on slick roads and shorten stopping distances on wet pavement.
The Advantages And Disadvantages Of Continental TerrainContact A/T
Continental TerrainContact A/T Tire Drive Test
One of the most well-rounded tires we've ever tried is the TerrainContact. For an all-terrain tire, it's quiet and comfy. It's also excellent on both dry and damp surfaces.
On A Dry Tarmac, How Does It Behave?
Continental prioritized paved roads while designing the TerrainContact A/T. This tire is geared towards drivers who spend most of their time on the road and highway. 
It even compares favorably to certain all-season highway tires, which is great praise indeed. 
In our riding experience, we would never realize that we are driving on all-terrain tires, which we cannot say about most competitors.
How Does It Go On Wet, Slick Roads?
Cornering is also impressive. The tires react quickly to the driver's input. Even in torrential rain, the hydroplaning resistance is exceptional.
Overall, the TerrainContact A/T is the greatest all-terrain tire for wet days, just as it is for dry traction. It occasionally feels like you're driving on rails, which is unusual for an all-terrain vehicle. 
On wet pavements, Continental's offering is so superb that it even outperforms certain highway tires.
So, How Does It Go On Snow-Covered Roads?
The TerrainContact A/T can operate smoothly in light snow. 
In the winter, most tires that perform well on both dry and wet roads suffer, and vice versa. However, this is not the case with the TerrainContact A/T.
An all-season tire's traction in mild snow is excellent. Of course, if you drive carefully, the handling also feels surefooted. Also, the braking distances aren't particularly long. 
The lack of Three Peak Mountain Snowflake symbol means that the tire does not provide ideal severe snow traction performance.
Sure, a winter tire will perform better, but the Continental is one of the greatest all-season all-terrain tires available.
Overall, we cannot deny this Continental TerrainContact A/T tire is the best choice for those who usually drive on both dry and damp surfaces. However, it doesn't perform well on snow-covered roads on which you should consider another specific winter tire.
| | |
| --- | --- |
| Treadlife Warranty: | 6 Years / 60,000 Miles Half mileage for rear if different size than front |
| Uniformity Warranty: | 1 Year / first 2/32″ of wear (1) |
| Workmanship & Materials Warranty: | 6 Years / Free replacement first year or 2/32″ of wear, then prorated until 2/32″ remaining depth (1) |
| Manufacturer's Road Hazard Warranty: | 1 Year / first 2/32″ of wear |
| Manufacturer Special Warranty: | 60-day satisfaction (1), 3-yr flat changing |
| Additional Information: | 60-day or 1st 2/32″ trial (2), 3-yr flat changing |
TerrainContact A/T warranty summary for replacement tires purchased on or after 01/01/18 at Tire Rack
| 16″ | | 17″ | |
| --- | --- | --- | --- |
| LT 245/75R16 | LT 265/75R16 | 225/60R17 | 255/65R17 |
| 265/70R16 | LT 285/75R16 | LT 235/80R17 | 255/75R17 |
| 265/75R16 | | 245/65R17 | 265/70R17 |
| | | 245/70R17 | LT 265/70R17 |
| | | LT 245/70R17 | LT 285/70R17 |
| | | LT 245/75R17 | LT 315/70R17 |
| 18″ | | 19″ | |
| --- | --- | --- | --- |
| 245/60R18 | 265/70R18 | 255/55R19 | |
| 255/55R18 | LT 265/70R18 | | |
| 255/70R18 | 275/65R18 | | |
| 265/60R18 | LT 275/65R18 | | |
| 265/65R18 | LT 275/70R18 | | |
| 20″ | | 22″ | |
| --- | --- | --- | --- |
| 265/50R20 | 275/60R20 | 285/45R22 | |
| LT 265/60R20 | LT 275/65R20 | | |
| 275/55R20 | LT 285/60R20 | | |
TerrainContact A/T prices range approximately from $172.99 – $338.99 – TireBuyer
Continental TerrainContact A/T – Compare Prices
We found 6 online tire retailers selling Continental TerrainContact A/T. Refer to the details below to get the best price
Continental TerrainContact A/T
PRICE
SOLD BY
 

Offers

$187.99

$187.99

Offers

Offers

Offers
TerrainContact A/T Ratings By Consumer