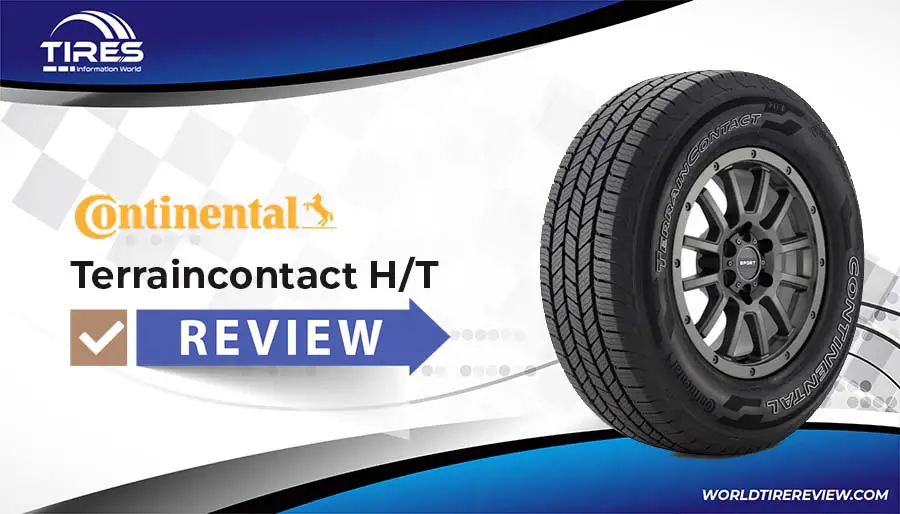 TerrainContact H/T, a new product from Continental, has recently joined the tire market. Before jumping into the Continental Terraincontact H/T reviews, let's take a look at the manufacturer.
Continental – A Global Leader In Tire Manufacturing
Continental is a worldwide firm that produces safe, efficient, and performance-oriented tires for passenger automobiles, commercial vehicles, and two-wheelers. It was founded in 1871. 
With a comprehensive product range appropriate for use in various circumstances and applications, they are one of the leading leaders in tire technology and tire manufacturing. 
This brand also contributes to safe, cost-effective, and environmentally friendly mobility by investing continuously in research and development.
Continental TerrainContact H/T Tire Review
The TerrainContact H/T, with TractionPlus technology, delivers the performance, safety, and durability that today's light truck, SUV, and crossover drivers expect.
Year-round traction in wet and dry conditions
Durable treadwear
A quiet, comfortable ride
This type of product is an all-season tire featuring circumferential grooves that swiftly channel water away for improved wet-road grip and hydroplaning resistance. 
TractionPlus technology lowers road-noise, enhances grip, and encourages prolonged treadwear season after season, while Sipes produce biting edges for assured braking power in mild snow situations.
The Advantages and Disadvantages of Continental Terraincontact H/T
Personal Viewpoint
On A Dry Tarmac, How Does It Work?
The TerrainContact H/T handles day-to-day driving chores with ease. The straight-line tracking is remarkable, and the control system is what a highway tire should have.
In addition, even when the vehicle is loaded to the gills, the tire offers drivers with excellent traction and grip. This model appears to be the most at ease on the highway, so high-speed stability is also excellent.
The TerrainContact H/T may not be the best in the class on flat, dry surfaces, but it is pretty close.
How Does It Go On Wet And Slick Roads?
Continental is known for putting much effort into enhancing the traction of their goods when wet, and the TerrainContact H/T is no exception.
This all-season highway tire is one of the safest on the market. Even in torrential rain, the handling feels solid – the tires refuse to let go.
Furthermore, even at greater speeds, the hydroplaning resistance is remarkable. Yes, the Continental highway tire achieves the lowest braking distances on wet tarmac.
As a result, if you have a truck or an SUV and reside in a rainy region, the TerrainContact H/T is the tire for you.
How Does It Perform On The Snow-covered Roads?
This tire is one of the best all-season highway options for winter situations. 
Thanks to its vast sipes count, the model gives a good grip on the snow, even somewhat deeper snow. Of course, traction on ice is weaker, but it's still extremely strong for the category.
Is That Elegant And Comfortable?
Continental's efforts to quieten the tire have paid off in real-life situations.
At urban speeds, noise is essentially non-existent, and at greater speeds, it becomes a low hum. Furthermore, the tire effortlessly straightens both minor and major flaws, making it ideal for long-distance travel.
Is the Continental TerrainContact H/T A Good Choice For Sporty Driving?
The TerrainContact H/T isn't a tire designed for fast driving. 
The issue is that you'll be confronted with a pliable sidewall and a driving dynamic that won't thrill you.
With the Continental TerrainContact H/T Tire Reviews above, we do not see why you shouldn't get the TerrainContact H/T if pricing isn't an issue. 
Continental's newest debut into the truck industry deserves consumers' attention with its remarkable and its exceptional treadlife. 
This is currently a single of the best all-season highway tires in the marketplace, and we are not kidding.
Competitors & Alternatives
| | |
| --- | --- |
| Treadlife Warranty: | 6 Years / 70,000 Miles (Euro-metric sizes) (1)  6 Years / 60,000 Miles (LT sizes) (1)  Half mileage for rear if different size than front |
| Uniformity Warranty: | 1 Year / first 2/32″ of wear (1) |
| Workmanship & Materials Warranty: | 6 Years / Free replacement first year or 2/32″ of wear, then prorated until 2/32″ remaining depth (1) |
| Manufacturer's Road Hazard Warranty: | 1 Year / first 2/32″ of wear |
| Manufacturer Special Warranty: | 60-day or 1st 2/32″ trial (2), 3-yr flat changing |
| Additional Information: | (1) Repair voids warranty (2) Whichever comes 1st,purchase 4 exchange for another set of Conti. |
warranty summary for replacement tires purchased on or after at Tire Rack
| 16 | | 17 | |
| --- | --- | --- | --- |
| 245/75R16 | 265/70R16 | 225/60R17 | 255/65R17 |
| | | LT 235/80R17 | 255/70R17 |
| | | 245/65R17 | 265/65R17 |
| | | 245/70R17 | 265/70R17 |
| | | LT 245/70R17 | LT 265/70R17 |
| | | LT 245/75R17 | |
| 18 | | 19 | |
| --- | --- | --- | --- |
| 245/60R18 | LT 265/70R18 | 245/55R19 | |
| 255/70R18 | 275/65R18 | | |
| 265/60R18 | LT 275/65R18 | | |
| 265/65R18 | LT 275/70R18 | | |
| 265/70R18 | | | |
| 20 | | 22 | |
| --- | --- | --- | --- |
| 255/50R20 | 275/60R20 | 285/45R22 | |
| 255/55R20 | LT 275/65R20 | | |
| LT 265/60R20 | LT 285/60R20 | | |
| 275/55R20 | | | |
Continental Terraincontact H/T prices range approximately from $188.00 to $323.0 (Discount Tire)
Firestone Destination LE3
Michelin Defender LTX M/S
Kumho Crugen HT51
Michelin LTX M/S2
prices range approximately from
Continental Terraincontact H/T – Compare Prices
We found 6 online tire retailers selling Continental Terraincontact H/T. Refer to the details below to get the best price
Continental Terraincontact H/T
PRICE
SOLD BY
 

Offers

Offers




Offers




Offers




Offers




Offers



Terraincontact H/T Ratings By Consumer