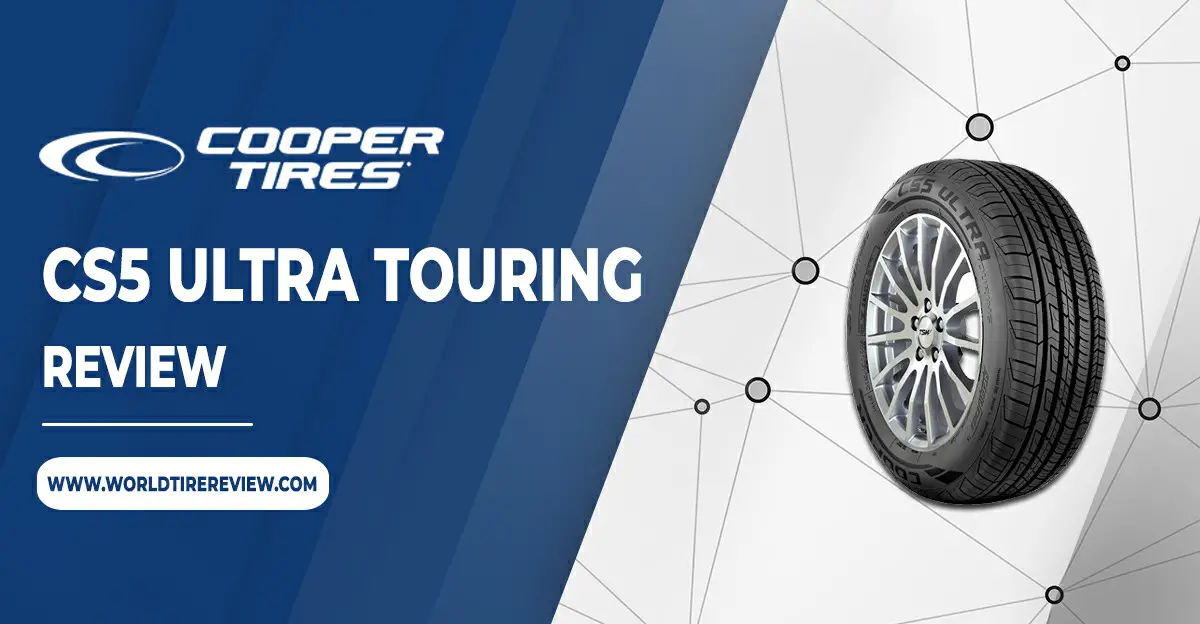 Cooper is a reputable tire manufacturer that integrates the latest technology into all of its products. Cooper CS5 Ultra Touring – the most recent model in Cooper's lineup, is an exemplar. Check out this Cooper CS5 Ultra Touring review to get more information.
CS5 Ultra Touring is the most recent model in Cooper's lineup, and most people agree that it is one of their finest products. 
It is specially engineered for drivers of sedans, coupes, crossovers searching for a quiet and peaceful ride with reliable traction and handling in all weather conditions.
Packed with cutting-edge technology, this tire enjoys an edge in performance and longevity over its predecessors.
Thanks to the new generation tread compound, CS5 Ultra Touring can benefit from 4 times more silica for enhanced grip on dry, wet or snow-covered roads.
Furthermore, the 3D micro-gauge grooves will provide more stability and traction to this tread for better performance in handling and cornering. We consider this a competitive edge of this Cooper tire.
The special StabilEdge technology engineered into the tire ensures the steering ability is consistent and responsive, as well as provides a greater amount of control throughout its speed range.
This CS5 Ultra Touring tire from Cooper features the Wear Square technology, indicating its tread wear visually so you can see how many miles of tread are available for use. Having an idea of the tread life left on your tires gives you more confidence in driving the vehicle.
Last but not least, the asymmetric tread pattern adds to the ease of rotating the tire side to side.
It is good to know that this Cooper tire comes in various sizes from 15 to 19 inches, with speed ratings of V, W, and H. You will receive a 50,000-mile treadwear warranty with a W speed rating, and a 70,000-mile treadwear warranty with V or H specification.
Cooper CS5 Ultra Touring Review: Pros & Cons
Tire Drive Test
The Cooper CS5 Ultra Touring is an excellent value considering its affordable price tag. Not only does it bring a solid performance on different road surfaces, no matter wet or dry, but it also enables responsive steering and control.
Since this is a stable and smooth tire, it often gives a pleasant ride. Plus, we love how it has minimized road noise during the drive. With the window closed, you barely notice that they are there. You can also enjoy its 50,000 or 70,000-mile warranty from the manufacturer.
All things considered, this is one of the finest all-season tires that you can purchase, especially when it comes to a bit of extra sporty handling. We highly recommend this Cooper tire.
What kind of vehicle will the Cooper CS5 Ultra Touring fit the most?
Honda Accord, Civic, Insight
Acura CL, TL
Ford Mustang GT, Fusion, Focus
Mercedes-Benz E320
Subaru Impreza Outback
Volkswagen Passat, Jetta, Touareg
Dodge Nitro, Grand Caravan
Nissan Cube, Leaf, Versa, Maxima
Competitors & Alternatives
| | |
| --- | --- |
| Treadlife Warranty: | Unlimited Time / 70,000 Miles (V- & H-Speed Rated) Unlimited Time / 40,000 Miles (W-Speed Rated) Half mileage for rear if different size than front |
| Uniformity Warranty: | First 2/32″ of wear |
| Workmanship & Materials Warranty: | Unlimited Time / Free replacement first 2/32″ of wear, then prorated until 2/32″ remaining depth |
| Manufacturer's Road Hazard Warranty: | None |
| Manufacturer Special Warranty: | 45 Day Road Test Guarantee (1) |
| Additional Information: | (1) Exchange for another Cooper brand tire |
CS5 Ultra Touring warranty summary for replacement tires purchased on or after 01/01/19 at Tire Rack
| 15″ | | 16″ | |
| --- | --- | --- | --- |
| 185/65R15 | 205/60R15 | 195/55R16 | 215/60R16 |
| 195/55R15 | 205/65R15 | 205/50R16 | 215/65R16 |
| 195/60R15 | 215/60R15 | 205/55R16 | 225/50R16 |
| 195/65R15 | 225/60R15 | 205/60R16 | 225/55R16 |
| | | 205/65R16 | 225/60R16 |
| | | 215/55R16 | 235/60R16 |
| 17″ | | 18″ | |
| --- | --- | --- | --- |
| 205/50R17 | 225/60R17 | 215/55R18 | 235/55R18 |
| 215/45R17 | 225/65R17 | 215/45R17 | 235/60R18 |
| 215/50R17 | 235/45R17 | 215/50R17 | 245/45R18 |
| 215/55R17 | 235/50R17 | 215/55R17 | 245/50R18 |
| 225/45R17 | 235/55R17 | 225/45R17 | 245/60R18 |
| 225/50R17 | 235/65R17 | 225/50R17 | 255/65R18 |
| 225/55R17 | 245/45R17 | | |
| 19″ | | 20″ | |
| --- | --- | --- | --- |
| 225/45R19 | 245/45R19 | 245/50R20 | 255/45R20 |
| 235/40R19 | 255/45R19 | 255/35R20 | 255/50R20 |
| 235/55R19 | 255/60R19 | | |
| 245/40R19 | | | |
CS5 Ultra Touring prices range approximately from $88.99 – $206.99 – TireBuyer
Cooper CS5 Ultra Touring – Compare Prices
We found 7 online tire retailers selling Cooper CS5 Ultra Touring. Refer to the details below to get the best price
Cooper CS5 Ultra Touring
PRICE
SOLD BY
 

$102.99

$95.96

$88.99

Offers

$95.96

Offers

Offers
CS5 Ultra Touring Ratings By Consumer