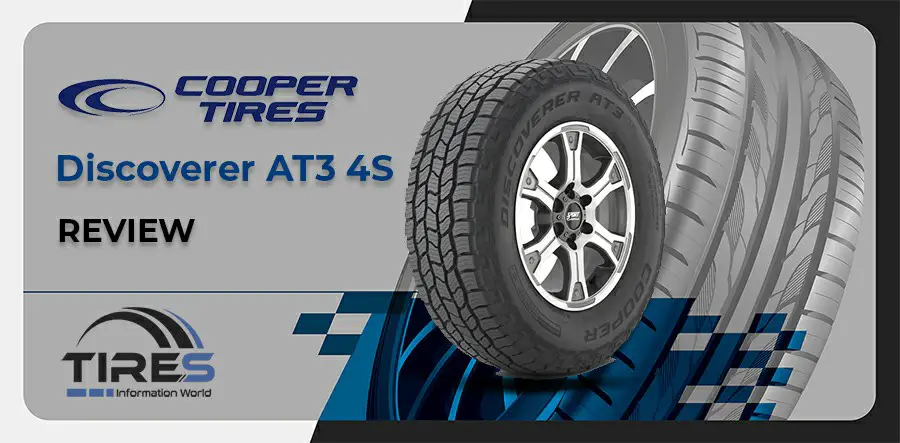 As trucks and off-road vehicles become more and more popular, the demand for their spare parts also increases, in which tires are an extremely important part. Being a familiar name in the truck tire market, is this tire that good? Check out this Cooper Discoverer AT3 4S to find out!
Introduction 
The Cooper Company 
Cooper is an American tire brand with its headquarters in Ohio, USA. The famous brand owns four main manufacturing facilities in Ohio, Mississippi, Arkansas, Mississippi, and several other Europe, Mexico, and Asia. 
With more than 100 years of construction and development, Cooper has become one of the most prominent names in the automotive tire market worldwide. The company's products are always durable and high in safety thanks to strict production processes.
The Product Line
Cooper Tires' tire lines are quite diverse and suitable for many different vehicles such as crossovers, luxury SUVs, real SUVs, etc. The Cooper Discoverer AT3 4S for off-road trucks is currently the tire model that receives the most attention from customers.
The Features Of Cooper Discoverer AT3 4S
Overall, the enhanced features are the most appropriate explanation for this tire's massive support from customers since its initial release.
The Discoverer AT3 4S is ideal for pickup trucks, large SUVs, and crossovers. It is the perfect combination of off-road grip and comfort that drivers need since it can grip the road or other surfaces. Thanks to this feature, your car can confidently move even in areas with heavy snowfall.
Its zigzag grooves and serrated technology help this Cooper tire move in the snow much better than previous versions because it helps generate more traction. The five-rib design also makes the AT3 4S more suitable for terrain types such as sand, gravel, soil, and rock.
In terms of dry handling and traction, the Micro-Gauge ZigZag sipes help it stay balanced if it has to move on slippery surfaces.
Additionally, the dual-layer construction of polyester and nylon adds stability, durability, and responsiveness to this representative of Cooper. It also helps your vehicle to move more smoothly and quietly.
Pros & Cons
No matter how much positive feedback a product can get, no product is perfect without flaws. Below is a summary of the pros and cons of Cooper Discoverer AT3 4S:
Cooper Discoverer AT3 4S: Tire Drive Test 
After taking in all the features of this popular tire, it's time to dig in some of our experiences using it!
Are The Features Of Cooper Discoverer At3 4s True To Actual Use?
It is always better to try the product to make the correct judgment. As people who have driven with the AT3 4S, here are our thoughts on this tire:
First and foremost, its dry performance impressed us. This tire model had no problems with dry tarmac. It did well in corners, and the navigation was pretty neat.
There is a small note here that driving speed would affect the traction of the AT3 4S. The faster you drive, the less grip you have on the road. However, I find this not too serious because not everyone is a speed lover, and this tire is for SUVs or trucks, not race cars.
Regarding the wet-dry performance, this tire can move well on slippery and wet roads. The road grip of the AT3 4S is quite excellent. If compared to when traveling on a dry road, the traction has decreased but not too much.
So what about snow? Normally, snowmobiles require specialized tires with a soft structure. Regular tires will not perform to their full potential in the winter, and the Cooper Discoverer AT3 4S is no exception. Still, we highly recommend it because it's perfect for casual drivers.
One more thing that we want to mention is noise. Like other off-road tires, the AT3 4S emits noise even on highways. This flaw is the only point we hope Cooper can improve on in the future.
In general, we have had quite a comfortable experience with this tire line except for some minor drawbacks.
Which Customers Will Be Suitable For This Type Of Tire?
The decision depends on your preferences and needs. If you need a light off-road tire and have to drive all year, the Discoverer AT3 4S could be the tire you're looking for.
As analyzed above, this AT3 4S tire is a model that can travel on many types of terrain, in any weather conditions, with high safety, and ideal warranty. It is a relatively good choice for those who use trucks or SUVs. Despite some of the drawbacks we have mentioned above on this review, it's still a nice option to take these tires home!
Competitors & Alternatives
| | |
| --- | --- |
| Treadlife Warranty: | 6 Years / 65,000 Miles  Half mileage for rear if different size than front  |
| Uniformity Warranty: | First 2/32″ of wear |
| Workmanship & Materials Warranty: | 6 Years / Free replacement first 2/32″ of wear, then prorated until 2/32″ remaining depth |
| Manufacturer's Road Hazard Warranty: | None |
| Manufacturer Special Warranty: | 45 Day Road Test Guarantee (1) |
| Additional Information: | (1) Exchange for another Cooper brand tire |
Discoverer AT3 4S
Warranty summary for replacement tires purchased on or after 01/01/21
| 15 | | 16 | |
| --- | --- | --- | --- |
| 225/70R15 | 265/70R15 | 215/70R16 | 245/70R16 |
| 235/75R15 | 265/75R15 | 225/70R16 | 245/75R16 |
| 255/70R15 | | 225/75R16 | 255/70R16 |
| | | 235/70R16 | 265/70R16 |
| | | 235/75R16 | 265/75R16 |
| 17 | | 18 | |
| --- | --- | --- | --- |
| 215/65R17 | 245/70R17 | 255/70R18 | 265/70R18 |
| 225/65R17 | 255/65R17 | 265/60R18 | 275/65R18 |
| 235/60R17 | 255/70R17 | 265/65R18 | |
| 235/65R17 | 255/75R17 | | |
| 235/70R17 | 265/65R17 | | |
| 235/75R17 | 265/70R17 | | |
| 245/65R17 | P 285/70R17 | | |
| 20 | | 22 | |
| --- | --- | --- | --- |
| 255/50R20 | 275/55R20 | 275/45R22 | 285/45R22 |
| 265/50R20 | 275/60R20 | | |
Discoverer AT3 4S prices range approximately from $141.99 to $299.99 (Tire Rack)
General Grabber A/TX
Pirelli Scorpion All Terrain Plus
Firestone Destination A/T2
Continental TerrainContact A/T
BFGoodrich All-Terrain T/A KO2
Cooper Discoverer AT3 4S – Compare Prices
We found 6 online tire retailers selling Cooper Discoverer AT3 4S. Refer to the details below to get the best price
Cooper Discoverer AT3 4S
PRICE
SOLD BY
 

Offers

Offers

$124.99

Offers

$125

Offers
Discoverer AT3 4S Ratings By Consumer