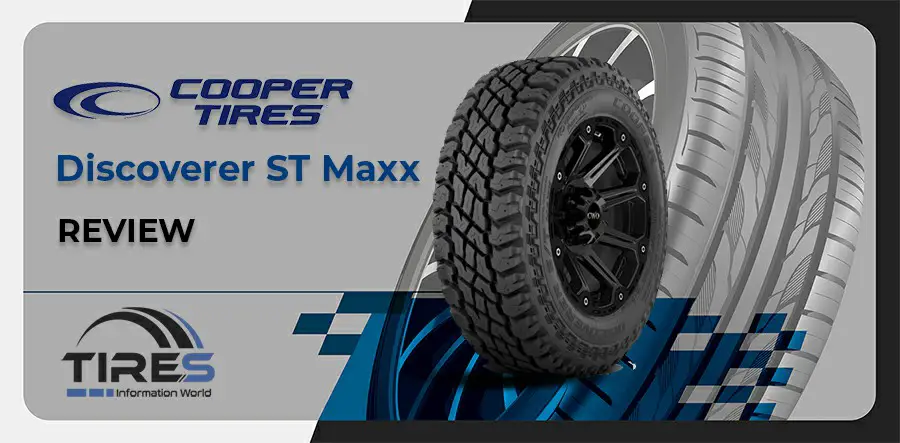 Cooper Discoverer S/T Maxx Overview
Whether or not the product is worth your money is the topic of this Cooper Discoverer S/T Maxx. Let's have a look into the manufacturer of the tire down below:
About Cooper Tire & Rubber Company:
Cooper Tire – also known as Cooper Tire & Rubber Company, is a huge player in the tire production industry. It has a long-standing reputation for quality products and great service, stemming from hard work over a century. The company now has manufacturing facilities on three separate continents, and its distribution networks reach worldwide.
As a part of a very dynamic market, Cooper Tire's products are mainly replacement tires for passenger cars and other light vehicles. The company currently sets its target to remain as one of the top tire providers in North America.
Product Features:
It's time to take a look at this tire's specs.
| | |
| --- | --- |
| Product Name | Cooper Discoverer S/T MAXX |
| Size | LT285/70R17 |
| Type | Radial Tire |
| Load Range | E |
| Max Load (lb) | 3,195 (SRW), 2,910 (DRW) |
| Sidewall Construction | Polyester, three plies |
| Tread Construction | Nylon, Stell, Polyester |
| Approved Rim Width | 7.5 – 9.0 inches |
| Tread Depth | 18.5/32 inches |
| Tread Width | 9.3 inches |
| Overall Diameter | 33 inches |
| Maximum PSI | 80 |
| Weight | 60 lbs |
| Section Width | 11.5 inches |
Cooper Discoverer S/T Maxx comes along with Cooper's three plies of Armor-Tek3® construction technology – which allows your tire to have strong sidewalls and tread, along with an angled ply construction that spreads out the forces applied to the tire. 
It also has a brand new proprietary road damage compound, guaranteeing long-lasting shelf life and excellent risk prevention.
Because of such features and a hybrid tread design, S/T Maxx is incredibly good on tough terrains while still providing amazing traction and stability despite being of commercial grade. The tire is also very quiet and comfortable to ride on, which gives you the best commuting experience.
All these attractive attributes will not come to shine without the outstanding blend of rubber and silica in the product's tread compound. The substance can withstand slipping on wet surfaces and highways while still being exceptionally durable. The strategic ribs and lateral grooves also come into play by eliminating bigger obstacles like pebbles.
Pros & Cons
Discoverer S/T Maxx Drive Test (300w)
As claimed in their advertisement, the Cooper Discoverer S/T tire can withstand any type of terrain, whether on or off-road, dry or wet, rain or shine. We have tested the tire out in these conditions. 
Noise
Going into the test, we initially assumed that the tire would cause a lot of noise when the engine revs and turns it around, but we were pleasantly surprised. The decrease of loud noises proves to be a valuable feature for vehicle owners who drive around every day since constant screeching is very annoying.
Rainy Condition
Driving with the S/T Maxx under the rain and on sloppy roads takes the worries off our minds. Even when water floods the asphalt, the tire's compound and its special blend give you lots of traction. 
We can testify for the tire's ability to take high inflation pressure to its advantage as well as withstanding hefty goods on our truck. 
Off-Road
When off-road, the tire performs well. Although we have no doubts about this looking at the tire's tread and overall design, we are very satisfied with the range of terrains S/T Maxx caters to. Despite not being an all-terrain tire, the tire is an excellent choice for your 4×4, even if your truck is off the road frequently. With all the information above on our Cooper Discoverer S/T Maxx, we hope to assist you in choosing your ideal companion!
Competitors & Alternatives
| | |
| --- | --- |
| Treadlife Warranty: | None  |
| Uniformity Warranty: | First 2/32″ of wear |
| Workmanship & Materials Warranty: | 6 Years / Free replacement first 2/32″ of wear, then prorated until 2/32″ remaining depth |
| Manufacturer's Road Hazard Warranty: | None |
| Manufacturer Special Warranty: | 45-Day Road Test (1) |
| Additional Information: | (1) Exchange for another Cooper brand tire |
Discoverer S/T Maxx
warranty summary for replacement tires purchased on or after 01/01/21
| 15 | | 16 | |
| --- | --- | --- | --- |
| LT 235/75R15 | LT 33X12.50R15 | LT 215/85R16 | LT 265/70R16 |
| LT 31X10.50R15 | LT 35X12.50R15 | LT 225/75R16 | LT 265/75R16 |
| | | LT 235/85R16 | LT 285/75R16 |
| | | LT 245/70R16 | LT 305/70R16 |
| | | LT 245/75R16 | LT 315/75R16 |
| | | LT 255/85R16 | |
| 17 | | 18 | |
| --- | --- | --- | --- |
| LT 235/80R17 | LT 275/70R17 | LT 265/60R18 | LT 285/60R18 |
| LT 245/70R17 | LT 285/70R17 | LT 265/65R18 | LT 285/65R18 |
| LT 245/75R17 | LT 285/75R17 | LT 265/70R18 | LT 295/70R18 |
| LT 255/75R17 | LT 295/70R17 | LT 275/65R18 | LT 305/60R18 |
| LT 255/80R17 | LT 305/65R17 | LT 275/70R18 | LT 305/70R18 |
| LT 265/65R17 | LT 315/70R17 | | |
| LT 265/70R17 | LT 37X12.50R17 | | |
| 20 | | | |
| --- | --- | --- | --- |
| LT 265/60R20 | LT 295/55R20 | | |
| LT 275/65R20 | LT 305/55R20 | | |
| LT 285/55R20 | LT 35X12.50R20 | | |
| LT 285/60R20 | | | |
Discoverer S/T Maxx prices range approximately from $218.00 to $418.00 (Discount Tire)
Goodyear Wrangler DuraTrac
BFGoodrich Commercial T/A Traction
Firestone Transforce AT2
Firestone Transforce AT
Cooper Discoverer S/T Maxx – Compare Prices
We found 6 online tire retailers selling Cooper Discoverer S/T Maxx. Refer to the details below to get the best price
Cooper Discoverer S/T Maxx
PRICE
SOLD BY
 

Offers

Offers

$217.99

Offers

$201

Offers
Discoverer S/T Maxx Ratings By Consumer