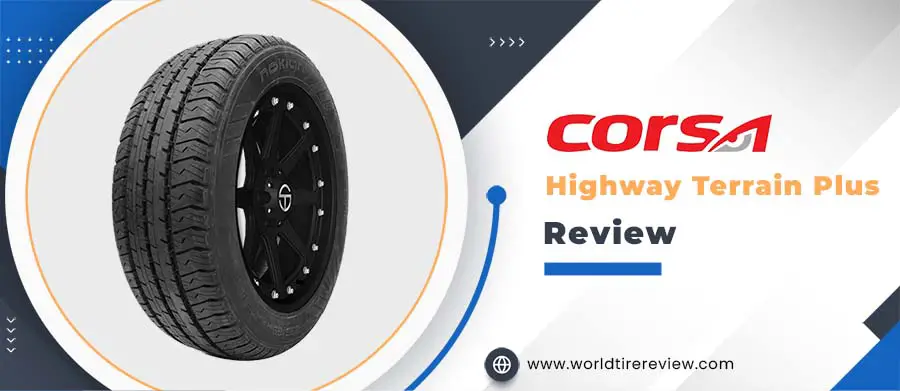 Corsa is a sub-brand owned by Omni United Pte. This brand was launched in 2003 for the first time in Singapore. Nowadays, it is one of the famous brands with quality tires but very affordable prices.
The Corsa highway terrain plus is a mid-range product of choice for many drivers. It is a product with good performance and a reasonable price for most customers.
The Corsa highway terrain plus below will give you a clearer view of this type of tire. You should not miss this article if you are in the process of considering this product.
Design
Corsa highway terrain plus uses super durable rubber material with a four-slot design. The grooves on the tire body are engineered more modernly based on the circumference of the body. 
Also, the moderate depth of treads brings great drainage. Symmetrical tread and wide-middle-frame help increase grip and ensure smoothness on the road.
Inside, there are double steel belts built in a reinforced three-layer construction. This outstanding advantage increases the durability and lifespan of the product. You can easily operate with the standard or overweight of a car because this tire has a strong capacity.
In this line of product, the manufacturer also focuses on the frame with a solid and interlocking design. When driving, you will feel the smoothness whether at medium speeds or when turning over at faster speeds.
Tire Sizes
Because this tire product has various available sizes, you can choose the one that best suits your needs. It has 23 choices for rim size 15, 16, 17, 18, 20, 22 inches.
Performance
It is an all-season tire, so you can virtually use it year-round for your rides. Drivers can feel an excellent grip on the road in many different weather conditions. The circumferential grooves and the tread pattern can minimize slippage on wet roads due to water or snow.
Noise
Corsa highway terrain plus has a solid body and tire frame design. However, the depth of grooves on the body part is not too big. So, many users can feel the smooth operation on all roads.
Corsa uses the technology of transmitting sound waves through the footprint in this product. Besides reducing the noise, it can limit the vibration because of the collision between the tire body and the road surface. It is the ideal choice because of its high performance and always keeping quiet while driving for many people.
Pros & Cons
Personal Opinion
Features
Under normal conditions, the tire offers the performance, traction, and off-road ability expected for a mid-range product. It still maintains its positive characteristics in moderate rain or snow weather. However, in heavy rains or snows, your transportation may be a little troublesome.
The car will be inert is the most obvious thing you can feel. It is because of the reduced traction when the tires go through a dense water or snow layer. 
Besides, acceleration and braking will also decrease. Driving in wet conditions requires you to be extra careful as the grip is not as ideal as on dry road surfaces.
This type of tire rides quite smoothly, with low vibration, and does not make too much noise when traveling on the road. Although it is not completely quiet, the noise level won't be a problem to bother you much.
Price
Not only highway terrain plus tires, but other Corsa products are also very reasonably priced. It offers a standard design and meets expectations for a mid-range product. Besides, the 40,000-mile warranty policy is also quite great.
Aimed Users
This tire is designed specifically for light trucks, SUVs, and crossovers. Drivers of vehicles such as the Chevrolet Suburban, Isuzu Trooper, Nissan Pathfinder, or Toyota Land Cruiser all trust and choose this tire.
Is It Worthy To Choose?
The Corsa highway terrain plus is worth choosing for customers who focus on high-performance, reliable and economical products. It is a very durable tire. Besides, traction, grip, comfort, or smoothness on the road are all suitable to the standards of a good product.
Of course, each product has a few downsides, and Corsa highway terrain plus is no exception. The important thing is that its features and advantages can still meet your needs and driving experience.        
Thanks to our reviews, you can learn more about this tire product. Now, you can decide if it suits your needs. It may not be the best choice. But it is a safe, stable decision for customers with a tight budget.
| | |
| --- | --- |
| Treadlife Warranty: | 30,000-mile limited treadwear warranty in 15-inch sizes and a 40,000-mile warranty in 16-inch through 20-inch sizes |
| Manufacturer's Road Hazard Warranty: | None |
| 16 | | 17 | |
| --- | --- | --- | --- |
| LT225/75R16 | LT245/75R16 | LT265/70R17 | |
| LT235/85R16 | LT265/75R16 | | |
Corsa highway terrain plus prices range approximately from $75.00 to $205.00
Corsa highway terrain plus – Compare Prices
We found 2 online tire retailers selling Corsa Highway Terrain Plus. Refer to the details below to get the best price
Corsa Highway Terrain Plus
PRICE
SOLD BY
 

Offers




Offers



Corsa Highway Terrain Plus Ratings By Consumer