We are pretty sure those of you who love tires already know Falken released their latest tire model. It is absolutely stunning.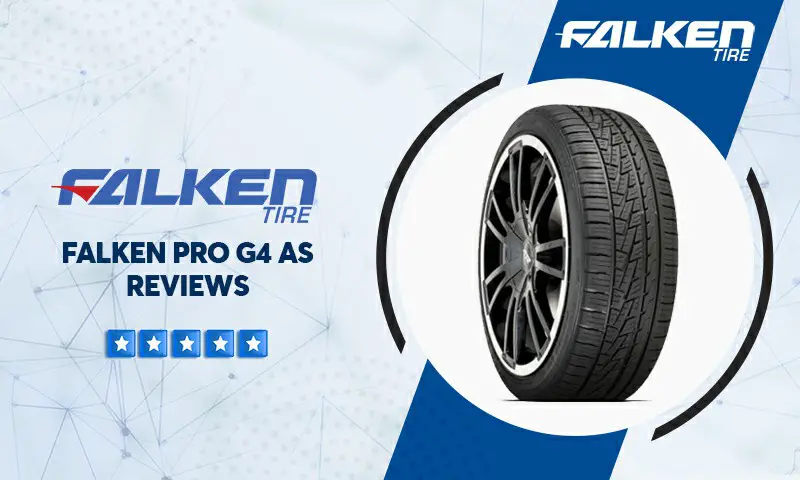 The Falken Pro G4 A/S tire has an asymmetrical design and looks highly appealing. An old friend of mine has a Dodge Charger and decided to buy this tire to add some muscle to the car. Hence, we both took a ride test, and here is everything I figure out about the Falken Pro G4 A/ tire.
At first sight, I already became a fan. The tire has an aggressive design yet sporty and courteous. 
The tread design of the Falken Pro G4 A/S tire has a 3D effect. The appearance of the 3D siping on the shoulders increases the traction on slippery roads when it comes to wet traction on rainy days, and it also gives great stability in dry conditions.
The Falken constructed the tire with a unique silica compound that reduces the bumpiness feeling on rough surfaces and provides a more comfortable riding experience. However, even though the tire does not create many loud road noises, it can still be bothersome if you are using a compact mini or other small vehicles, so make sure to choose what is suitable for your car.
The Falken Pro G4 A/S Tire has a selection from 15 to 20 inches diameters. It is suitable for a big luxury vehicle or medium-sized cars and sedans. The tire is an excellent choice for Honda Civic, Volkswagen Golf, or Audi A3. However,  this tire is a bit too much for a mini compact or small vehicles due to the stiffer rubber compound.
This tire is mostly made for the owners of sports cars, and it has a pretty reasonable price, which could be a turn down for you. We would say it is quite economical. There are feedback saying that the tire can last around 50 thousand miles, so you should consider it because it is worth the investment.
View more: Falken Sincera SN250A A/S Tire Reviews – All Specs and Features
Pros & Cons
Falken Pro G4 A/S Test Drive
The Falken Pro G4 A/S tire is a good option for anyone who wants a high-quality but affordable tire. It has fabulous performance on various road surfaces and also functions well in light snow traction. Driving on heavy snow days is a different story, to be honest. At a mid-premium price, we would recommend this to riders who have significant and sporty cars because the tire can support them better.
The tire has a unique design and stands out with its strong presence. We are really pleased with the comfortable and smooth-riding experiences. A few road noises did not affect the overall quality of the tire, but you should put it into consideration to figure out what is best for you.
Conclusion
After this Falken Pro G4 A/S Reviews, we have provided all the information about it, and we think you will know which car tire suits best for you and your car. Thank you for reading this article, and if you choose this tire, we hope you will have a great experience with the Falken Pro G4 A/S tire
Competitors & Alternatives
| | |
| --- | --- |
| Treadlife Warranty: | None |
| Uniformity Warranty: | First 2/32″ of wear |
| Workmanship & Materials Warranty: | 5 Years from date of production / Free replacement first 2/32″ of wear, then prorated until 2/32″ remaining depth |
| Manufacturer's Road Hazard Warranty: | None |
| Manufacturer Special Warranty: | None |
Pro G4 A/S
Warranty summary for replacement tires purchased on or after 01/01/19 at Tire Rack
| 15″ | | 16″ | |
| --- | --- | --- | --- |
| 175/65R15 | 195/60R15 | 185/55R16 | 215/55R16 |
| 185/60R15 | 195/65R15 | 195/55R16 | 215/60R16 |
| 185/65R15 | 205/60R15 | 205/50R16 | 215/65R16 |
| | 205/65R15 | 205/55R16 | 225/50R16 |
| | | 205/60R16 | 225/55R16 |
| | | 205/65R16 | 225/60R16 |
| | | | 225/65R16 |
| | | | 235/60R16 |
| 17″ | | 18″ | |
| --- | --- | --- | --- |
| 205/50R17 | 225/65R17 | 225/40R18 | 235/60R18 |
| 215/45R17 | 235/45R17 | 225/45R18 | 235/65R18 |
| 215/45R17 | 235/50R17 | 225/55R18 | 245/40R18 |
| 215/50R17 | 235/55R17 | 225/60R18 | 245/45R18 |
| 215/55R17 | 235/60R17 | 235/40R18 | 245/60R18 |
| 225/45R17 | 235/65R17 | 235/45R18 | 255/65R18 |
| 225/50R17 | 245/40R17 | 235/50R18 | |
| 225/55R17 | 245/45R17 | 235/55R18 | |
| 19″ | | 20″ | |
| --- | --- | --- | --- |
| 225/55R19 | 245/55R19 | 235/55R20 | 245/50R20 |
| 235/55R19 | 255/35R19 | 245/45R20 | 275/40R20 |
| 245/40R19 | | | |
Pro G4 A/S Ratings by consumer