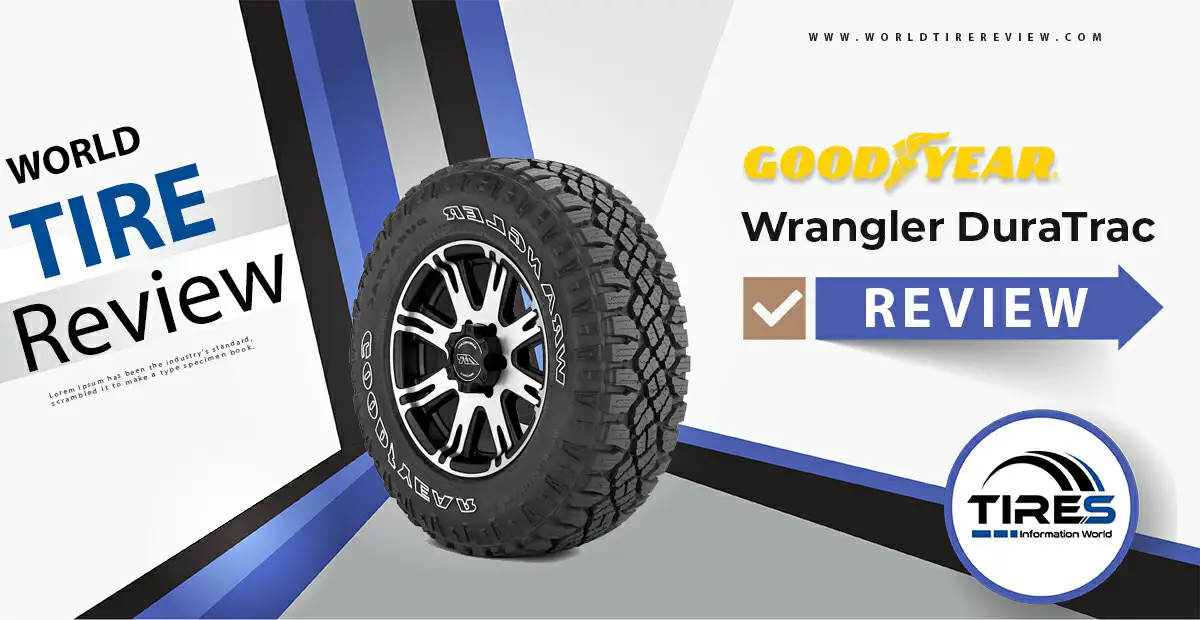 Goodyear is one of the world's largest tire manufacturers based in Akron, Ohio. Goodyear tires are the result of over 100 years of improvements, innovation, and cutting-edge technology, providing high performance and ultimate safety. 
The company produced some of the best all-terrain tires, such as the Wrangler DuraTrac, at which we'll take a closer look in this Goodyear Wrangler DuraTrac review. 
The all-terrain Goodyear Wrangler DuraTrac is a reliable, long-lasting, and flexible tire that can provide on- and off-road traction with enduring treadwear. Its characteristics also offer excellent traction in thin mud, snow, and slippery roads.
The tire offers additional grip and lateral stability thanks to its steeply slanted center tread blocks. Thus, you can use it on both wet and dry surfaces with confidence.
There are also self-cleaning shoulder blocks on the symmetric design, which aids in ejecting any pebbles, debris, and mud for better traction. Your wheels won't suffer from any mud build-up after moving through muddy terrains.
This tire is built for SUVs, trucks, and commercial vehicles with an innovative rubber compound that can handle the daily heavy loading tasks. The rugged tread also makes the tire ideal for hauling and towing.
Additionally, Goodyear formulates the rubber to improve the tire's resistance to chips, cuts, and chunking. It also enhances handling on hard surfaces, especially when the car moves at high speed or brakes suddenly.
However, most all-terrain tires are slightly loud on the road due to the aggressive tread design, and the Wrangler DuraTrac is no exception.
Tire Drive Test
After using the Goodyear Wrangler DuraTrac for more than a year, we agree that it's a powerhouse in the category. Fantastic traction and handling on rugged, bumpy roads and good tread life are what you can reasonably expect from this Goodyear's creation.
This tire is rather noisy, but they do offer the off-road traction that you need. Due to the bold tread design, little wonder it produces more noise compared to a highway touring tire. Yet, that's a trade-off for all the perks you enjoy from it.
We've driven on this tire in the snow without trouble, and we must say that its snow traction favorably compares with specialty snow/winter tires.
Wrangler DuraTrac is a combination of great handling, a pleasant ride, and a sporty look. It's a great choice whether you drive them to your workplace or for a leisurely ride.Perhaps, you have had significant trust in this tire at the end of this Goodyear Wrangler DuraTrac review. They're specifically designed for drivers that need dependable on- and off-road traction and handling. If you can overlook the noise, this product is one of the best all-around off-road tires available.
Competitors & Alternatives
| | |
| --- | --- |
| Treadlife Warranty: | 6 Years / 50,000 Miles  Excludes LT and flotation tires  |
| Uniformity Warranty: | 1 Year / first 2/32″ wear |
| Workmanship & Materials Warranty: | 6 Years / Free replacement first year or 2/32″ of wear, then prorated until 2/32″ remaining depth |
| Manufacturer's Road Hazard Warranty: | None |
| Manufacturer Special Warranty: | 30 Day Test Drive (1) |
| Additional Information: | (1) Exchange for a different Goodyear brand tire |
Wrangler DuraTrac warranty summary for replacement tires purchased on or after 06/01/19 at Tire Rack
| 15″ | | 16″ | |
| --- | --- | --- | --- |
| LT 235/75R15 | LT 33X12.50R15 | LT 215/85R16 | 265/70R16 |
| LT 31X10.50R15 | | LT 225/75R16 | LT 265/75R16 |
| | | LT 235/85R16 | LT 285/75R16 |
| | | LT 245/75R16 | LT 305/70R16 |
| | | 255/70R16 | LT 315/75R16 |
| 17″ | | 18″ | |
| --- | --- | --- | --- |
| LT 235/80R17 | 265/70R17 | 255/70R18 | LT 285/65R18 |
| 245/70R17 | LT 265/70R17 | 265/60R18 | LT 285/75R18 |
| LT 245/70R17 | LT 285/70R17 | 265/65R18 | LT 295/65R18 |
| LT 245/75R17 | LT 295/70R17 | 275/65R18 | LT 295/70R18 |
| 255/75R17 | LT 315/70R17 | LT 275/65R18 | LT 325/65R18 |
| 265/65R17 | LT 35X12.50R17 | LT 275/70R18 | LT 35X12.50R18 |
| 19″ | | 20″ | |
| --- | --- | --- | --- |
| 255/55R19 | 255/65R19 | 255/55R20 | LT 285/60R20 |
| | | 255/60R20 | LT 305/55R20 |
| | | 275/55R20 | LT 325/60R20 |
| | | 275/60R20 | LT 33X12.50R20 |
| | | LT 275/65R20 | LT 35X12.50R20 |
Wrangler DuraTrac prices range approximately from ‎$198.55 to $457.99 – Tire Rack
Hankook DynaPro ATM RF10
Yokohama G012 AT
Goodyear Wrangler DuraTrac – Compare Prices
We found 5 online tire retailers selling Goodyear Wrangler DuraTrac. Refer to the details below to get the best price:
Goodyear Wrangler DuraTrac
PRICE
SOLD BY
 

Offers

Offers

Offers

$198.55

Offers
Wrangler DuraTrac Ratings By Consumer