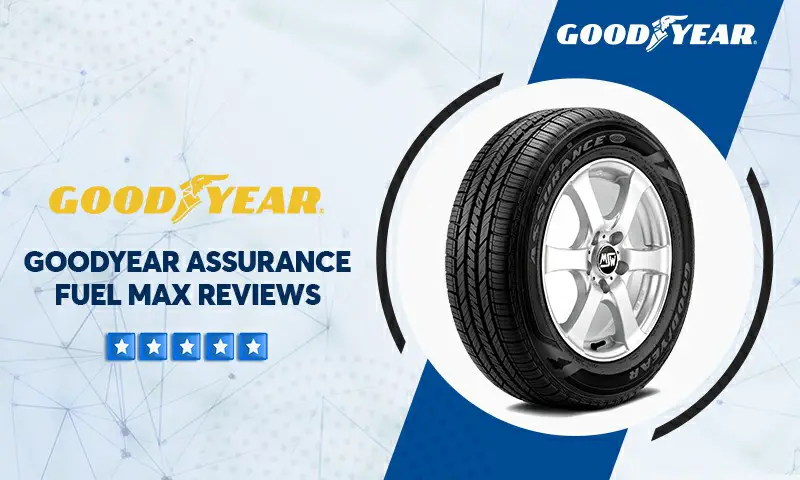 Do you have a tough time finding and searching for Goodyear Assurance Fuel Max? Lucky for you. Here we are to walk you through. Check out our review to gain more information so you can feel comfortable when equipping your vehicles with this tire model. 
Below we will show you the properties of this tire in many aspects. Keep reading until you can make a final decision.
About Goodyear
The Goodyear Tire & Rubber Company is a company in America that manufactures tires and has been one of the best brands for powerful grip and excellent handling. Their tires are for different kinds of vehicles, such as airplanes, SUVs, automobiles, trucks, race cars, or farm equipment.  
Goodyear Assurance Fuel Max: Features
Fuel and Price
The Goodyear Assurance Fuel Max from Goodyear company is one of the standard kinds of tires for all seasons. The manufacturer specifically designs it to help customers save their cars' Fuel, no matter what types of their vehicles are, such as sedans, coupes, minivans, or crossovers. At the same time, the price is ideally affordable.
Tread
With the polymers' efficient tread compound, Goodyear ensures that this tire will assist users to save gas, equivalent to 2,600 miles throughout its lifespan. 
The Goodyear Assurance Fuel Max offers both dry and wet tread zones to cope with these two conditions effectively.
On Dry Conditions
Most vehicles with medium size can run quite quietly with this tire on dry roads. As a result, this tire suits long-distance travelers the most. 
On Wet Conditions
The Dual Aquachannel Grooves improves the wet traction and handling of the tire to get rid of water from under the tread. Besides, many drivers give positive feedback for the grip and assume that its performance in the rain is the best.
On Snow Conditions
The performance of this tire in cold conditions like winter is still not quite impressive. Especially in the snow, vehicles using this tire cannot go up hills.
Speed
There are two steel belts inside the tread. On the polyester cord layer, the manufacturer spirally wraps them with nylon strips so that the tire will have more durability and strength even at high speeds. 
Which Brands Can Perfectly Work With The Assurance Fuel Max?
Chevrolet Impala, Cruze, Malibu
Chrysler Town & Country, Sebring Sedan, PT Cruiser
Dodge Grand Caravan, Caliber
Ford EcoSport, Focus, Fusion, Taurus, Mustang
Honda Accord, CRV, Odyssey, Civic
Test Drive
On the one hand, the item offers you somewhat fine dry and wet traction and handling and rides with enjoyment. Drivers adore this tire because of its economical price. 
On the other hand, several buyers report that they have not seen any impressive advancement from this model in any situation. We can see two main issues.
The first one is that they still can hear the noise and feel annoyed when driving. The other reason is the lower-than-expected tread life of the model. 
In short, we believe that the Fuel Max is a fairly nice model among other middle-class productions.
Final Thoughts
After reading our review, we hope you will understand clearly all the features of this tire model. Besides all these details, tell us by dropping some comments in the section below if you have any questions.
Competitors & Alternatives
| | |
| --- | --- |
| Treadlife Warranty: | 6 Years / 65,000 Miles |
| Uniformity Warranty: | 1 Year / first 2/32″ of wear |
| Workmanship & Materials Warranty: | 6 Years / Free replacement first year or 2/32″ of wear, then prorated until 2/32″ remaining depth |
| Manufacturer's Road Hazard Warranty: | None |
| Manufacturer Special Warranty: | None |
Assurance Fuel Max
warranty summary for replacement tires purchased on or after 04/01/19 at Tire Rack
| 14″ | | 15″ | |
| --- | --- | --- | --- |
| P 185/65R14 | | P 175/65R15 | P 195/65R15 |
| | | P 185/60R15 | P 205/60R15 |
| | | 185/65R15 | 205/65R15 |
| | | P 195/60R15 | P 205/70R15 |
| | | | 215/70R15 |
| 16″ | | 17″ | |
| --- | --- | --- | --- |
| 175/60R16 | 215/60R16 | 215/45R17 | 225/50R17 |
| 195/55R16 | P 215/60R16 | P 215/50R17 | 225/55R17 |
| P 205/50R16 | 215/65R16 | 215/55R17 | P 225/55R17 |
| 205/55R16 | 225/55R16 | P 215/60R17 | P 225/60R17 |
| P 205/55R16 | 225/60R16 | P 215/65R17 | 225/65R17 |
| 205/60R16 | 225/65R16 | 225/45R17 | P 235/55R17 |
| P 205/60R16 | 235/60R16 | | 235/60R17 |
| 205/65R16 | 235/65R16 | | P 235/65R17 |
| P 205/65R16 | | | |
| P 215/55R16 | | | |
Assurance Fuel Max prices range from $157.00 And up
Kleber Quadraxer 2
Goodride SW602
Kumho Solus HA31
Bridgestone Turanza GR90
Kleber Quadraxer
Falken EUROALL SEASON AS200
Goodyear Assurance Fuel Max – Compare Prices
We found 6 online tire retailers selling Goodyear Assurance Fuel Max. Refer to the details below to get the best price:
Goodyear Assurance Fuel Max
PRICE
SOLD BY
 

$91.25

Offers

Offers

$95.99

Offers
Assurance Fuel Max Ratings By Consumer