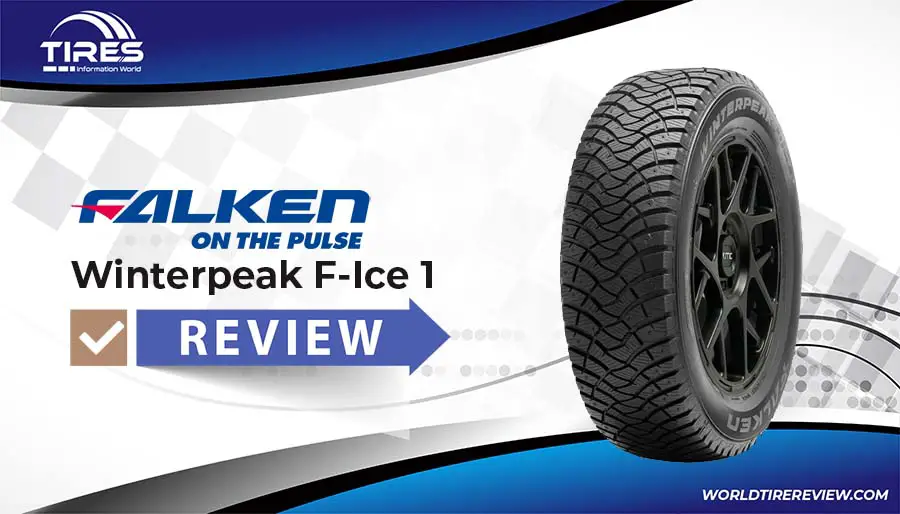 About Falken Tire
The Falken Winterpeak F-ice 1 is developed and manufactured by Falken Tire. This brand was founded in Japan, and it specializes in producing high-quality tires for passenger cars and trucks.
With more than 35 years of operation in the tire industry, Falken prioritizes the high-end performance of its products. Many famous professional award-winners have used Falken tires in motorsport programs. 
Its tires are prevalent in many countries due to the relentless promotional efforts from the company. Falken always respects and learns from customers' feedback to improve the quality of its products.
Falken Winterpeak F-Ice 1 Review
With the great build quality and advanced safety technologies, extreme weather conditions like snowy or wet road tracks are no longer a challenge for the Falken Winterpeak F-ice 1.
Great For Winter 
Driving on slippery snowy tracks is very dangerous. A small mistake or malfunction of the tires can lead to loss of steering control and result in a car accident. The F-ice 1 is designed specifically to handle these extreme weather conditions.
Equipped with the advanced three-dimensional sipe technology, you can ride on slippery roads at high speeds with confidence. The tire delivers more contact area with the road due to its high density of sipe. 
This feature helps break the ice and make your cruise smoother on snowy and sticking road tracks. The F-ice 1 comes with modern four-dimensional Nanotechnology, making it more flexible in low temperatures. 
Due to these great edges, the F-ice 1 delivers an amazing performance on winter peaks. 
Safety
The tire boasts the 3PMSF symbol combined with legit stud count. You can rest assured that the F-ice 1 has met all the industry legal requirements for a safe and high-quality tire. 
With hundreds of curves and symmetrical grooves, F-ice 1 can evacuate water and snow efficiently, reducing slipperiness and enhancing drivers' safety on snowy roads. 
Size And Warranty
Falken Tire offers multiple sizes of this product to give customers more flexibility when purchasing. It is suitable for vehicles of all sizes and weights, from light to heavy trucks and passenger cars. 
You also get more peace of mind when driving, thanks to the hazard protection warranty offered by Falcon.
Pros & Cons
Drive Testing
We have tried the F-Ice 1 tire on snowy tracks with below-freezing temperatures for some time. The experience when cruising at high speeds is pretty smooth and flawless, as we can handle the steering quite easily. 
In some urgent situations when we have to brake suddenly, the tire delivers an amazing stopping distance on snow. Compared to the other popular types of winter tires we have tested, the F-Ice 1 gives the shortest stopping distance ( 3-8 feet shorter).
The high-end grip gives us more confidence when driving and reduces the risks of traffic accidents. We noticed that the contact with the snowy roads is very solid as the sharp winding grooves help evacuate water and snow effectively. 
However, the sound of the tire breaking ice is pretty noisy. It is a major drawback if you love listening to music or podcasts when driving.
Overall Rating
Here is the overall rating we have concluded based on the information and real-life testing of the Falken Winterpeak F-Ice 1.
Handling on dry tracks: 3.5 / 5
Performance on wet and snowy tracks: 5 / 5
Braking: 4 / 5
Quite Ride: 2 / 5
Confort: 3 / 5
Ice braking: 4 / 5
To sum up, this tire is perfect for customers living in locations with year-round negative temperatures. SUVs and truck owners who have to frequently ride on the snowy and dangerous roads should not miss this product. 
We hope that the information provided in these tire reviews can satisfy you.
| | |
| --- | --- |
| Treadlife Warranty: | This tire is not covered by a manufacturer's treadlife warranty. |
| Manufacturer's Road Hazard Warranty: | None |
| 15 | | 16 | |
| --- | --- | --- | --- |
| 185/65R15 | 195/65R15 | 205/55R16 | 215/65R16 |
| 195/60R15 | 205/65R15 | 205/60R16 | 215/70R16 |
| | | 205/65R16 | 225/60R16 |
| | | 215/55R16 | 225/65R16 |
| | | 215/60R16 | 235/65R16 |
| 17 | | 18 | |
| --- | --- | --- | --- |
| 215/45R17 | 225/60R17 | 225/60R18 | 235/60R18 |
| 215/50R17 | 225/65R17 | 235/45R18 | 245/60R18 |
| 215/55R17 | 235/55R17 | 235/55R18 | |
| 225/45R17 | 235/60R17 | | |
| 225/50R17 | 235/65R17 | | |
| 225/55R17 | | | |
Falken Winterpeak F-Ice 1 prices range approximately from $64.00 to $188.00 (Discount Tire)
Falken Winterpeak F-Ice 1 – Compare Prices
We found 4 online tire retailers selling Falken Winterpeak F-Ice 1. Refer to the details below to get the best price
Falken Winterpeak F-Ice 1
PRICE
SOLD BY
 

Offers




Offers




Offers




Offers



Winterpeak F-Ice 1 Ratings By Consumer