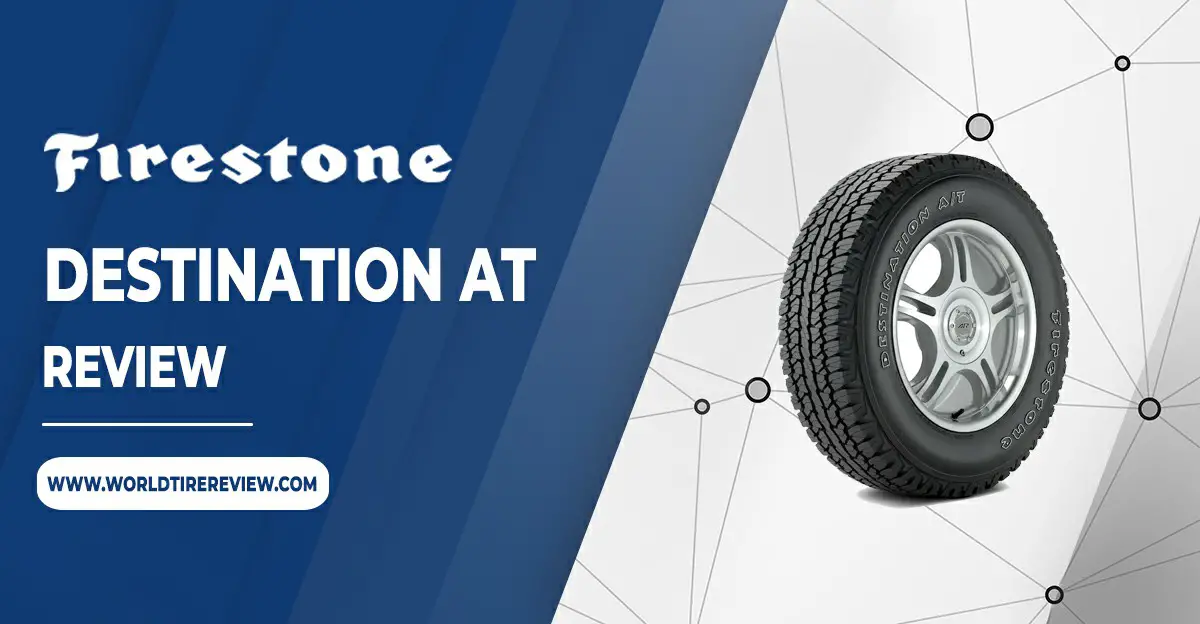 Everyone wants to find a new tire that has the best feature yet is affordable. But finding one isn't always that easy. In this review, we will show you the product's specific strengths as well as our real experience.
First off, we all have at least once heard about "Firestone" The company was founded in 1900 and has become one of the best-known tire brands ever since. 
Firestone claimed to provide the best quality and service necessary to win every race, no matter where it may take place. Their knowledge allows them to develop tires for any customer needs, including all-season, performance, touring, passenger, etc.
Firestone tires are economical, even for light/medium trucks and SUVs. Although the tire company produces a wide range of tires, a model that stands out is the Firestone Destination AT.
Firestone Destination A/T Tire Review
The AT in its name stands for "All-Terrain." That means the Firestone Destination AT is designed for truck and SUVs drivers who desire to travel where the road takes them.
The Destination AT provides perfect traction for good performance on different terrains. It also has a tough appearance to match its skills on the rolling road.
Thanks to Firestone's signature tread design, the Destination AT can adapt to any kind of weather. It also gives you extra confidence in handling and braking at high speed, whether driving in heavy rains or snowy roads. 
Its off-shoulder tread block design and spiral wrap add better grip in mud or snow and improve steer response. However, if you are looking for something that can handle deep, heavy snow, Destination AT might not be the best option.
The Destination AT tread compound features LL Carbon to help improve tread wear and resist cracking, chipping, and tearing. 
The best part is this model has 5° Noise Reduction Technology. It will minimize any noise and give you a comfortable, quiet ride. At a reasonable price, The Destination AT performance is almost flawless with smooth-running, crisp handling, and excellent response.
Pros & Cons
Tire Drive Test
For all-terrain light/medium trucks and SUVs tires, we can say that the Firestone Destination AT is one of the best tires that we have ever tried.
First of all, at a reasonable price, the Destination AT performance is outstanding. It provides excellent traction and grip, whether we are driving in dry or wet conditions. However, we found it didn't work very well with deep, heavy snow.
The unique tread design gives extra confidence when blasting at high speed. The Firestone Destination AT is also very responsive compared with other models we have tried with our trucks before.
What we love the most about the Destination AT is there was almost no noise when we were driving on the road. It gave us comfortable and smooth rides on different terrains. 
To wrap up our reviews, we would say that this model is definitely worth considering. The Firestone Destination AT has all the best features you need at a reasonable price.
Competitors & Alternatives
| | |
| --- | --- |
| Treadlife Warranty: | 5 Years / 50,000 Miles (P-metric & euro metric)  Excludes LT Tires  Half mileage for rear if different size than front |
| Uniformity Warranty: | First 2/32″ of wear |
| Workmanship & Materials Warranty: | 5 Years / Free replacement first 3 years, then prorated until 2/32″ remaining depth |
| Manufacturer's Road Hazard Warranty: | None |
| Manufacturer Special Warranty: | 90 Day Buy & Try Guarantee (1) |
| Additional Information: | (1) Purchase four or more, full refund or exchange |
Destination AT warranty summary for replacement tires purchased on or after 01/01/19 at Tire Rack
| 14″ | | 15″ | |
| --- | --- | --- | --- |
| P 225/70R14 | | P 205/75R15 | LT 235/75R15 |
| | | P 215/75R15 | P 235/75R15 |
| | | P 225/70R15 | LT 30X9.50R15 |
| | | P 225/75R15 | LT 31X10.50R15 |
| | | P 235/70R15 | LT 33X12.50R15 |
| 16″ | | 17″ | |
| --- | --- | --- | --- |
| P 235/70R16 | P 265/70R16 | P 235/65R17 | P 255/75R17 |
| P 235/75R16 | LT 265/75R16 | P 235/70R17 | P 265/65R17 |
| P 245/70R16 | P 265/75R16 | P 235/75R17 | LT 265/70R17 |
| LT 245/75R16 | LT 285/75R16 | P 245/65R17 | P 265/70R17 |
| P 245/75R16 | LT 305/70R16 | P 245/70R17 | LT 275/70R17 |
| P 255/70R16 | LT 315/75R16 | P 245/75R17 | LT 285/70R17 |
| | | P 255/65R17 | P 285/70R17 |
| | | P 255/70R17 | LT 315/70R17 |
| | | LT 255/75R17 | |
| 18″ | | 20″ | |
| --- | --- | --- | --- |
| P 255/70R18 | LT 275/65R18 | P 275/55R20 | LT 275/65R20 |
| P 265/60R18 | P 275/65R18 | P 275/60R20 | |
| P 265/65R18 | LT 325/65R18 | | |
| P 265/70R18 | | | |
Destination AT prices range approximately from $105.99 and up – Firestonetire
Avon AX7
Pirelli Scorpion ATR
Goodyear Wrangler AT SA Plus
Pirelli Scorpion All Terrain Plus
Hankook DynaPro ATM RF10
Goodyear Wrangler DuraTrac
Firestone Destination AT – Compare Prices
We found 4 online tire retailers selling Firestone Destination AT. Refer to the details below to get the best price:
Firestone Destination AT
PRICE
SOLD BY

$158.26

Offers

Offers

Offers
Destination AT Ratings By Consumer